Your Data is Safe with SupplyOn
At SupplyOn, security is a matter of the very highest priority on all levels. We are constantly working not only to maintain our high security standard but also to adapt our security concept in order to satisfy the increasingly exacting security requirements. In order to be able to handle all security-related issues effectively, SupplyOn operates a sophisticated risk-management system which complies with the strict requirements imposed by the ISO 27001 international security standard.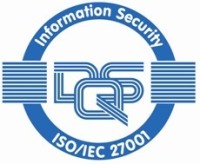 SupplyOn E-mail Encryption
SupplyOn AG Trusted Root CA-01
Valid from December 27th, 2005 until December 27th, 2021
MD5 Fingerprint:
DA:3:4B:5F:D1:43:48:69:D5:78:71:F7:A4:3A:D2:8E
SupplyOn AG Employee Signer-02
Valid from August 22nd, 2012 until August 20th, 2020
MD5 Fingerprint:
6d:73:b4:f7:c3:97:b7:de:bc:72:ed:1b:2c:37:18:17:2f:a5:7f:d3
E-Mail Encryption 
To ensure a safe e-mail communication, SupplyOn offers you the possibility to send and receive encrypted personal data and/or confidential data.
Certificate (S/MIME-Multipurpose Internet Mail Extension) 
A certificate is a kind of digital identification card, which includes the name, the digital sign as well as the identity data of the owner.
To communicate with SupplyOn via encrypted e-mails, you require our public certificates. Please download these certificates above.
PGP (Pretty Good Privacy) Encryption 
If you wish, you can also communicate via a PGP encryption. For this way of communication, please send your public PGP key to our IT department
Coordination and contact 
Do you have further questions or need support from SupplyOn?
Please send an e-mail to IT-SupplyOn@SupplyOn.com. Our IT department will contact you as soon as possible.