E-invoicing and e-invoicing can be quite different. But what is the difference between what many call e-invoicing and real automation of the invoicing process, which only becomes possible by considering the entire Purchase-to-Pay process?
In addition, you will learn in the whitepaper
Which e-invoicing aspects you need to consider – starting with data, through invoice verification, to harmonized processes
How to obtain consistent and correct invoice data
Why invoices and thus e-invoicing are just one part of the big picture
How you benefit from an integrated Purchase-to-Pay (P2P) process
How to automate invoice creation, verification and processing as much as possible – enabling auto-booking rates of over 90%
Please enter your contact data
You will then receive an e-mail with a link to the desired information.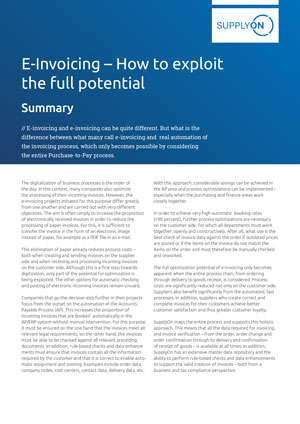 You would like to get more information on Invoicing?
Just enter your contact details and we will get in touch with you as soon as possible.