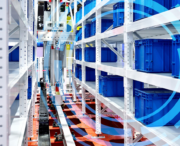 Empties Management
Manage the cycle of your reusables in a smart and agile way — thereby taking advantage of the tremendous savings potential of your container management
Control of container pool in real-time
No matter whether you call it reusables, returnables or empties, managing the flow and inventory of such containers is a huge challenge. Reusable containers are a highly valuable commodity. Their transparent and efficient use can lead to savings in the millions, depending on the size of the container pool. However, the reality is usually different: Many companies have no transparency about where their containers are. It is quite common for containers to be lost or damaged. Inventories are maintained in different systems, reconciliation is time-consuming, and deviating inventories are the rule rather than the exception.
With SupplyOn, all container movements are mapped smartly and traceable for all parties involved via a central platform. Data exchange takes place in real-time. By connecting all plants, suppliers and transport service providers, the actual container inventories become transparent for all stakeholders. By leveraging AI, the container flow can be continuously optimized. Defined KPIs can be used to analyze the performance of the individual partners, the dwell time of the containers, and the history of stock levels. This allows to detect vulnerabilities, avoid out-of-stock situations, and optimize balances.
Your benefits of an integrated
Container Management
Reconciliation of inventories, balances, bookings, dwell times and account statements
Integration of data using industrial standards (web services or direct EDI connection)
Individual reports based on defined KPIs
Mapping of all container movements, both within the plant and with suppliers, customers and carriers
Definition of stock limits for container accounts
Alerts in case follow-up deliveries or empties pick-ups have to be triggered (push concept)
Possibility for suppliers to order required loading equipment (pull concept)
Would you like to reduce your transport costs?
Just enter your contact details and we will get in touch with you as soon as possible.