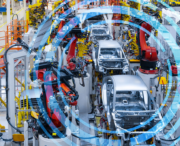 Plant Engineering
SupplyOn has established an extensive business network within the manufacturing industry – the foundation for successful collaboration with business partners and suppliers
The engineering network that benefits you
Engineering projects are often characterized by a high level of complexity and a large number of involved suppliers and service providers. This is especially true for the period following a system's completion: this marks the beginning of the maintenance and servicing phase that requires an elaborate replacement parts management system and close collaboration with suppliers, service providers and freight forwarders – with the objective of being quickly up and running again after an outage, since downtimes can quickly add up to costs in the hundreds of thousands.
Another challenge is the fact that systems are generally set up directly at customer premises and thus call for complex building site logistics. The success of such a project is largely dependent on whether the large number of involved suppliers, service providers and freight forwarders can work together transparently and thereby ensure that any changes in the project are communicated with all participants. Without real collaboration processes on a shared platform, this is almost impossible.
For this reason, businesses such as plant manufacturer Bosch Rexroth and elevator maker Schindler opted many years ago for solutions from SupplyOn to optimize their supply chains and make their processes transparent.
Why SupplyOn?
In engineering field, the structured and highly automated processes of the automotive industry serve as reference processes. SupplyOn has brought its process know-how from the automotive industry into its industry solution for machine engineering and plant construction. This makes SupplyOn the perfect partner for this industry segment when optimization of cross-company processes with suppliers is needed. With Software-as-a-Service solutions from SupplyOn, existing ERP structures can be developed into a modern, scalable communication landscape for handling business processes across companies using a low level of resources and without financial risk.
Our clients from the engineering space