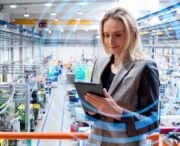 Demand Processes
Manage demand processes with your global supplier network efficiently via an integrated system
The appropriate demand process for each component
Delivery call-off, single order or master contract, VMI or Kanban? There is an optimal demand process for each component. Depending on the location, this process can even be different for one and the same component. Fortunately, this variety of processes can easily be mapped using a central system that is flexible enough to allow the selected process to be changed at any time. It's even better when these processes are embedded into an integrated end-to-end process, from forecasting to transportation to invoicing.
This results in an end-to-end data flow that stabilizes your global supply chains and makes them resilient to any disruptions. Feedback from your business partners, such as order confirmations, is automatically integrated into the relevant transaction. Alerts inform you about possible deviations or disruptions so that you can take countermeasures at an early stage. AI-powered analytics create transparent insights from the data of these processes into what your suppliers will deliver and when, providing valuable decision-relevant information.
Your benefits of
Demand Processes
All demand processes at a glance
Order
Classic order processes, including flexible order confirmation, support a wide variety of order types such as value or quantity-limited orders as well as free-text orders
Delivery call-off
Call-offs offer maximum flexibility on the basis of master contracts and allow individual control of your demands
Vendor Managed Inventory
Smart demand-driven procurement reduces inventory levels and offers your suppliers great optimization potential with maximum supply security
Kanban
Demand-driven deliveries reduce inventory levels with maximum supply security
Would you like to optimize your demand processes?
Just enter your contact details and we will get in touch with you as soon as possible.