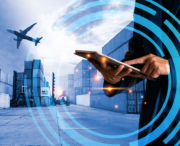 Transport Visibility
Detect delivery delays and transport-related quality issues long before the goods arrive – thus avoiding disruptions in production or a drop in customer satisfaction
Monitoring of your transports in real-time
On-time delivery of goods is essential to avoid production disruptions at either your company or your customers. At the same time, transport routes are particularly vulnerable to disruptions and delays are often only visible at a late stage.
With SupplyOn Transport Visibility, you can monitor your transports in real-time and thus identify potential risks regarding delivery dates or material damage at an early stage. This not only helps you to proactively avoid production downtimes, but also ensures cost-efficient, smooth processes throughout the entire supply chain.
Your benefits of an enhanced
Transport Visibility
Real-time monitoring of location (GPS, geo-data) and transport quality (temperature, humidity, brightness, vibrations, etc.)
Coverage of all freight types: CEP | sea and air freight | road and rail
Centralized, easy connection to 2,500 logistics service providers worldwide
Smart drill-down analytics based on machine learning and artificial intelligence
Would you like to reduce your transport costs?
Just enter your contact details and we will get in touch with you as soon as possible.