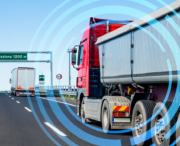 Outbound Transport Management
Increase your customers' satisfaction through maximum compliance with delivery schedules and just-in-time deliveries and reduce your costs and manual effort at the same time
Enhancing customer experience
Outbound logistics is mainly about getting your products to your customers at the right moment and at the most favorable conditions. However, the right moment often means: as quickly as possible, which in turn drives up the costs.
Our transport management solution enables you to balance costs and customer satisfaction in the best possible way and without much effort. The system either automatically determines the optimal transport type or helps you identify the provider with the best conditions for each shipment with just a few clicks.
Your benefits of an optimized
Outbound Transport Management
Coverage of all freight types: CEP | sea and air freight | road and rail
Central, easy connection to 2,500 logistics service providers
Support for the selection of the most cost-effective or most reliable transport service provider via extensive analytics functionalities
Efficient integration of shipping labels in your ERP and WMS systems – without usage of external service provider portals
Fully integrated connection to your ERP system and thus transmission of detailed order data to the TM system as well as transmission of status and transport cost information back to the ERP system
Would you like to reduce your transport costs?
Just enter your contact details and we will get in touch with you as soon as possible.