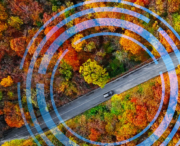 Sustainability | ESG
Shaping and managing supply chains according to your ESG goals within a global supplier network
Together for a better future
When it comes to achieving the ESG goals of manufacturing companies, the consideration of the entire supply network plays a central role. These challenging goals can only be successfully implemented in close cooperation with all those involved.
SupplyOn supports you with a wide range of solutions to achieve your sustainability goals together with your suppliers. This begins with the selection of suppliers from a sustainability perspective and continues with the collaborative determination of the CO2 footprint, the monitoring of environmental aspects right through to CO2-optimized transport route management.
Carbon Footprint
Jointly achieving ambitious climate targets in your supply chain
Up to 80% of CO2 emissions in the manufacturing industry come from the supply chain. So, CO2 emissions must be taken into account in all corporate decisions affecting the supply chain. The starting point for addressing this responsibility is the availability of reliable data. SupplyOn offers a holistic concept that considers the Company Carbon Footprint (CCF), the Product Carbon Footprint (PCF) and the emissions caused by transport. This creates the basis for targeted emissions management and the sustainable reduction of your carbon footprint.
Your benefits of handling
Sustainability and ESG aspects via SupplyOn
The most important features at a glance
Sustainable Sourcing supports you in considering all sustainability aspects including the CO2 footprint. These footprints are already taken into account when selecting suppliers
Sustainable Transport Management gives you full transparency on your Scope 3 emissions and shows you the potential for optimizing CO2 reduction in transport management
Supply Chain Visibility helps you to identify critical suppliers and supply paths with increased ESG risk (so-called hotspots)
The integration of ESG information from a wide range of data sources and the comparison with your supplier base ensures full transparency in supplier management
Control mechanisms within the supply chain collaboration allow valid Procure-to-Pay processes, valid verifications and certificates to be reliably queried
Query and validate supplier CO2 information and integrate this data into your internal CO2 management
Continuous improvement at different levels through joint definition and implementation of measures with your suppliers allows you to achieve your sustainability goals
Would you like to optimize the sustainability of your supply chain?
Just enter your contact details and we will get in touch with you as soon as possible.