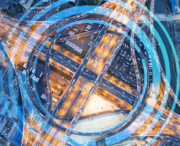 Inbound Transport Management
Maximum supply and planning reliability in inbound transport management through smart integration of SCM processes and mapping of the end-to-end process
Optimization through intelligent linking
The potential for optimization in inbound transport management is huge and can be leveraged if material demand processes are smartly integrated into transport processes. That is exactly what the smart transport management solution from SupplyOn offers: The integrated solution covers the entire process from demand message through shipment and transport creation to freight invoicing.
By linking the SCM processes with the TM processes and integrating all parties involved, all transport-relevant data and processes run through one central system. Even highly complex logistics networks can thus be managed in a cost-optimized and agile way.
Your benefits of an integrated
Inbound Transport Management
Access to a pool of 2,500 logistics service providers
Coverage of all transport types: CEP | sea and air freight | road and rail
Intelligent selection of logistics service provider and transport type
Real-time reporting on delays and their impact
Notifications in case of delays in order to make course corrections in time
Direct control of your transports in your SCM system
Optimized load creation through intelligent bundling of shipments
Integrated, collaborative freight cost clearing
Would you like to reduce your transport costs?
Just enter your contact details and we will get in touch with you as soon as possible.