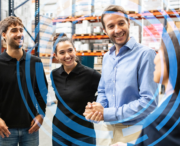 Supplier Management
Enhance efficiency and transparency when managing your suppliers
Broad optimization of your long-term supplier relationships
From supplier development and compliance inquiries to the management of supplier master data and certificates – successful supplier management requires a high level of transparency in the business relationship and company-wide standardized processes between you and your supplier.
The aim is to also anticipate diminishing performance and possible problems early on so you and your supplier can implement suitable countermeasures. With our proven processes, we help you improve your long-term supplier relations.
Supplier Information Management
Set up a central data pool which your suppliers maintain themselves and which is available for your staff company-wide.
Performance Management
You help your suppliers take a focused approach to improve their performance with meaningful evaluation data that are regularly communicated.
Certificate Management
Automated retrieval of your customers' environmental and quality certificates ensures central access to current certificates throughout the company.
Compliance Management
SupplyOn automates the communication process with your suppliers in order to obtain and centrally manage verifications legally required for compliance.
Supplier Development
With SupplyOn, you work with your suppliers to develop an action plan for targeted supplier development.
Supply Chain Risk Management
SupplyOn supports you in managing risks in your supply chain and minimizing them together with your suppliers
Would you like to get more information about Supplier Management?
Just enter your contact details and we will get in touch with you as soon as possible.