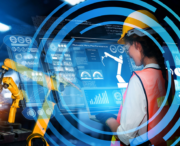 Manufacturing Visibility
Minimize delivery and quality risks through insight into your suppliers' production
SupplyOn empowers your supply chain
By integrating data from the supplier's production (machine data, OEE, FYD) into the ordering and delivery process, valuable insights into the current state of production are created – both for the supplier and, if desired, for the customer. This end-to-end digitization enables both sides to respond more quickly and professionally to fluctuations in demand: The supplier receives changes without delay, the customer immediately recognizes whether a changed order can be fulfilled.
Close synchronization between current requirements and production planning at the supplier's end makes it possible to smooth production processes and thus increase productivity. Thanks to a regular exchange of data – both upstream and downstream – a control loop is also created that leads to ever better data over time. This means that production planning can be continuously optimized on both the supplier and customer sides, resulting in significant savings in terms of costs and time.
Your benefits of
Manufacturing Visibility
Detailed insight into production progress at the supplier's site
AI algorithms improve forecasting
Traceability
Alignment of production capacity at your supplier with your long-term planning (e.g., S&OP)
Data sovereignty: the supplier decides which data to share with which customer
4 modules for successful
Manufacturing Visibility
Do you want to minimize your supply and quality risks by gaining insight into your suppliers' production?
Just enter your contact details and we will get in touch with you as soon as possible.