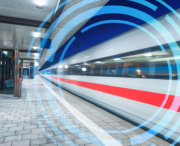 Railway Industry
SupplyOn has established an extensive business network within the railway industry – the foundation for successful collaboration with business partners and suppliers
The railway network that benefits you
Complex low volume batches developed and produced with the involvement of a large number of suppliers is characteristic of rail vehicle, motor vehicles, buses and building machinery manufacturing. Producers work very intensely and in close collaboration with their suppliers throughout the entire product development process.
And their collaboration with suppliers doesn't end with delivery of the vehicle: after successful delivery, the maintenance and servicing process for the vehicles begins, which requires an elaborate replacement parts management system and renewed close collaboration with suppliers, service providers and freight forwarders – with the objective of being capable of delivering as soon as possible (downtimes can quickly add up to costs in the hundreds of thousands) and preventing the buildup of unnecessary inventories.
This is where SupplyOn is at its best
SupplyOn is rooted in the automotive industry, but holds years of experience as a strategic partner with the aerospace industry working with suppliers in batch production to optimally support both manufacturing and maintenance. This is know-how that other industry segments can now benefit from as well. But know-how isn't all that matters: a very large share of suppliers in the railway industry also supplies the automotive and aerospace industry and is therefore already part of the worldwide manufacturing network that SupplyOn has established over many years. Our customers already benefit from this – and will you soon too?
Our customers in the
railway industry