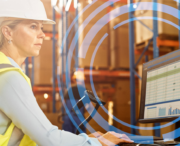 Vendor Managed Inventory
Reduce capital costs through lower warehouse stock levels
Maximum transparency of inventory and demands
SupplyOn's Vendor Managed Inventory (VMI) gives your suppliers insight into your warehouse stock levels via our web-based solution and automatically ensures that they remain within agreed minimum and maximum limits. Your data is read by the VMI monitor right from your ERP system and updated daily, so both sides can plan on the basis of identical information. In critical situations, for example where there is an imminent risk of your stock levels falling below the minimum threshold, you and your supplier are automatically informed.
A simulation function allows your supplier to simulate deliveries and adjust production to best suit your needs. Other functionalities as well as inventory monitor visualization enable your supplier to immediately register when, which and how many parts need to be delivered.
Your benefits of
Vendor Managed Inventory
Case Studies on SupplyOn Vendor Managed Inventory
Would you like to get more information about VMI?
Just enter your contact details and we will get in touch with you as soon as possible.