With a focus on implementing technology and innovation, the 16th Annual PNAA Conference in Lynnwood, Washington, featured more than 600 participants and over 350 companies from 10 countries addressing global developments and regional concerns of the aerospace supply chain.
This was the first major event for SupplyOn North America in 2017 just prior to the announcement of the company's strategic growth initiatives for the US Market. SupplyOn representatives included CEO and supply chain expert, Derek Beggarly, Director of Sales, Shaun Alger, and Regional Account Manager, Josh Scout.
Hot topic: new ways to increase productivity
The three-day event was organized under the theme of implementing technology and innovation to help participants achieve a competitive edge. As budgets are tightening, much of the conversation at PNAA was focused on finding new places for customers and new ways to increase profitability. For companies like Airbus and Boeing, there is a 7-year backlog in orders and it is still difficult for them to raise prices. One area that Boeing is looking to increase profits is in Services. As part of this, they've created a new division in Dallas to go after services. Most in attendance agreed that the next decade is about efficiency and productivity. On the upside, the US is leading the way in technology innovation, a key differentiator in the supply chain industry.
With the current political landscape shifting, industry challenges were addressed during PNAA. Critical factors impacting Aerospace, one of the leading export industries in the US, include NAFTA, TPP, export / import bank, China, and tariffs. In addition, participants learned that larger players such as Airbus and Boeing want to deal with less suppliers, which is causing suppliers to consolidate especially within the lower Tier suppliers.
Two notable industry experts that discussed many of the industry's challenges and opportunities were speakers Giuseppe "Joe" Marcheschi, Deputy Procurement, Airbus Americas and Randy Tinsmith, VP Marketing, Boeing.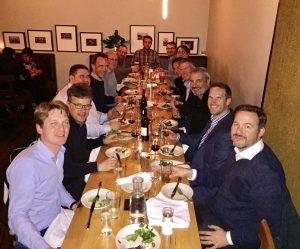 In addition to attending presentations from key industry leaders and participating in the Boeing factory tours, SupplyOn had the opportunity to join more than 20 businesses and agencies from European Aerospace Cluster in a series of networking events and strategic discussions, resulting in a number of post-conference follow-up meetings. SupplyOn would also like to recognize Norbert Steinkemper for all of his efforts organizing the European Aerospace Cluster.
SupplyOn is scheduled to attend the Aerospace Industries Association 2017 Spring Supplier Management Council Meeting in Seattle March 7-9.