EY's conference "Supply Chain Days" was held on June 21 and 22 in Heidelberg. More than 150 experts discussed the next step: the digitalization of the supply chain.
The intense interest in this topic was reflected not only by the large number of attendees, but also by the caliber of the participants and speakers: They included representatives of BMW, Siemens, Adidas, Uber and Drägerwerk. Villa Bosch was bursting at the seams. The organizer is now considering moving the conference to another site or partially digitalizing it. And that brings us to the topic at hand.
The key revelation: The supply chain is evolving from an Internet-based, company-owned world and becoming a new cloud-based eco-system designed to serve a global network of all members.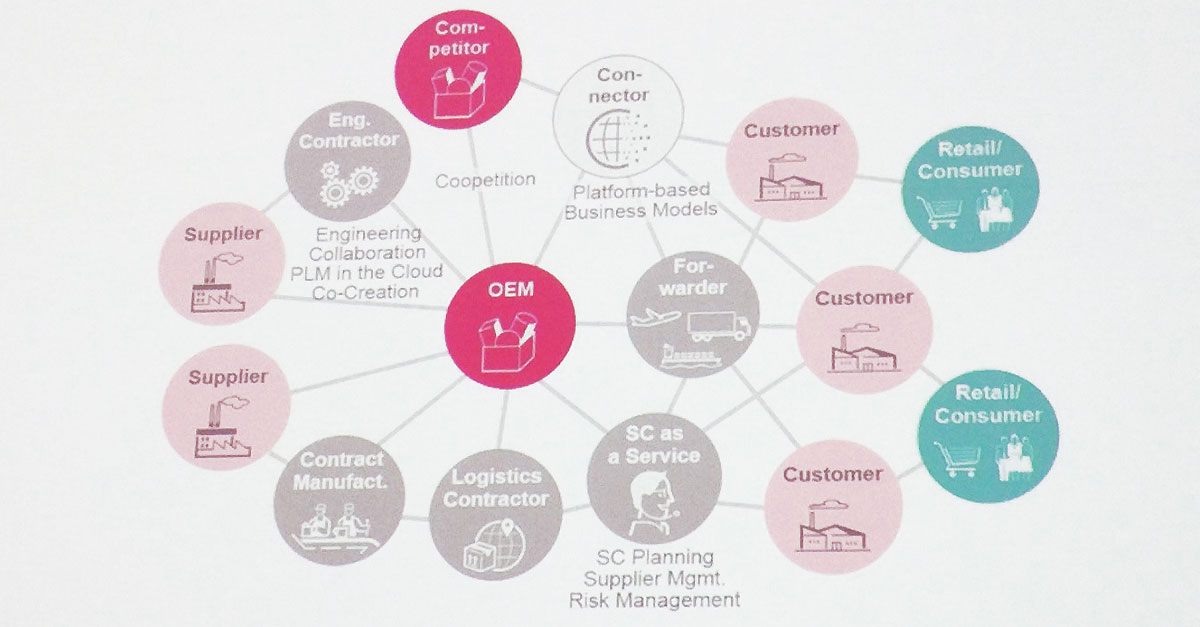 Real-world digitalization: fail-safe machines, the driver-less company and the right questions
I found the industry-driven presentations particularly interesting: The machine-tool provider Trumpf, for instance, is investing in digital transformation. The company founded AXOOM, an independent company that provides smart-factory solutions for Trumpf machines. These solutions would enable customers to recognize when a machine has broken down or needs maintenance. This could even go as far as to Trumpf offering a machine that will never malfunction as part of their service level agreement.
Drägerwerk is likewise pursuing an exciting approach with a (near) driver-less company: The aim here is to use standardization and automation to such a degree that the CEO can ultimately run the company alone. To reach this goal, Dräger is introducing new methods such as Design Thinking and the Drägergarage. According to Andreas Homolla (CIO at Drägerwerk), this type of digitalization will only be possible if IT departments succeed in reducing the flood of e-mails to a bare minimum by introducing new technological possibilities.
At Siemens, the company's new business areas are also all focused on digitalization. Miguel-Angel López, the CFO of Siemens AG, always poses the same question to colleagues and customers: "Don't tell me what you can automate. Tell me what you can't automate." That is how you reach the right goal.
Both conference days were filled with numerous potential approaches to digitalization. They just need to be realized. Data exchange in networks is on the rise and will reach new dimensions. Software facilitates a better and more targeted utilization of this data. This will allow for new possibilities we are unable to imagine at this point. With this thought in mind: Happy Digitalization.