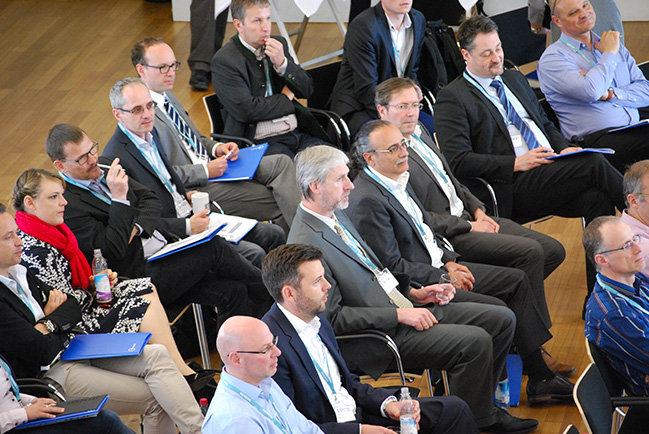 "Help shape the future with us". This call to action greeted over 60 participants at the first Siemens and SupplyOn Suppliers Day. Together with the German Federal Logistics Association (BVL), the two companies invited participants to share their experience of supply chain digitalization in Freising on May 4th.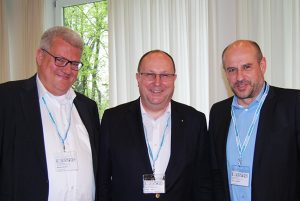 The aim was to gather honest feedback from suppliers on the SupplyOn solution and processes at Siemens. Numerous experts from both companies were at hand to answer suppliers' questions. Prof. Thomas Wimmer, CEO of BVL, was the event's lively moderator.
Wimmer also held the keynote speech. In his speech he provided interesting insights into BVL's current study of logistics trends. According to the study, sustainability is the fastest growing area in terms of importance. However, the areas with the most pressing need for action are staff shortages and business analytics. The three biggest trends are transparency in the value chain, process digitalization and, above all, cost pressure.
"Now is your last chance to get digital"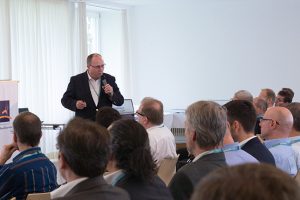 Prof. Wimmer stressed the fact that digitalization involves extensive investment. What's more, flows of goods are becoming increasingly customized. This in turn requires a reorganization of the value chain and increases complexity.
Wimmer therefore expects great benefits for logistics processes from predictive analytics and artificial intelligence. Data will have an increasingly important role to play in this. He also sees particular potential in sensor technology. His conclusion was: "You have one last chance to get digital. And that is now."
Moving into the digital future together with suppliers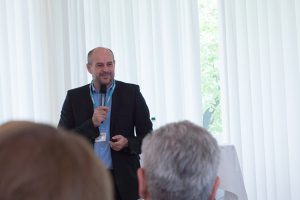 Thomas Holzner, Program Manager Digitalization Purchase-to-Pay (P2P) at Siemens, then presented the Group's digitalization strategy. At its core is the "App Store". It illustrates all of Siemens' digital prototypes and solutions in the area of SCM. Among the central apps is the purchase-to-pay process.
However, digitalizing this process is not a simple affair: Due to its extensive history, the nine business areas at Siemens currently use 42 different ERP systems in 220 plants. At the same time, Siemens works with over 90,000 major suppliers. And only 10% of all purchase orders are processed without changes along the way. These figures alone are impressive – and spell out where the challenges lie.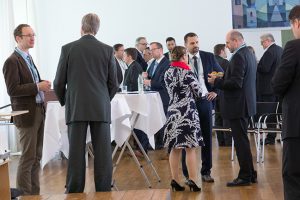 Holzner therefore only sees one solution: a purely digital handling of the entire P2P process with suppliers, from order to invoice. "SupplyOn is our strategic partner for these complex logistics processes", he continued.
Holzner assured: "we definitely want honest feedback!" This is the only way to ensure a successful joint transformation. He especially encouraged suppliers to engage in developing solutions to jointly improve processes even further. After all, "Digitalization is our future."
Ideally, digitalization covers several stages of the supply chain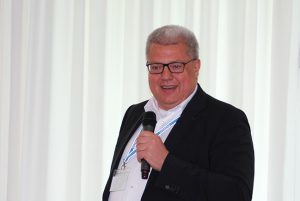 Markus Quicken, CEO of SupplyOn, then presented the SupplyOn platform in greater detail. It provides standardized access to all supply chain relevant information.
Using the aerospace industry as an example, he illustrated how the AirSupply solution has become the backbone of the supply chain for the entire industry, as this solution is used consistently across several stages of the supply chain and thus achieves its full potential. As such, for Quicken, "using SupplyOn in the customer-supplier relationship with Siemens is just the first step in digitalization."
To underline this, he also referred to the Stegkemper study: 72% of medium-sized enterprises surveyed said they would benefit from stronger integration with their own suppliers. This "would massively boost process maturity for the entire industry," said Quicken, speaking from experience.
The main goal, ultimately, is to achieve disruption-free production through corresponding transparency. The basic requirement for this is to create the "information highway" between suppliers and Siemens before they digitalize further – for instance, to integrate logistic service providers or sensors. Those who haven't done their homework – for example, with master data – will continue to have problems.
Quicken likewise concluded his speech with an explicit request for honest feedback "so that we can shape the future together".
Intensive exchanges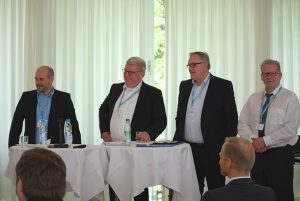 The participants made good use of this during the subsequent podium discussion with representatives from Siemens and SupplyOn. They learned that although only a few thousand suppliers are connected to Siemens, the majority of transactions are processed in this way. In logistics, for example, 80% of transport volume is already handled via SupplyOn.
Unlike most companies, it is not (end) customers who drive digitalization at Siemens, but the procurement department.
André Truszkowski-Jonas from Siemens Mobility also provided interesting insights into digitalization from the perspective of a supplier for European railway operators. They now profit from an end-to-end connection from the end customer to its mobility suppliers. As such, both the railway operators and Siemens (as a supplier) benefit from high-quality processes.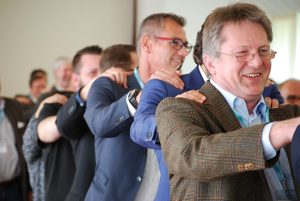 Prof. Wimmer stressed that digitalization always involves a certain interplay between IT and organizational process improvements.
Following lively discussions and practical tips for specific challenges, it was time for a finger food lunch – where the animated exchanges continued at the various Topic Corners.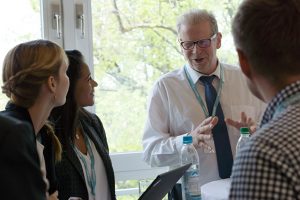 Here, suppliers and Siemens employees from various divisions could ask specific questions about individual processes such as invoicing and vendor-managed inventory (VMI). Participants enjoyed the lively discussions, shared experiences, and gathered new ideas and suggestions.
Working together on tangible process improvements
The afternoon was dedicated to the goal of working together to ensure a better future. Andreas Kolb, Project Manager for Electronic Supplier Integration (ESI+) at Siemens, and Thorsten Fülling from SupplyOn presented the digitalization project in greater detail again.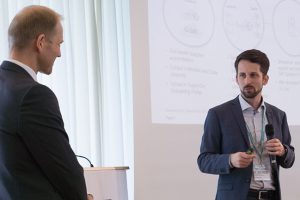 The aim is to optimize and standardize traditionally heterogeneous processes and required manual work through this primary step towards digitalization. Kolb is convinced: "Together, this will help us achieve a strategic competitive advantage – with the help of SupplyOn." For him, the benefits are obvious, from flexibility to automation to transparency. "There is a lot of potential for jointly making progress with the entire value chain."
This was followed by three round-table sessions on document management, VMI and complaint management to expand on the multifaceted topics and potential for improvements in greater depth. The participants were all able to frankly and openly discuss experiences and challenges in joint cooperation.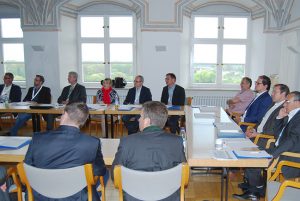 Due to the very different ERP systems that have evolved, processes are not implemented consistently across all divisions. Naturally, this may lead to problems in some areas. In these cases, the exchange proved to be very helpful for both sides: Siemens employees learned about suppliers' problems, while suppliers received specific feedback and pointers from those responsible for the processes.
Of course the participants also discussed future improvement options, such as the exchange of CAD files. Thomas Holzner summed up by saying: "As Siemens and suppliers, we need to work together to improve our collaboration and processes."
Suppliers Day to become a regular event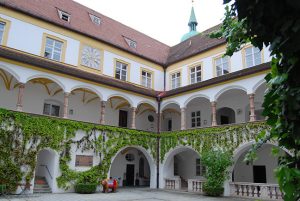 On the whole, the day was marked by very constructive exchanges. Feedback from the participants was extremely positive. They found the event format to be inspiring, varied and forward-looking. They particularly appreciated the willingness of presenters for in-depth examination of the issues and the open, solution-focused dialog.
So it is an obvious conclusion for Siemens adapt the Suppliers Day as a regular event in the future. And perhaps, we attract even more suppliers this fall. We are already looking forward to the next event!