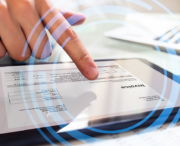 Smart Invoicing
Automated invoice processing through intelligent digitization of the entire P2P process: from order to final payment
Generate invoices from order and delivery data
With SupplyOn, the invoicing process starts long before the creation of the invoice, in fact, right after the purchase order is sent to the supplier. In this way, all relevant data that is generated on both sides during order processing is included in the invoice.
On the one hand, this makes it much easier for the supplier to create the invoice. He can simply generate the invoice based on the order and delivery data. On the other hand, the end-to-end digitized process results in invoices with maximum data quality. In other words, the invoice data match those from the purchase order as well as the goods receipt and can thus be booked automatically.
Your benefits of Smart Invoicing
Smart control functions and plausibility checks ensure that country-specific, tax-related and customer-specific requirements are met when suppliers create invoices
AI-based algorithms fill in missing information
The so-called PO flip automatically converts order data into invoice data
Coverage of numerous input channels for invoices: from direct connection via EDI and web application to transmission of invoice data via XML, CSV, Excel or PDF
PDF invoices are converted into a structured, digital invoice file that can be processed automatically at the customer's site
Case study
Bosch provides suppliers with a comprehensive view of their invoice status, independent of the invoicing channel
The Bosch Group receives its suppliers' invoices through many different channels, from paper to eInvoicing. Until recently, however, suppliers could obtain an overview of the processing status only for electronically sent invoices. As a result, in addition to balance confirmations or reminders, general inquiries about payment dates or the status of an invoice began to accumulate. For this reason, Bosch, together with SupplyOn, developed a Finance Portal that provides suppliers with a comprehensive view of the processing status regardless of the invoice channel. A request channel in the Finance Portal, which is integrated with other Bosch tools, further reduces internal administrative work and increases the service level.
Do you want to automate your invoicing processes?
Just enter your contact details and we will get in touch with you as soon as possible.