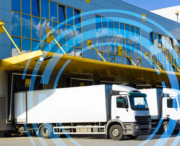 Dock/Slot Management
Smart control of time windows and loading docks for more efficient supply management that saves time and costs
Optimize coordination of loading and unloading
An efficient, intelligent control of loading and unloading processes offers high potential for savings. After all, there are enormous costs resulting from manual workflows, lack of transparency, long idle and waiting times, and insufficient loading capacity or poor capacity management.
With SupplyOn's Dock/Slot Management, loading and unloading can be coordinated in an optimized way. This process is also known as Yard Management. Time slots and loading docks can be booked when the transport order is placed and simply adjusted or changed later, if necessary. Workload, staff and facilities can be planned in advance in terms of expected loading times and required loading equipment. Thanks to real-time insight into the current conditions at the ramps, companies can react quickly to changes and thus avoid capacity bottlenecks, congestion and long lead times.
Your benefits of
Dock/Slot Management
Uncomplicated time slot booking by scheduling or logistics service providers. For this purpose, shipment data can be transferred directly from the TMS
Calculation of estimated loading times at the ramp based on the announced freight quantity and the required loading equipment
Real-time overview of the current capacity at the loading ramps
Prioritization and flexible rescheduling of loading operations
Transparency of truck entries and exits as well as their dwell time on the yard
Central, simplified connection to 2,500 logistics service providers worldwide
Would you like to reduce your transport costs?
Just enter your contact details and we will get in touch with you as soon as possible.