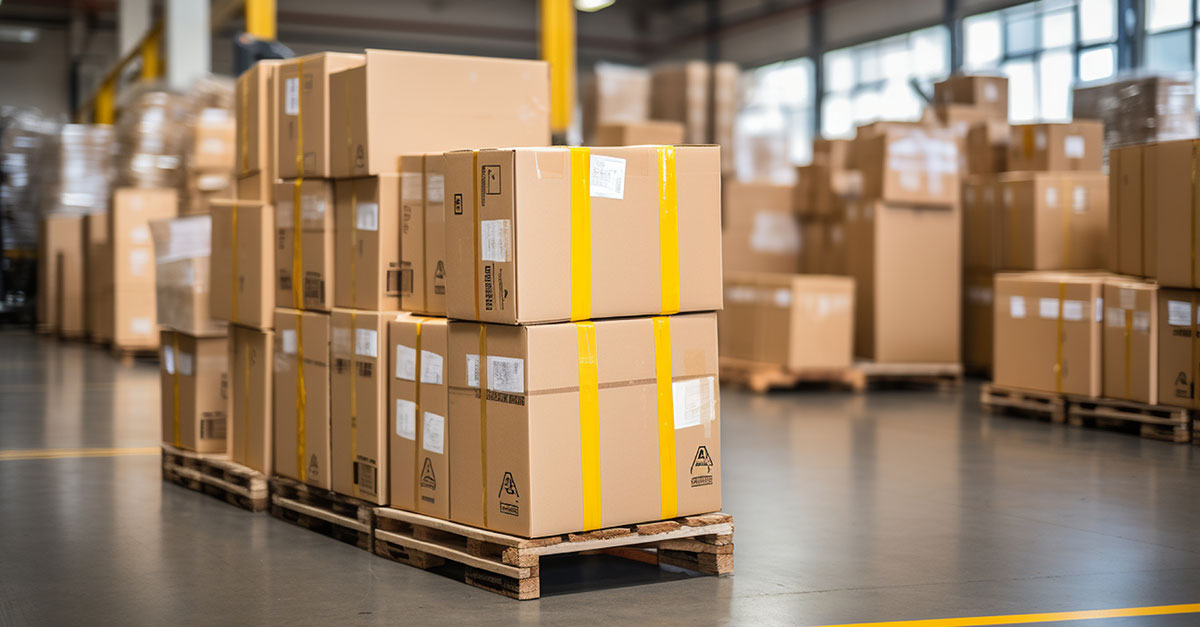 Transport bottlenecks, delivery delays, and volatile logistics costs have put more than just the inbound supply chain to the test in recent years. Outbound logistics faces the same challenges. But the solution has to be different. The actual outbound processes have their own specific characteristics. They typically run on different technical systems and are often less automated overall.
But how can you handle outbound shipments efficiently and automatically? And are there potential benefits to managing inbound and outbound from a single system?
Service parts: the challenge of ad-hoc transportation
While inbound logistics is based on long-term planning, consolidation, and optimization, outbound logistics processes are much more dynamic. A classic example is the supply of spare or service parts: When a customer calls to report a broken machine, the replacement part needs to be shipped and arrive at the customer's facility as quickly as possible.
Time pressure is high. The volumes to be transported are rather small. And the required master data is often missing from the ERP system. Ad-hoc shipments, varying materials, fluctuating quantities, different packaging, and constantly changing points of origin and destination make it difficult to automate processes. In addition, carriers and CEP service providers vary from shipment to shipment.
As a result, logistics managers typically have to manually enter all the necessary data into multiple carrier portals to determine the most cost-effective transportation. A tedious and error-prone process!
Shipment Data Entry mask: efficient support for ad-hoc shipments
In response, SupplyOn offers a Shipment Data Entry mask directly in the Transport Management System (TMS). This enables efficient digital processes even without a direct ERP connection or in cases where the master data for the transport order is not or only partially available in the ERP system.
The integrated syntax completion function makes recording of ad hoc transport requirements quick and easy. Thanks to the master data stored in the TMS, information such as addresses, packaging or items can be dynamically retrieved via an intelligent search and automatically populated. In addition, users can enter master data directly into the TMS, for example via Excel uploads. The system also remembers routes and orders that have already been processed and suggests the relevant data for a recurring operation.
Once entered, the information is sent to the carrier with a single click. This accelerates processes, eliminates sources of error, and saves resources — especially in situations where speed of response is critical.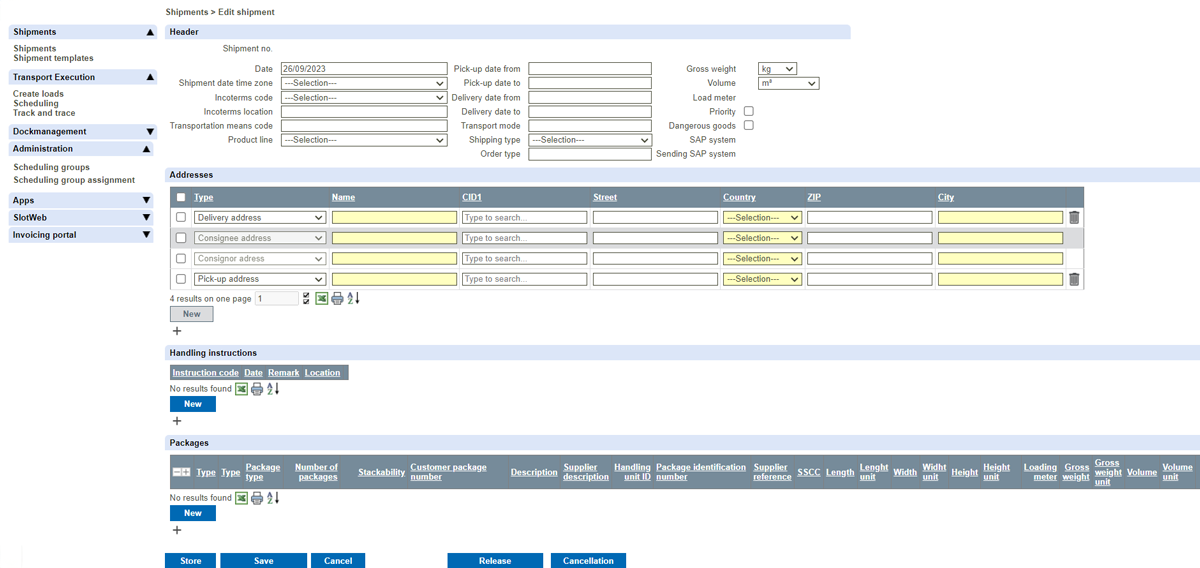 Digital and automated scheduling of regular outbound transports
However, the efficiencies that Shipment Entry brings also help to forward plan traditional outbound shipments. In the past, many plants sent their transport orders as PDF attachments via email to the carriers. The carriers in turn need to manually enter the data into their own systems. This can easily lead to errors. By using digital data transfer for shipment entry, these potential errors can be easily eliminated.
The carrier to transport the shipment can either be determined by load building rules, or it can be predefined. The latter, known as forced carrier process, reduces the complexity of the transportation network and enables cost savings through economies of scale.
Companies can also define load building packing instructions that are automatically used when creating the shipping notification or forwarder pick-up advice (FPA). The information from the FPA is then automatically incorporated into the label creation process. Label integration ensures that the transport labels to be printed meet all design and content requirements to ensure fast and smooth transport. Depending on the process, the TMS can also return the generated labels to the requesting system, such as the warehouse management system, or send them by email. Similarly, labels for the transport order can be requested directly from the carriers.
Overall, outbound transport processes can be made much more digital, automated, and efficient. Companies benefit even if individual plants do not have an ERP connection to the TMS due to heterogeneous system landscapes. The same is true if the quantities to be loaded and the associated loads fluctuate greatly. All of these cases, in which automation was previously only possible to a limited extent or involved considerable additional manual effort when creating loads, are now covered by a single solution: master data as well as shipments can be created quickly and easily; individual orders can be entered easily. The system automatically recognizes recurring processes and accelerates them with its completion suggestions.
All in all, this enables companies to digitize and automate their outbound transport processes and make them more efficient. Companies benefit even if individual plants lack an ERP connection to the TMS due to heterogeneous system environments. The same is true if there are strong fluctuations in the quantities to be loaded and in the associated loadings. All of these cases, in which automation was previously limited or required significant additional manual effort to create loads, are now covered by a single solution. It is a solution in which the creation of master data and the entry of individual orders is quick and easy. The system automatically recognizes recurring processes and accelerates them with its completion suggestions.
Powerful combination: handling inbound and outbound in a single system
However, the greatest gains in efficiency are achieved when inbound and outbound shipments are handled in one system. This provides companies with an end-to-end logistics data chain, always with material references, from their own requirements to the goods receipt at the customer's premises.
Moreover, you gain transparency at higher levels. This applies in particular to the volumes to be transported, regardless of the direction, whether outbound or inbound. This enables further economies of scale when selecting carriers.
At the same time, organizational visibility is achieved when, as in many companies, different departments or individuals are responsible for inbound and outbound. By using a unified solution, internal optimization potential can be identified and processes improved accordingly.
In addition, you can now identify opportunities to combine inbound and outbound transportation. For example, you could combine a plant-to-plant transport with a milk run or an inbound flow to save on additional routes. By overlapping inbound and outbound chains in this way, network planning can become much more intelligent and achieve highest levels of efficiency.
Overall, you can monitor all aspects of transportation and carrier management in the TMS, evaluate them through analytics, exploit synergies, and continuously optimize processes and costs on both sides of the logistics chain.