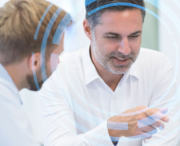 Supplier Development
Consistently develop the potential of your supplier
Continuous quality improvement with your supplier
The best way to ensure sustained quality improvement with your supplier is to achieve a common view of the potential for improvement and systematically track the implementation of defined measures. With the SupplyOn Action Management solution, both sides can work in the same system and thus collaborate on central action plans. You therefore always have the same view of the process status and there is a substantial reduction in the coordination efforts that are required with your suppliers.
Both you and your supplier can add new topics for improvements in the central store of topics. Once you have created an action plan for an issue, you can record any number of individual measures with their process statuses, deadlines and names of those responsible in a structured manner. Progress monitoring and automatic reminders ensure that the topics are handled on time. Measures that are established on the basis of a supplier audit can also be easily transferred to our solution by uploading them in Excel. This allows you and your supplier to track implementation of the measures and document results in order to properly complete the audit.
Your benefits of
Supplier Development
Would you like to get more information about Supplier Development?
Just enter your contact details and we will get in touch with you as soon as possible.