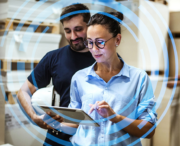 Advance Shipping Notification
Early information about upcoming deliveries and transports
Know what is delivered where and when
In particular in the case of complex supply chains, it is vital for your requirements planning department to be informed of upcoming goods consignments promptly and extensively. That is because unscheduled goods receipts or deliveries that cannot be handled or can only be processed with considerable effort due to false labels, barcodes or packaging as well as missing certificates or quality documents, cost valuable time and money.
With the electronic Advance Shipping Notification (ASN) in SupplyOn, you know exactly what your supplier will deliver where, when and in what quantity. The advantage of the electronic process is obvious: When your supplier creates an Advanced Shipping Notification, it already contains information from the original order or the delivery instruction. That means your supplier only has to add a few more details relating to the packaging, volume and transportation. Further documents required for customs clearance and transport processing as well as certificates and quality documents can be requested and returned electronically with the delivery notification. Well before the goods are received, your dispatchers therefore receive all the information and documents they need to make the necessary preparations for receiving the goods. 
Your benefits of
Advance Shipping Notification
Would you like to get more information about ASN?
Just enter your contact details and we will get in touch with you as soon as possible.