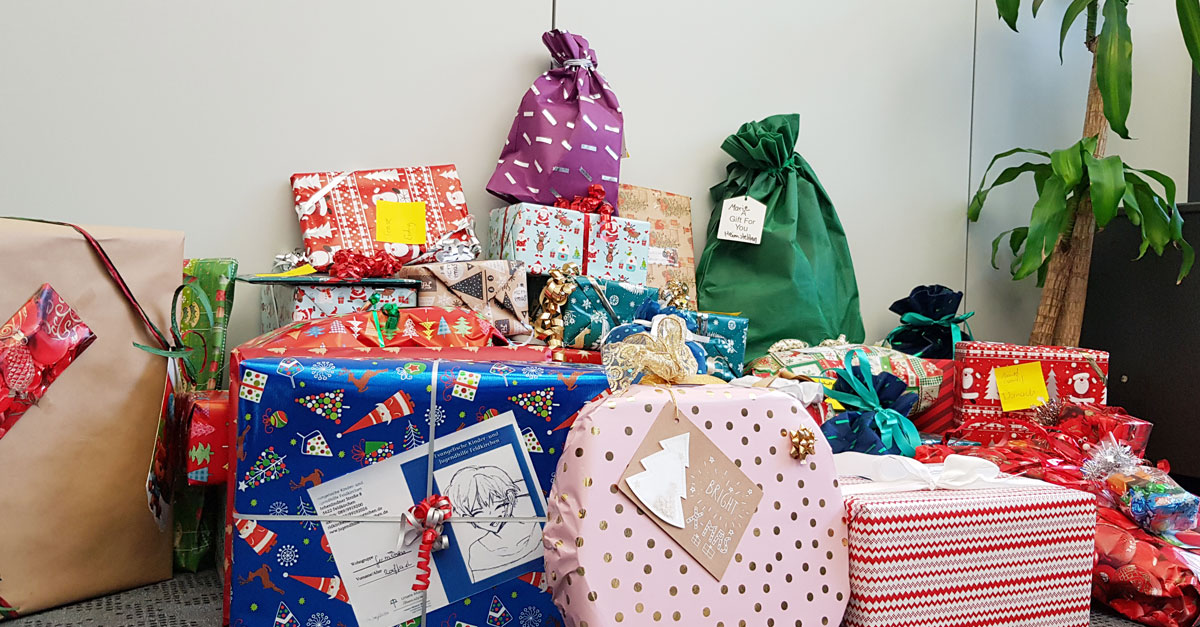 Christmas is the season of miracles and sharing. While in Santa's workshop at the North Pole, he and his elves are wrapping one gift after the other, four trainees at SupplyOn are also highly motivated to bring joy to children in need at Christmas. To ensure that as many colleagues as possible join in, they have come up with something very special in these home office times.
It is a Christmas charity project launched by the Charity Meets Challenge e.V. association: The Münchner Geschenkeregen (English: Munich Gift Rain). The aim is to fulfill small Christmas wishes of children and young people who are growing up in foster care. Under normal circumstances, the wishes would hang on Christmas trees in the supporting companies. Employees who want to participate in the project would pick a wish from the tree and make it come true. But in times of working from home, people do not work in the office and therefore companies don't set up Christmas trees on their premises. To ensure that the "rain of gifts" won't go down the drain, four of our trainees have "supplied" a digital Christmas tree.
The digital Christmas tree
Since November 2, Dejan Ljatifi, Dominik Loibl, Gökhan Darici and Niels Lais have been working at full speed. Within four weeks they created a digital Christmas tree. An ambitious goal for which they had to put their regular tasks on hold. After all, most of them were at vocational school for half of the time. From getting up earlier to fiddling around with friends on the weekends to postponing their vacation, the four of them put in all their efforts to bring joy to the children.
And here it is: SupplyOn's virtual Christmas tree. On a website created especially for this purpose, 44 red baubles hang on the Christmas tree. Clicking on one of the baubles opens a virtual wish card. It contains a picture drawn along with the gift wish and the child's first name. If SupplyOn employees would like to fulfill one of these wishes, they can reserve the bauble and make a child happy.
But the trainees don't just do a great job developing the website with the digital Christmas tree. They also take on central tasks in the further course of the charity project. For example, they handle the gifts receipt at SupplyOn. They then wrap these gifts with love and care. And last but not least, they make sure that each package reaches its recipient by delivering the packages to the foster homes.
Who is behind the wishes?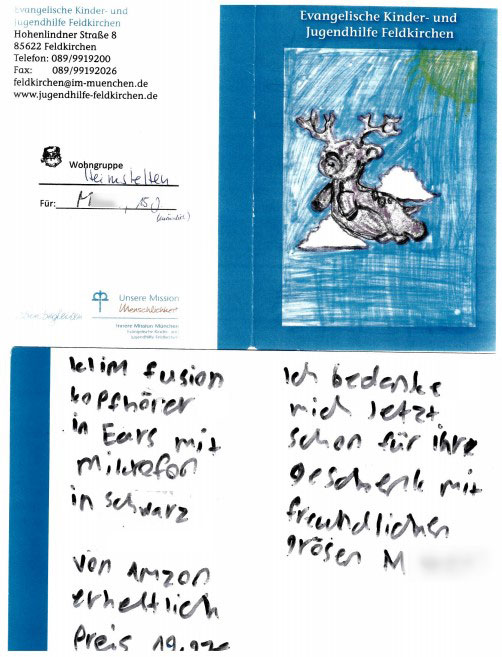 This year, as part of the project, SupplyOn employees are donating gifts to Feldkirchen Protestant Child and Youth Welfare Center. These children are aged between 7 and 18 and live in various residential groups scattered around Munich. For various reasons, they are all unable to spend Christmas with their families. To help them forget this circumstance for a short moment, we give each child what his or her little heart desires. The wishes that our very own Christmas elves received as PDF files could not be more different. These range from unicorn jumpsuits to cell phone covers and headphones to necklaces and bath slippers.
How do our Christmas elves feel about the project?
Looking back, the trainees praise the smooth flow of the project. Under the leadership of Angela Heckenbücker (Vice President HR), who was responsible for coordination and communication with the facility, everyone involved did a great job and can be proud of himself. Dominik Loibl, speaking for the group, sums up:
The Christmas tree app has taught me a lot in terms of teamwork and further development of my coding skills.  I would be very happy to do more projects of this kind with my fellow apprentices.
Currently, it is not so easy to be there for others, to lend strength to each other, to express a sense of closeness. But the feeling of belonging and of not being alone is more important than ever, especially for the youngest among us, some of whom do not yet understand why they are no longer allowed to meet their friends. We want to show them that we are thinking of them.
Christmas is the celebration of sharing and love. Let's be there for each other together!