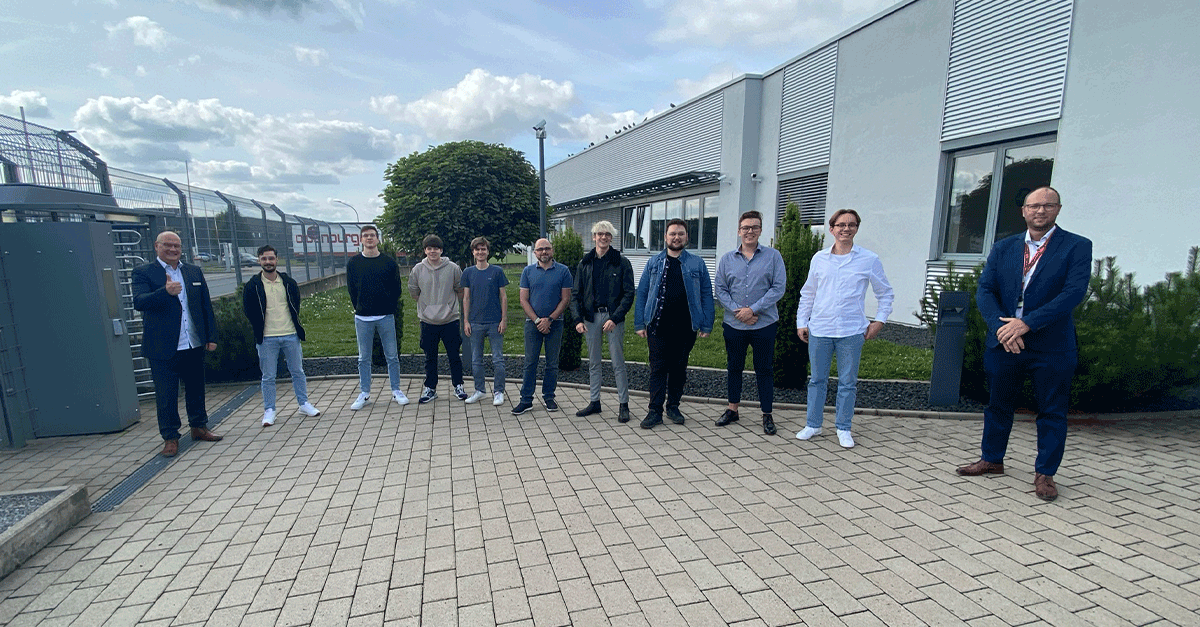 As part of the welcoming events for new apprentices, and at the same time as a team-building program for all SupplyOn apprentices, our two vocational trainers Walter Thiel and Marco Gulluscio came up with something very special: During a two-day excursion, we visited a state-of-the-art Fujitsu data center in Neuenstadt, Germany. Such a visit is, of course, a particular highlight for anyone with a passion for information technology, be it professionally or privately. Consequently, we prepared the trip intensively, noting down many questions.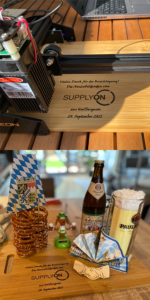 On September 28, the time had finally come. The gates of the massive steel fence opened and we were warmly greeted by the Fujitsu team of Klaus Schaller (Senior Account Manager), Tristan Schlander (Team Manager & Senior IT Systems Administrator) and Georg Tronich (Senior Service Manager). Already Impressed by the security measures in place, we entered the data center. While we worked our way from the outside ever further down to the core of the building through many layers like the peeling of an onion, we could see with our own eyes the true meaning of Mr. Tronich's words: "This building was built precisely for its purpose."
Tangible computing power
Now, the legitimate question is, what's so exciting to "see" in a data center? After all, you don't catch much of the data that whizzes by under your feet at the speed of light.
The only way to answer this question is to stand in such a data center yourself. It is packed with air-conditioning systems, generators and independent power supplies that exceed the size of office complexes. The noise levels are so loud that you can' t understand your own words. And the air circulation makes you feel the released energy all over your body. All these visual, auditory and kinesthetic impressions not only underline the immense power behind these walls, but also quickly make you realize that work goes on in this building around the clock — 24/7, 365 days a year.
During our tour of the building, Georg Tronich answered all our questions "even before I had a chance to actually ask them," as by my fellow apprentice Dimitrij put it. Thus, Fujitsu provided us with even further input to follow up on.
At the data center's core
Once again, things got interesting for the eyes when we entered the core of the data center. Probably the most fascinating part was the robotics in the data backup area, which automatically moved LTO tapes from A to B. However, when we entered the actual server rooms, we stayed as if glued to the floor. That might have been due to the large number of different, enormously expensive servers blinking merrily away — or it might have been due to the well-tempered 18° Celsius inside.
"Let's stay here," exclaimed my fellow apprentice Niels. It was not like there were "streets of servers" stretching for hundreds of meters as we all know from movies. Rather, there were server clusters. Each measured five meters in length, with servers enclosed in separate rooms surrounded by walls of acrylic glass. It's extremely impressive to suddenly stand "inside" a server, with the cold air streaming just above the floor. Moreover, it is energy efficient, too.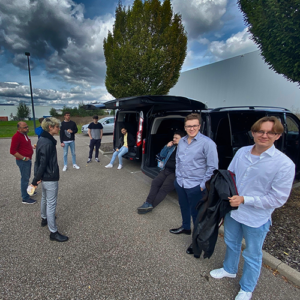 Company insights
After a lunch break on site, which Fujitsu kindly provided to a large extent, Mr. Schaller introduced us to the world of Fujitsu: Where do the roots lie of the company? How has Fujitsu grown and changed over the past 80 years? What do today's offerings include? To say the least, their range of services and products, as well as their history, is vast.
As the "grand finale", we then turned our attention to Fujitsu's collaboration with SupplyOn. During the presentation by Tristan Schlander, we not only learned about the complexity of the systems underneath it, but also: Which data is located where? And who works where on what?
This turned out to be more complex and impressive than we had thought. It became apparent that more than a hundred Fujitsu employees are continuously working on our infrastructure as part of the service team. But most of all, today's success could not have been achieved without the long-lasting, close collaboration between Fujitsu and SupplyOn. This has led to an almost co-worker-like relationship, which was clearly noticeable throughout the day onsite and underlines Fujitsu's status as a close SupplyOn partner.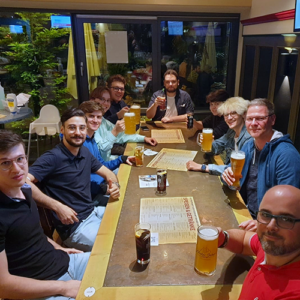 A big thank you to all
The entire SupplyOn vocational training unit would like to express its sincere thanks to Fujitsu, in particular Klaus Schaller, Tristan Schlander and Georg Tronich, for their hospitality and exclusive insights, as well as to our fellow SupplyOn colleagues for the support in making such an excursion possible!