5. SCE Forum in Hamburg: On the digital future and structural changes in the aerospace industry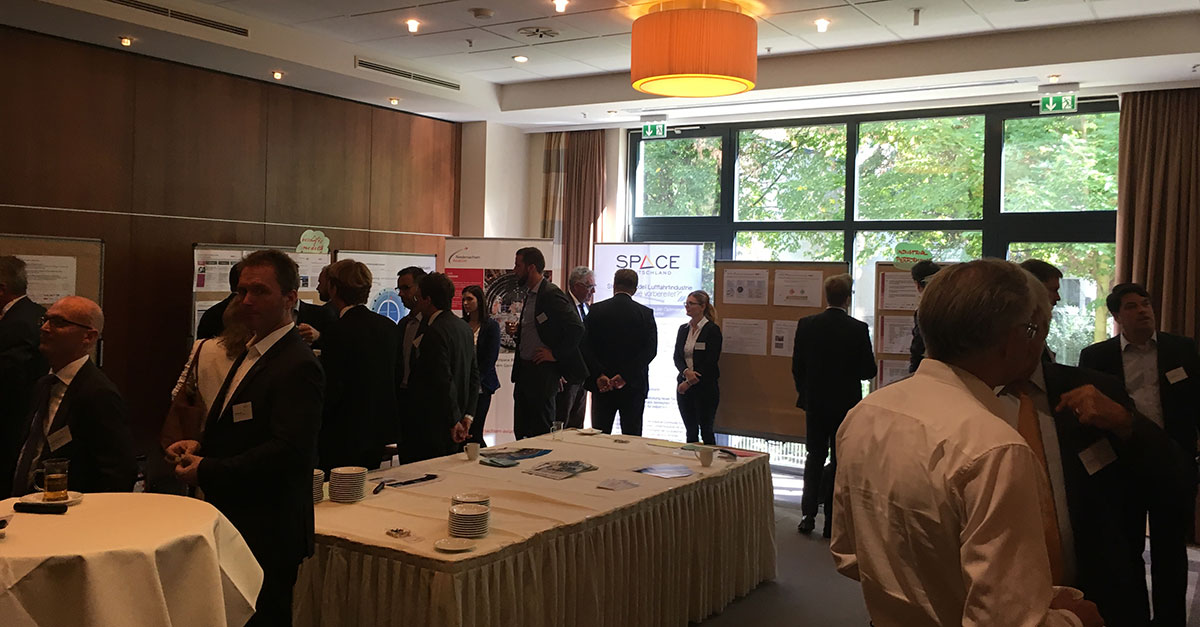 Hamburg calling: Preceding the 'Aviation and Space Regions' day, the Supply Chain Excellence Initiative (an association of regional aerospace associations and clusters, BDLI and SPACE) chose the Hanseatic city for its 5th SCE Forum on September 19.

Diehl Aviation redefines Purchasing and Supply Chain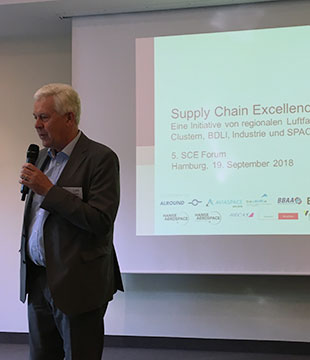 After being welcomed by the two leading regional associations, Mr. Schwarz from bavAIRia and Dr. Kirschfink from Hamburg Aviation, Johannes Bloch, new head of purchasing at Diehl Aviation, presented Diehl Aviation's new purchasing and supply chain strategy under the motto "We are One".
He encouraged the 150 representatives of the German aerospace industry to pave the way to intelligent value creation as suppliers of Diehl, having production facilities in Germany but also in low cost countries. In this context, he also addressed the importance of supplier portals such as the Diehl Portal and AirSupply.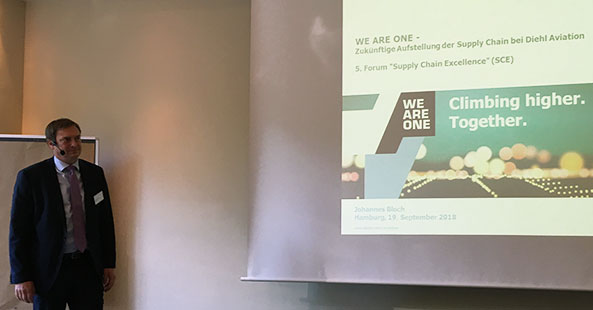 How the SCE Initiative supports supply chain best practices supports SMEs
This was followed by a series of best-practices presentations for successful supply chain activities in medium-sized companies, including an industrialization project of E.I.S. Electronics GmbH in cooperation with SPACE, the cooperation activities of Ziegler GmbH, an aviation specialist for turned and milled parts from Markdorf, the internationalization activities of CompriseTec GmbH and a practical report by Uwe Gröning of Innovint Aircraft Interior GmbH on the certification and qualification challenges. All presentations had in common that the presented topics had greatly benefited from the SCE Initiative's support.
'Marketplace of Opportunities': Sharing ideas for ensuring the competitiveness of German aerospace SMEs 
The SCE partners – and in particular the regional associations and SPACE – set up a 'Marketplace of Opportunities' with dedicated topic corners to exchange best practices, to discuss specific needs and to inform on upcoming events, such as the planned workshop of bavAIRia on November 26, 2018 in Oberpfaffenhofen. At this event, bavAIRia, SupplyOn and leading German aerospace companies will hold a workshop on "IT-supported data exchange in the supply chain". For further information, please refer to the bavAIRia website (in German). 
After socializing and networking during lunch break, there were two more exciting lectures for the participants:
Funding options by the federal government
Mr. Heibel from the Federal Ministry of Economics and Technology presented the funding option of the Aerospace Equipment Program for German aerospace companies, e.g. loans that need not to be fully repaid.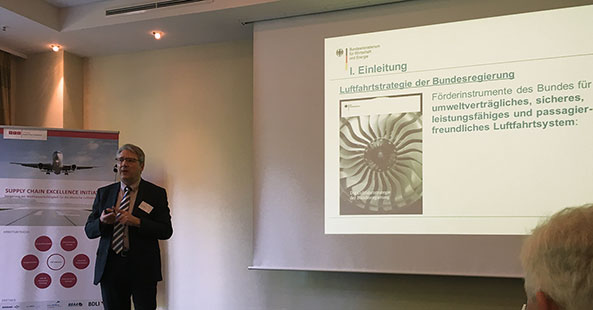 There was great interest in to this among the participants, especially with regard to the loan conditions.
Supply chain digitization is key to future success
Mr. Holzwarth from SupplyOn presented the first results of a recent SCE digitization survey which had been conducted by SPACE, the German regional aerospace associations, management consultancy h&z and SupplyOn.
German aerospace SMEs regard digitization not only as a great chance, but also as a key action item to remain competitive. However, OEMs / customer data is not always of sufficient quality for an automated transfer into the downstream supply chain. Despite recognizing the importance of digitization, implementation lags behind. Thus, German aerospace SMEs need support to ensure  customer data quality and drive the digitization of the supply chain. The full survey results will be available on the websites of the regional associations and BDLI by the beginning of October.
Summary
Once again, the 5th edition of the SCE Forum provided valuable insights into how German aerospace SMEs can prepare themselves to meet future challenges such as internationalization, cooperation, sales & operational planning, ramp-up, delivery reliability and digitization. For support on these issues, companies can continue to rely on the SCE Initiative.