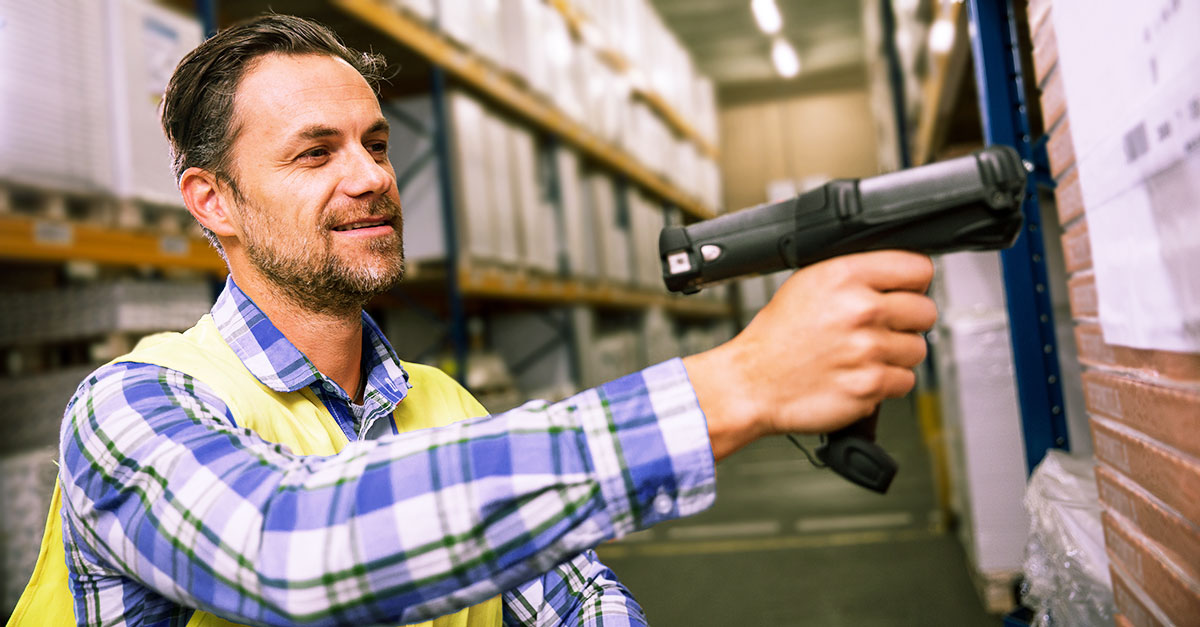 There is definitely a lot of "beeping" going on at my customer's first plant goods receipt area, where the goods are now being processed – in a considerably more relaxed manner – with scanners.
In the first part of my post on goods receipt optimization, I described how to automate goods logging with electronic notifications.
Now merely the tedious and elaborate relabeling of the packages for internal quality or production processes remains to be solved. A solution for this issue was also developed jointly with my customer.
The problem: supplier labels are usually not suitable for internal processing of the goods. The reasons: some packages cannot be clearly assigned. Sometimes the labels are simply too big to be processed. Therefore, a special internal label must often be printed for the picking in production.
These labels contain barcodes with unique IDs, which can be clearly assigned by the ERP system, supporting warehouse/production processes. However, this also means that these labels are printed when the goods are received. Placing them on the packs requires a lot of manual effort.
This process step can be automated as well. But the supplier would have to print a suitable label for this purpose. In addition to the basic information for electronic goods receipt (more on this in part one), this label must fulfill additional requirements. It has to:
contain the structure of the package (which packages are on which pallets),
indicate which materials are located in what container,
have a unique IDs, and
be suitable in shape and size for further use in internal processes.
And this is where it can get infinitely complicated.
Packaging structures as a challenge
The packaging structures must already be transmitted electronically as part of the ASN. Yet generating this information is usually a great challenge for suppliers. Qualified master data have to be stored according to packaging regulations. These, in turn, must be technically converted into an EDI notification. This simply overwhelms the technical capabilities of many suppliers.
Without an electronically transmitted packaging structure, however, your ERP system doesn't know which materials are in which cartons or boxes. An ID assignment on the label is therefore no longer technically possible.
Identification of package items with unique IDs
It is also a bit tricky to create a unique ID for the package item. Amongst themselves, suppliers would not know which ID would be next available for the package. This can quickly lead to duplicate package numbers, which in turn will interfere with your internal processes.
One possibility is to assign number ranges to each of the suppliers from which unique numbers can be assigned. Another possibility would be for your supplier to get a serial shipping container code (SSCC) at GS1. The former is not the best solution, since the number ranges are difficult to define. Conversely, the latter is associated with costs for the supplier which will be rejected by many.
Lastly, the special labels which are required for subsequent production processes become a complete impossibility. Standard labels are usually not useable; hardly any supplier will program special labels which will only be used for you and your internal processes.
What to do?
Introduction of a standard platform as a central hub
The solution is a central authority that handles all these tasks for you and the supplier.
A web platform such as SupplyOn can support suppliers in generating packaging structures and in their electronic transmission. Packaging rules are either recorded by the supplier in an intuitive input mask or deposited directly on the platform.
The unambiguous packaging ID can be generated through the SSCC algorithm or by linking the supplier number and unique package number per supplier.
Suppliers can therefore automatically generate the package structure, unique ID, and corresponding customer-specific labels at the push of a button based on the quantity of goods to be delivered.
Just a few clicks ensure that you and the supplier will have a smooth and flawless process: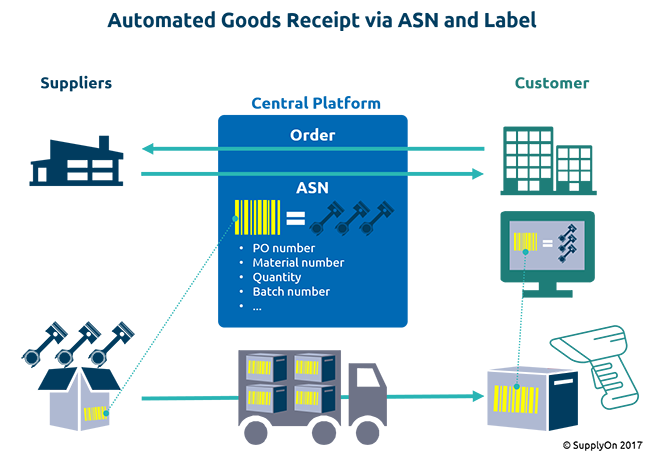 You'll now receive information on which materials are contained in what package items and the unique ID of the package with the goods delivery notification of the supplier. This information can now be combined with the internal ID of your ERP system. This allows you to use the labels applied to the goods by the supplier for all subsequent processes.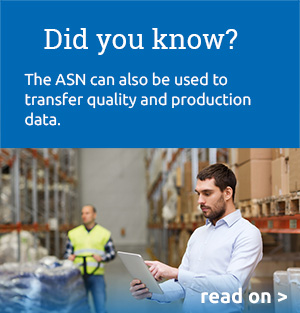 Admittedly, the path to electronic goods logging without manual relabeling is rocky. There are some hurdles to overcome, starting with a comprehensive concept, technical challenges, and the mobilization of your suppliers. But once you have the technical, procedural, and collaborative prerequisites, your processes become much more streamlined and efficient.
I hope that your plant will soon be "beeping" along, too!
Thanks for reading!
Yours, Florian Boehm