Easy transfer of inspection certificates with the Advance Shipping Notification (ASN)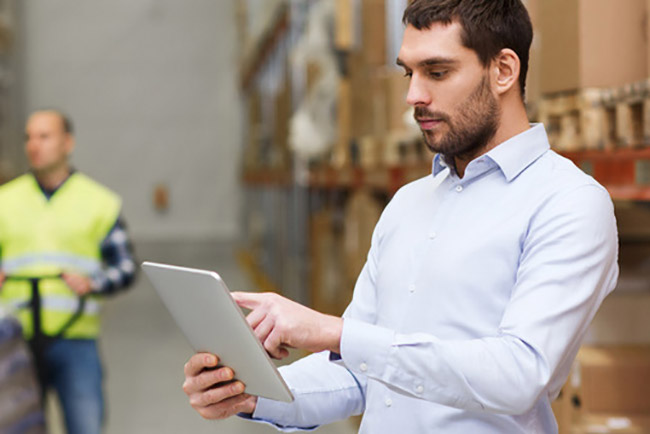 We are frequently approached by customers seeking a solution for transferring quality and production data generated by a supplier as part of the manufacturing and quality assurance processes. As an attachment to SupplyOn's electronic delivery note, the so-called ASN (Advance Shipping Notification) is exactly what they are looking for. Following the transfer, structured electronic certificate data can be seamlessly processed, analyzed and saved.
The evolution of inspection certificates – through to structured data transfer
Inspection certificates, for example, such as those known throughout the process industry as "certificates of analysis" (CoAs), have been an integral part of quality assurance and manufacturing processes for a long time. These certificates are often sent in hard copy as attachments to delivery notes; however, this causes a considerable amount of work in terms of evaluating and archiving, resulting in unnecessary costs.
More significant though, is the amount of valuable time wasted as a result. Furthermore, if quality issues are identified too late, this leads to subsequent costs which could have been avoided. Sending inspection certificates as PDF attachments in separate e-mails is also not a solution. This causes further disadvantages since they have to be manually assigned to deliveries and the e-mail attachments have to be archived. What's more, PDFs can only be evaluated in a structured manner with a high degree of manual effort – an automated assessment is not possible.
An initial step in the right direction: Sending the PDF with the Advance Shipping Notification
Inspection certificates (e.g. CoAs) can be simply transferred as an attachment with the Advance Shipping Notification. Digitalizing the process alone saves suppliers printing and dispatch process costs. This translates into a potential savings of up to €4 per document.
In addition, the digital process means that the receipt and archiving process can be automated for the customer, thus resulting in a similar amount of savings here as well.
The second step: Sending structured data with the Advance Shipping Notification
Providing the certificates in a structured format, for example in XML, generates even greater advantages. As a result, data can be automatically processed and compared using defined inspection rules. The advantages of an automated process are perfectly clear. The current standard process of data collection on part of both the supplier and the customer, as well as the double physical quality inspection upon the receipt of goods, cannot only be simplified but completely eliminated.
Other advantages include:
Shorter inspection times and therefore faster material approvals
Quality improvement due to the avoidance of errors
Process cost savings due to automated inspection procedures
Less work for QA employees
Reduction of ad-hoc troubleshooting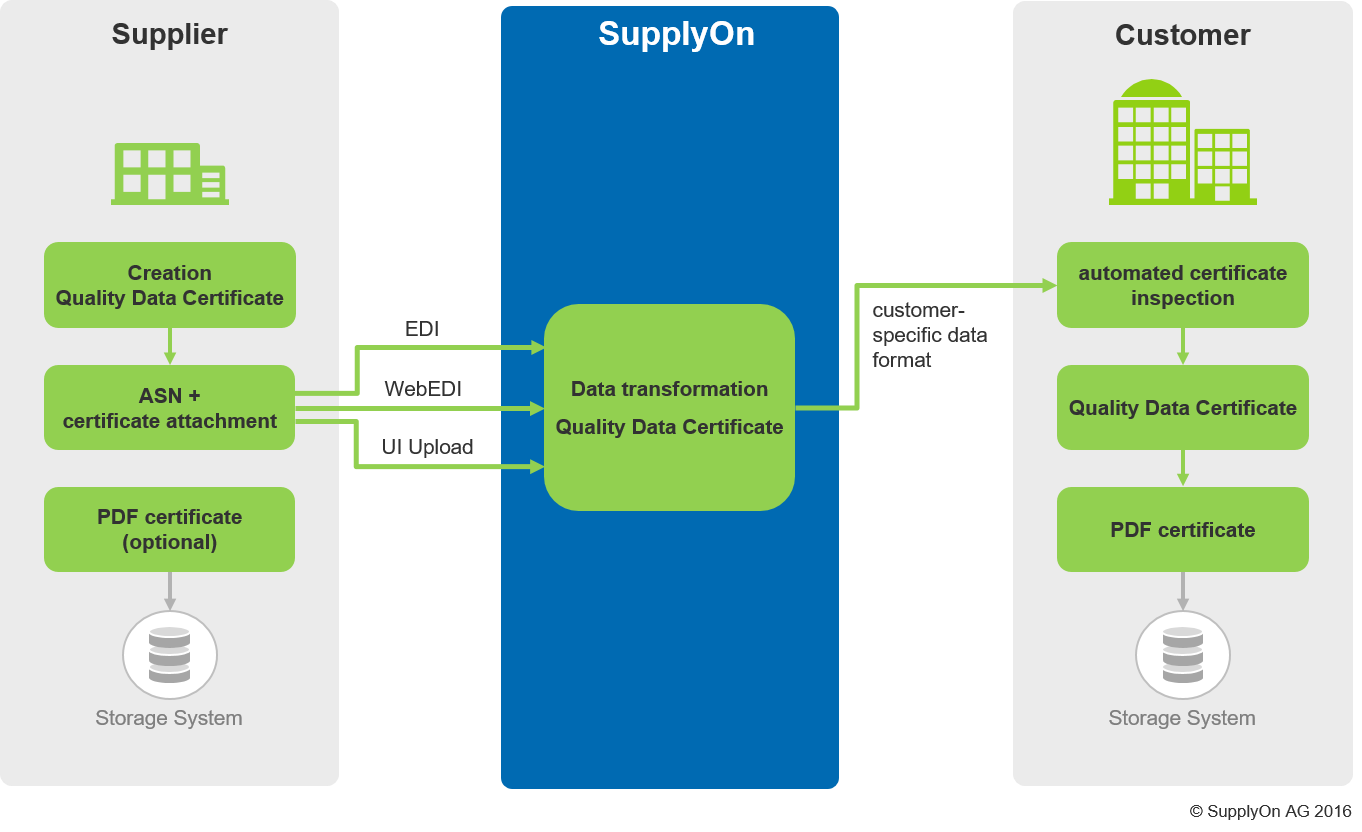 The amount of money that can be saved with this process improvement will heavily depend on the industry and the individual company structure. In many cases, however, the cost reductions will far exeed any savings achieved with unstructured electronic certificates (e.g. PDFs).
Conclusion: A structured data transfer of inspection certificates is becoming increasingly attractive
SupplyOn currently already covers the entire range of supply chain collaboration processes from Source to Contract through to Purchase to Pay and quality processes with suppliers, both for indirect materials and direct materials. As such, all data is available on the platform, thus creating the perfect conditions for the structured digitalization of QA and inspection processes.
This enables SupplyOn customers to easily connect with the collaboration platform via existing interfaces and to take advantage of the network already consisting of over 20,000 companies. Consistent digitalization and automation are speeding up the exchange of all documents in the value chain.