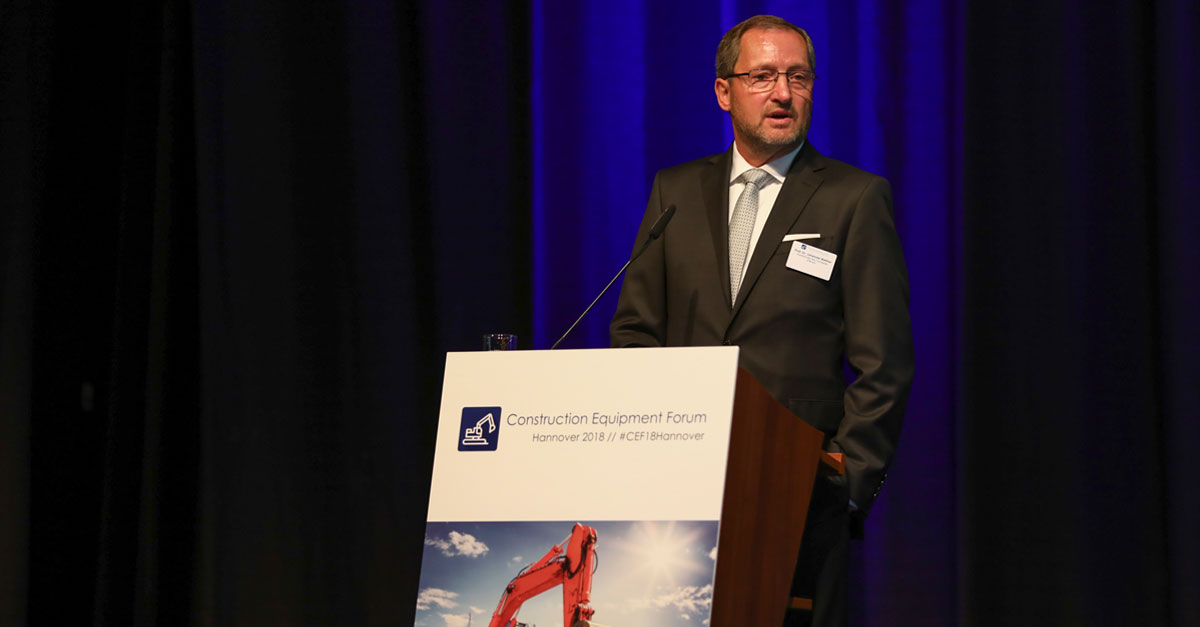 The Construction Equipment Forum – the first event of its kind.
On October 9, 2018, the IPM Institutes's Construction Forum opened its doors for the first time to some 200 participants from various disciplines: building companies, OEMs, suppliers, representatives of the scientific community, and service providers. Professor Walther of IPM opened the event with a keynote speech on "Driving the future", addressing alternative propulsions, automation, digitization, and competition. He emphasized the need to increase at digital competencies in the building equipment industry.
Due to the large number of speeches and talks held, Walther has compiled a subjective selection of what for him were the most prominent presentations and workshops.
Industry-wide standards for equipment and process data are still lacking
Mr Lüddemann, commercial manager at Leonard Weiss and chairman of the Device Committee of the Hauptverband der Deutschen Bauindustrie (German building industry association) gave an enthralling lecture on Modern Construction Equipment 4.0, and called for industry-wide standardization. He illustrated the topic of "lack of standardization in technical and IT interfaces" by using examples of data formats, protocols for information exchange and clock speeds, and for ISO-15143-3.
Lack of standards was a common thread running through all of the other presentations in the event. There was an overriding desire for a uniform data cloud in which to exchange data over a defined interface and independent of manufacturer. Examples include the communication between attachments and support frames. ISO 15143-3 and issues like the duty to track products also play a role.
Digitization needs cooperation
Mr Martin Lehner, CEO of Wacker Neuson and founding member of the event, presented a vision of an electrified, automated, digital, and competitive construction equipment industry. He highlighted the significance of emission-free drives and of digitization, with cooperation a necessity to secure a sustainable future for the company. But satisfied customers are the main concern so that technologies like electric drive not only operate emission-free, but do so without forfeiting any of the performance needed for an entire day of construction.
Workshop groups on hot-button topics for safeguarding the industry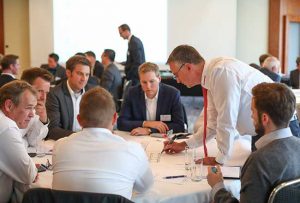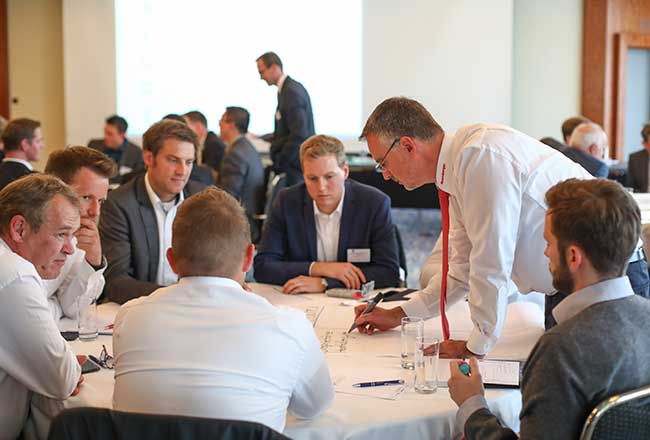 Workshops held simultaneously dealt with main topics such as alternative drives, automation, digitization, additive preparation (3D printing), and a panel discussion on the topic of "Competition".
In the workshop "Digitization", the author of this blog contributed as an expert for industry-independent exchange of information and supply chain collaboration.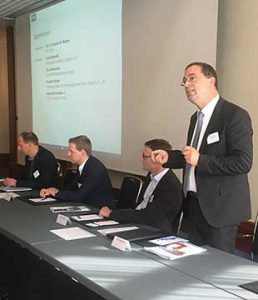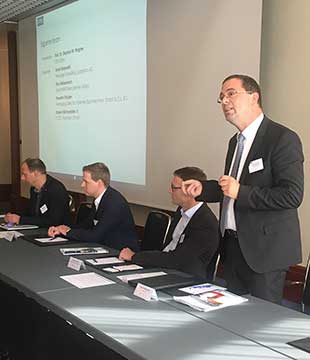 Five themes were worked on in sequence by two groups, each wielding pro/counter arguments that went into themes such as process data, training needs for digitally-supported repair processes, data ownership, lack of standards in the sector, and the competitiveness of companies in the context of digitization. It became clear – unlike in other sectors – that the construction equipment industry is very fragmented and that this is one of the reasons standards are lacking.
Networked construction equipment require standardized interfaces
One of the highlights of the second day was certainly the speech by Mr Zenz, CEO of PORR Equipment Services. He explained the challenges of buying networked construction equipment from the perspective of vehicle-fleet and construction-site management. He called for standardized interfaces. It is not only his opinion that different manufacture-specific solutions render impossible the meaningful use of different manufacture-specific solutions to, for instance, determine uniform key data (such as hours of operation). Proprietary development with an external partner has been the expensive and resulting consequence.
BIM as the driving force of digitization
Mr Dahldorf, CEO of the company SITECH, provided insights into the BIM model (Building Information Modeling) as a driving force for digitization. In addition to 3D information, it also links time dependencies and cost information to one another for high-quality and timely building completion within budget. One of the building blocks for this is digital machine control, which brings building plans into the machine and networks information, also using simple machine control software.
Community of standardized technology needed to secure competitiveness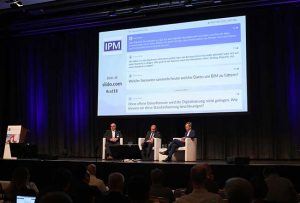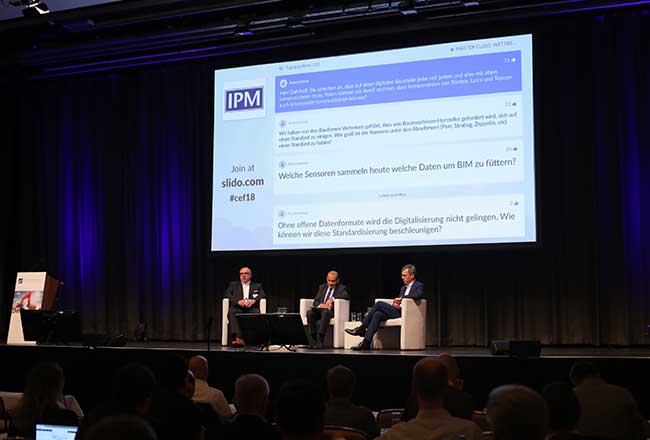 As moderator of a panel discussion and of the Masterclass Digitization, Professor Tsipoulanidis from the Berlin School of Economics and Law tried to get to the bottom of whether there is a community in the construction equipment industry occupied with standardization and who will provide solutions in the near future. He considered this a necessity that had not yet been officially established, and provocatively asked whether the engineer also needed a "digital twin". This was also answered in the affirmative so that the collaboration can generate competitive advantages. For BIM it is considered essential for every piece of construction equipment to be capable of communicating its whereabouts and activity.
Standardization of data, increased collaboration between buyers and suppliers, and a willingness to change were named as core spheres of activity by the experts. The topic "Ownership of data", and approaches such as "Pay per Use", were critically considered.
In the digitization masterclass Mr Rohnfelder, head of I4.0 at Fujitsu Technology Solutions, made clear that the next 4-6 years would sort out the winners from the losers in digitization. He differentiated between Fast IT (e.g. cloud-based IoT applications) and Legacy IT. Citing a survey, he pointed out that a digital roadmap is often lacking in the organizations surveyed, and that smaller companies in part still prefer isolated applications. This also includes the daring to try something new and to absorb setbacks (Fail Fast). There was consensus that digital transformation affects all companies in the industry, collaboration between partners is important, and that it won't work without change management.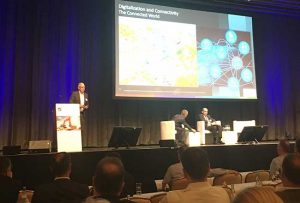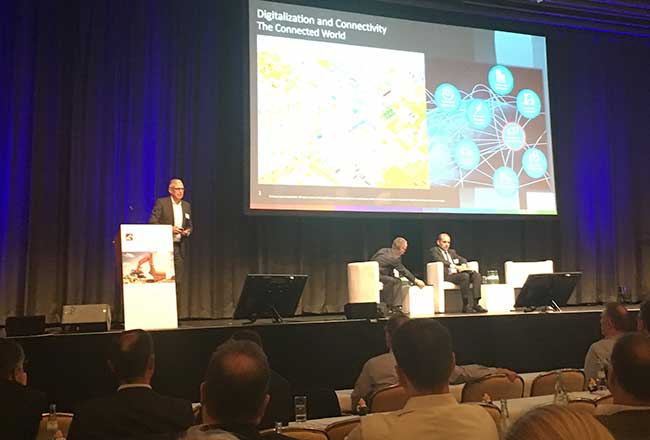 Dr. Johannes Rüger, President of Commercial Vehicles & Offroad at Robert Bosch GmbH, lectured on the opportunities of digitization and on issues of data security, FOTA (Firmware over the Air), predictive diagnosis, and tracking solutions. He emphasized the importance of open platforms, fair treatment in data use, and standardization as prerequisite for the meaningful use of data. Trending topics such as the billing of services on blog chain basis (like MIOTA) was discussed, even if it is too early to come to a final conclusion on such issues.
A start has been made, but building up digital skills is decisive.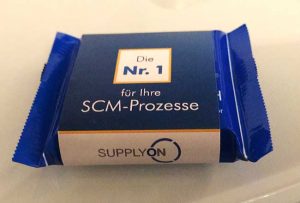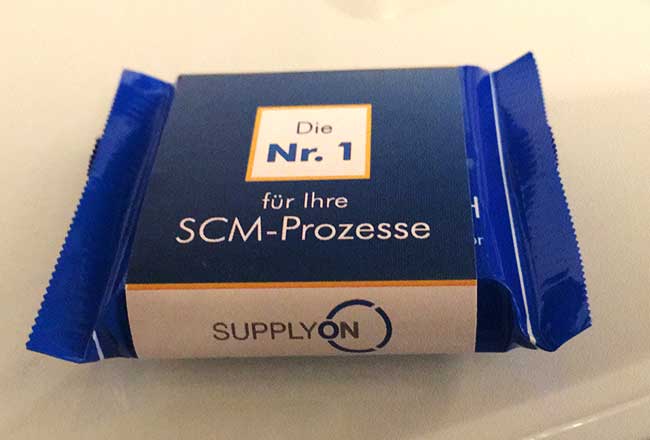 Conclusion: A start has been made in streamlining business processes on the basis of LEAN concepts and, driven by providing benefits to customers, in building up digital competencies with the right data and compatible technologies, even if the road ahead is long. In many talks with representatives of the German construction industry, it became clear that there is a great need to catch up and increase digital competencies despite limited resources. This is why there is cooperation between partners such as associations, OEMs, suppliers, telematic- and sensor-solution providers, and suited collaboration networks. SupplyOn would like to contribute, in association with multidisciplinary partners, and bring its experience in successful supply chain collaboration in industries like the automotive, aerospace, and manufacturing to bear in the construction equipment industry as well.