The Springer Verlag recently published a new textbook on global Supply Chain and Operations Management (SCOM) titled: "Global Supply Chain and Operations Management. A Decision-Oriented Introduction to the Creation of Value". It was written by the authors Professor Dmitry Ivanov and Professor Alexander Tsipoulanidis of the Berlin School for Economics and Law and Professor Jörn Schönberger of the Dresden Technical University. All aspects of SCOM are covered in over 400 pages and accompanied by a variety of best practice examples, including the AirSupply solution by SupplyOn.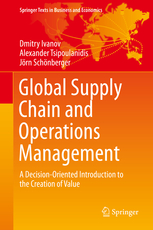 From supply chain, sourcing and production strategies to location planning and plant process workflows through to transportation network design – this book comprehensively examines all activities and processes within supply chain networks. It not only explains how to design operations and supply networks or how to incorporate suppliers and customers but also delves into the tactical and operational aspects of matching supply and demand and the allocation of resources for fulfilling customer demands.
The book focuses on quantitative and organizational methods for planning and controlling the material, information and financial flows in the supply chain. Special focus is directed at bridging theory and practice by providing the reader with various case studies encompassing different industries and services in Europe, America, Asia, Africa and Australia.
A companion website to the book with more case studies and associated videos is also available under http://global-supply-chain-management.de/
AirSupply: A best practice example for the aerospace industry
One of the first case studies on global Supply Chain Management is SupplyOn's AirSupply solution. AirSupply was a joint development by the Airbus Group and leading manufacturers and suppliers within the European aviation and aerospace industry to conjoin the aerospace and defense supply chains within a single tool. The platform covers all relevant supply chain processes such as demand forecasting, order collaboration, delivery notification, receipt of goods, Vendor Managed Inventory and on-time delivery collaboration, making it a supplier collaboration hub and an industry standard. Acting as an early warning system for the entire supply chain, AirSupply not only secures the inbound supply chain for aerospace OEMs but also for their suppliers.
This book is available from Amazon.