Supplier Community Event: relevant CO2 information for suppliers — for the first time live from the studio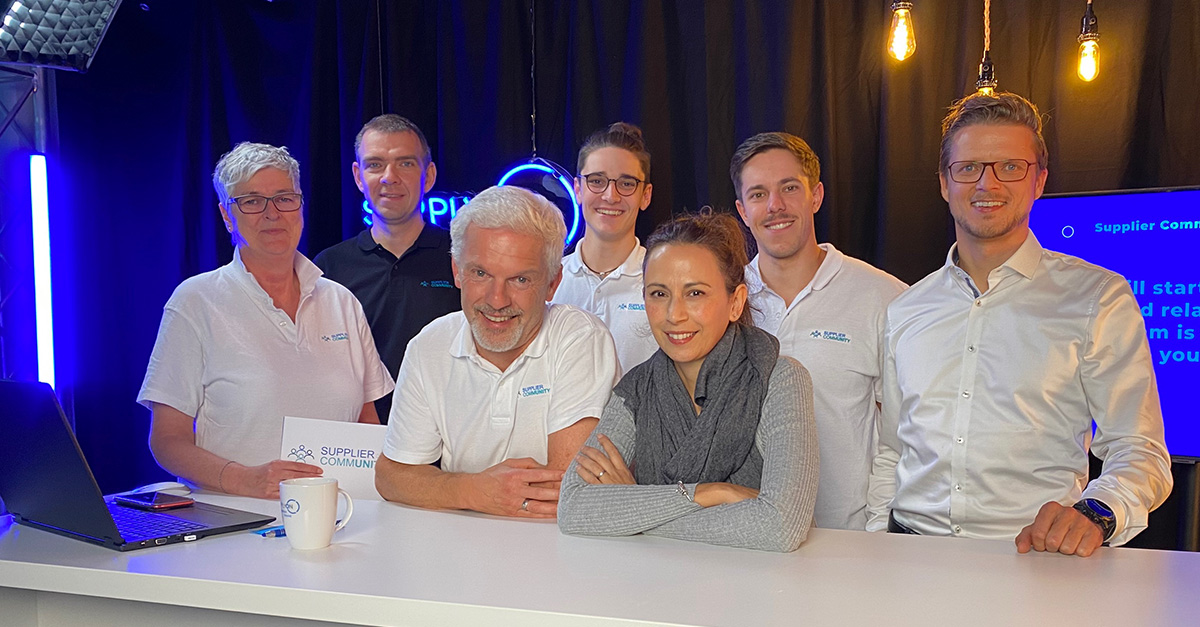 Our Supplier Community Events are highly appreciated by suppliers. High attendance figures and constant positive feedback from the audience have now prompted us to give it an even more professional touch: Our new SupplyOn Studio debuted at the last Supplier Community Event — and it was a complete success! Read all about it here for yourself…
Not only do we have cutting-edge equipment, but also guest speakers from Schaeffler and Continental Automotive:
Prof. Dr. Florian Schupp, SVP Purchasing & SM Automotive at Schaeffler, provided deep insights into Schaeffler's climate neutrality targets in his keynote speech. He reported on the "Supplier Sustainability Innovations Automotive Europe Summit", introduced the concepts behind the action areas Green Materials, Green Production, Green Energy, as well as Green Data, and demonstrated how CO2 values influence the selection of new suppliers and thus Schaeffler's sourcing process. Also, the collaboration with existing suppliers is changing at Schaeffler as they are expected to hand over CO2 values together with the ASN (Advance Shipping Notification) in the future. In addition, certificates will be requested in order to be able to ensure that ESG* targets can be met.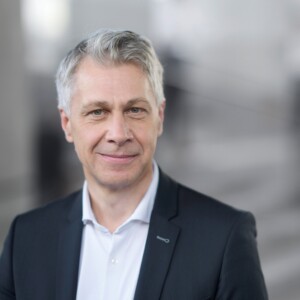 A 25 % reduction of Scope 3 emissions seems to be a quite ambitious, but feasible target for 2030, that builds also on the contribution of our suppliers. Therefore, the focus is on suppliers and the purchasing function to make a significant contribution to achieving the sustainability goals.
Prof. Dr. Ing. Florian Schupp, SVP Purchasing & SM Automotive at Schaeffler.
Insights for suppliers after the eye-opening keynote: With regard to sustainability in supply chains, there are many new aspects to consider in the future. Communication between customer and supplier will be intensified – and also this exchange between Schaeffler and its business partners will take place via SupplyOn.
Corporate Carbon Footprint Readiness Survey
Veronika from Continental Automotive Purchasing took over next. In the first step, she illustrated Continental's CO2 targets and strategies. Together with Wolfgang, Director Consulting North America, from SupplyOn, she presented a joint project between Bosch, Continental, Schaeffler and Vitesco: The Corporate Carbon Footprint Readiness Survey via SupplyOn.
The jointly developed questionnaire is designed to provide customers with insights into their suppliers' CO2 data.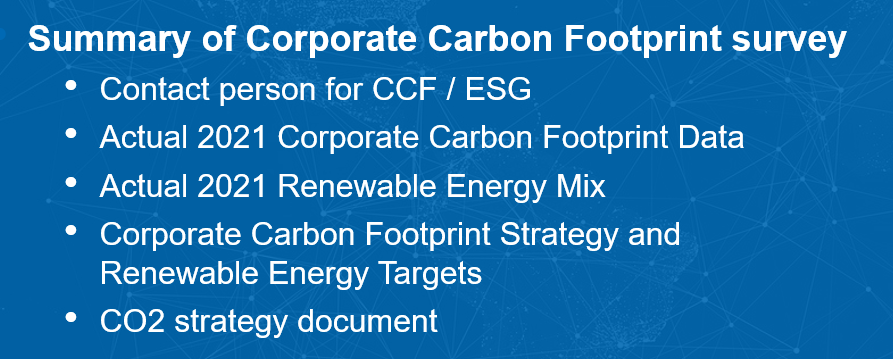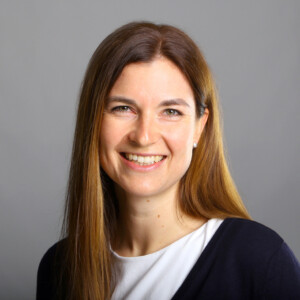 Our goal is to create 100 % carbon neutrality along our entire value chain. As a first step, we will request our suppliers to switch to 100 % renewable energy by 2030. In addition, the availability of reliable carbon footprint information on both on company as well as on product level will become essential in the future.
Veronika Leutgäb, Sustainability Management at Continental Automotive Purchasing
A SupplyOn PCF tool for suppliers
But we didn't just have information on corporate carbon footprint for the audience. Korbinian, Vice President Portfolio Strategy and Marketing, gave exclusive insights into the development of a new SupplyOn solution for product carbon footprints. This will help suppliers to manage and share requested data with their customers. Michael, the lead Product Owner shared specific use cases of the planned solution and encouraged attendees to participate in testing and designing it.
Top 5 SupplyOn features for suppliers in 2022
Saving the best for last, our trainer Regina demonstrated the top five supplier features in 2022 on the platform, click by click:
Dashboard / Navigation Drawer
E-Mail Notification
Order Line Items Overview
Format Descriptions
We hope that suppliers were once again able to take away valuable information – on both SupplyOn solutions and on the subject of CO2 — and we are already looking forward to the next Supplier Community Events!
* ESG: Environment, Social, Governance