Supplier Community Event: sustainability and ecosystems shaping the near future of supply chains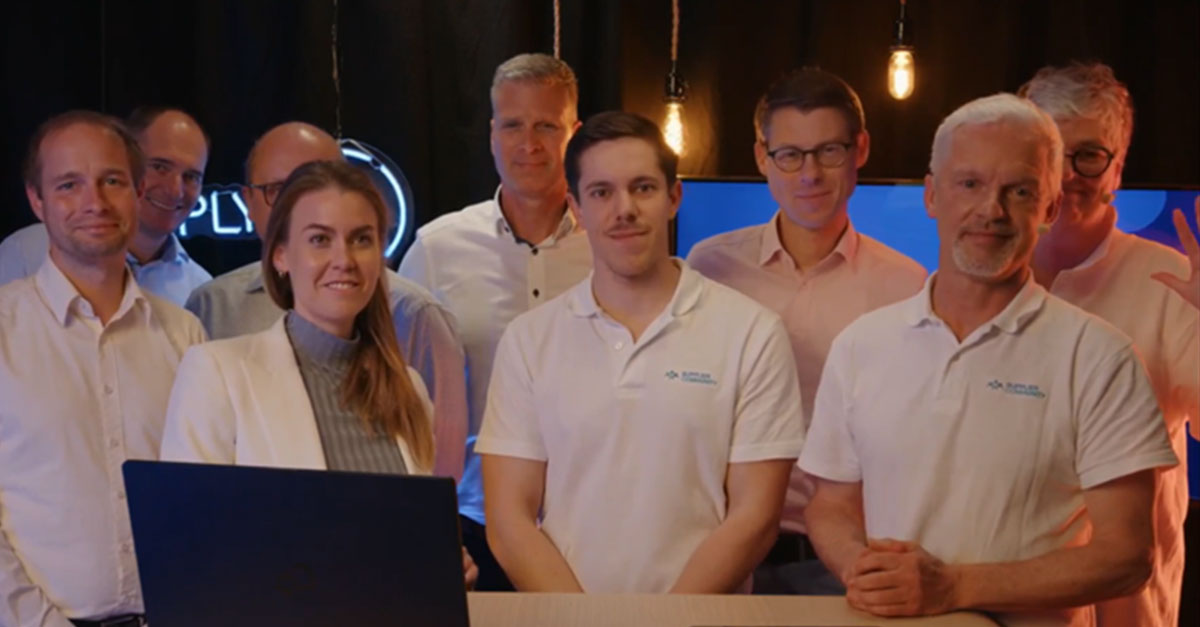 A network in a world of networks: the latest Supplier Community Event revolved around supply chain ecosystems, digital twins, circular economy and much more: It's all about sustainability and our responsibility to the younger generation — in his keynote, Stefan (Executive Board, SupplyOn) described the change of consciousness that is currently happening in everyone's minds.
The approach for the implementation of climate strategies? Moving away from all the individual concepts by large companies. Instead, striving for a common open and standardized approach along the multi-tier chains.
And how? Together with some of our global customers, we have designed a solution based on two pillars:
Connecting the supply chain ecosystems of the OEMs with all business partners along the supply chain all the way down to raw material suppliers, taking into account new industry standards such as Catena-X.
And thereby making use of the concept of the digital twin.
In this video, we explain how these two variables – supply chain ecosystems and digital twins — are related to each other:
Our next speakers Brynja (Portfolio Manager Sustainability) and Tim (Product Manager Carbon Footprint) addressed the topic of decarbonization. They first presented a joint initiative of some of SupplyOn's customers on the Company Carbon Footprint. The idea is to gather supplier data on companies' CO2 emissions.
But it is not only the company level that is of interest here. Brynja and Tim showed how customers can share carbon emissions on products level in a standardized way with the new Product Carbon Footprint solution.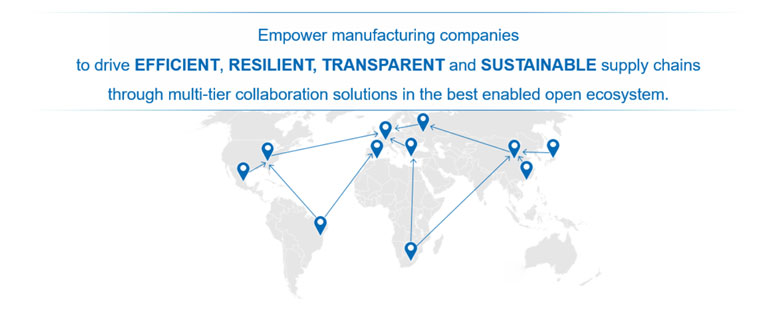 A sustainable supply chain must also be resilient to potential disruptions: Michael (Product Owner) went on and presented his Capacity Management solution. He showed how the supplying companies can use it to see the customers' future demands and planning. This way, they identify bottlenecks much earlier than in the past and avoid interruptions in supply.
Just like resilience, the digital twin plays a part in Stefan's path to end-to-end sustainability along the multi-tier chain. The Parts Traceability solution works according to this exact principle. Daniel, (Vice President for Transport Management & Analytics Solutions) presents how customers collaborate with their business partners in the solution on twin related data. This transparency of production on both the customer and supplier side (Manufacturing Visibility) also significantly minimizes delivery and quality risks.
However, nothing beats concrete use cases. That's why our guest speaker Mallik (Senior GM) reports on how Schneider Electric is tackling the challenge of end-to-end traceability with the help of SupplyOn Parts Traceability. Thank you for your valuable contribution, Mallik!
SupplyOn: an open platform
Thomas (Vice President for SRM & Portal Solutions) continued with a special announcement:
Currently, suppliers can only use SupplyOn by invitation from their customers. This is the case, for example, in the Supply Chain Collaboration solution: Customers typically invite their business partners to electronic data exchange here. The focus is also on direct, so-called single-tier exchange; the integration of sub-suppliers only comes into play in exceptional cases.
With regard to ESG, however, we have to think in a new way. Because all tier levels have to be involved here – and with as little effort as possible. SupplyOn will open up the platform in the future so that suppliers can start independently. On the one hand, this means that it will be easy for suppliers to register sub-suppliers as well as for suppliers to register their customers. In addition, suppliers can also exchange data via interfaces with business partners who use a different ESG tool. The only prerequisite is that the exchange of ESG data must take place in a standardized manner.
For many of you, this approach of open platforms and ecosystems surely reminds you of Catena-X — and with good reason! Because that is exactly the vision behind it — the connection of individual data rooms to a network of networks.
And how does SupplyOn fit into the Catena-X landscape? Florian (Portfolio Manager Ecosystems) told the audience in the next agenda topic. He presented three options for this:
Portal-to-portal integration (log in with SupplyOn credentials and use Catena-X applications) 
Certified data exchange (collaborate with business partners using other Catena-X applications in the three SupplyOn solutions already presented:)

CO2/Product Carbon Footprint (PCF)
Parts Traceability
Demand & Capacity Management

Portal integration of 3rd party software from Catena-X directly in SupplyOn
SupplyOn in Short
You don't speak to several hundred supplier users every day! That's why trainer Regina took the opportunity to use the last few minutes of the event to present her new training initiative "SupplyOn in Short". Every month, she takes a close look at a different SupplyOn solution together with interested suppliers. She answers questions from the audience and shows how to use the solution most efficiently.
An event full of reveals and new impulses! We hope our viewers enjoyed it as much as we did.

Did you miss the event? No problem! Here you can watch the recording of the event: