Supply Chain Excellence Forum 2015: Joint efforts to improve the supply chain – from correction to anticipation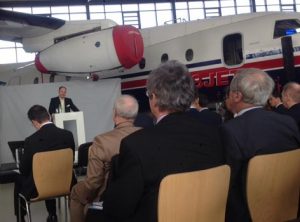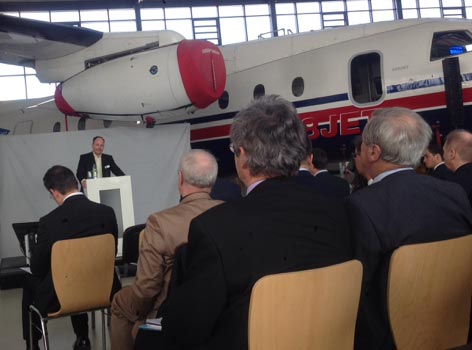 For the second consecutive year, Aerospace supply chain managers from BavAiria, but also from other clusters/associations like SPACE and Niedersachsen Aviation met at the Aerospace Industry Park of Oberpfaffenhofen to discuss how to manage the challenges of Tier n in the German Aerospace industry.
In their welcome address, Mr Gundel and Mr Schwarz from the BavAiria welcomed over 150 participants, about 50% of them Aerospace SC managers from Bavaria. In their opening, they made a strong statement that clusters and associations take a responsible role to foster stable supply chains and support process innovations, which are perhaps sometimes neglected, in comparison to product innovations.
At the beginning of the event, most participants joined a factory tour at RUAG Aerostructures, where complete tail sections for the Airbus A320 family and for the Bombardier CRJ family are assembled. This factory tour revealed how closely interconnected the Aerospace industry is, and that there is a trend for competitive Tiers to take more responsibility in the supply chain (by less provisional parts, but more own purchase responsibility).
In a later joint presentation of Dieter Etzold, managing Director at RUAG Aerostructures, and Aircraft Philipp Managing Director Rolf Philipp, it became clear that joint efforts to strengthen the supply chain, between Tier 1 and Tier 2, pay off. They gave insights how offshoring e.g. to India for certain materials can be a success, if the value chain at home can benefit from high product quality and competitive prices, from the right trusted partner, here TAL (which belongs to Tata). One inisight here was that finding the right partner takes time and efforts, but pays off.
Supply chain challenges
The highlight of the event was for sure the speech of Eduardo Dominguez-Puerta, Vice President Supplier Development Management Airbus SAS:
He made clear that the Aerospace suppliers in Germany should – instead of heroe-like "fire fighting" – further follow the path from corrective actions to anticipation. He underlined the importance of prevention of foreseeable bottlenecks e.g. quality or on-time delivery issues. Mr Dominguez-Puerta compared QSF-A (extended workbench approach for suppliers) with what he called "industrial despotism" and stressed the importance of QSF-B.
One crucial question which he raised was where the German industry / the German Tiers would see themselves in the future, which will be more an industry era rather than a design era. It became clear that each Aerospace Tier as part of the overall supply chain matters and needs to develop.
Very interesting insights about challenges in the supply chain were given by Dr. Matthias Mette, VP Procurement and SC at Premium Aerotec (PAG): as 100% Airbus subsidiary but core sections supplier for Airbus, about 75% of the value chain are sourced externally at PAG. Growth at PAG is driven by the Airbus cadence, e.g. now almost 50 single aisle aircraft per month, and the necessity to come from an extended workbench approach (QSF-A) to a risk sharing partner approach (QSF-B).
The whole PAG procurement and supply chain organization will change accordingly. One solution approach to e.g. reduce system-caused material non-availabilities was seen in complementary consolidation and also by using appropriate tools for collaboration.
In the afternoon, six SC workshops took place in parallel, with the key take-aways later on being presented to the plenum. The six workshop topics were:
business models
industrial performance
sales & operations planning
internationalisation
cooperations
financing
 As a SupplyOn representative, it was a positive experience for me to see that the workshop "Sales & Operations Planning" was selected as #1 workshop. In this workshop, suppliers wished to further improve result-driven outcomes of non-hierarchical collaboration with their customers, e.g. for ECNs and last-minute changes.
Several attendees mentioned the SupplyOn collaboration tool AirSupply, also from their perspective as a means to make collaboration more efficient and proposed to intensify the rollout of the tool also for the other suppliers not using it yet.
SupplyOn is good on track here: recently the 1.000th Aerospace supplier joined the community – and deployment of this industry solution continues, also with regard to Tier2.
The event was concluded by the clusters and associations again, by suggesting and promising joint follow-up activities to give guidance to German Aerospace Tiers, towards joined efforts to improve the supply chain.