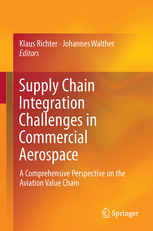 Supply chain integration is one of the key challenges in the commercial aviation industry. A new textbook titled "Supply Chain Integration Challenges in Commercial Aerospace. A Comprehensive Perspective on the Aviation Value Chain", introduces successful approaches and strategies to manage these challenges. SupplyOn AirSupply is one of the solutions examined in this textbook.
Airlines, aircraft manufacturers and their suppliers have been confronted with fundamental challenges in the past few decades – with far reaching effects on their entire supply chains. From individual interiors and exteriors configuration to component development through to aftermarkets. These are the core issues of this book, analyzed by a series of industry and research experts and giving the reader a holistic view of not only the transformation drivers but also of past, current and future innovations.
AirSupply as a Best Practice for Supply Chain Integration
AirSupply is presented as one of the key examples of how solve the challenges of supply chain integration. The solution was developed by Su0pplyOn in cooperation with Airbus, Dassault, Safran and Thales, all leading manufacturers and suppliers of the European aviation and aerospace industry. AirSupply incorporates aerospace and defense supply chains within a single tool, therefore enabling maximum transparency throughout all central supply chain management processes. Bottlenecks can be recognized at an early stage, inventory optimized, on-time delivery improved and customer satisfaction increased.
This book was published by Johannes Walter from the Institute for Production Management (IPM) and Dr. Klaus Richter, Chief Procurement Officer at Airbus Group. It will be released in mid-December 2016 and can be ordered on Amazon.