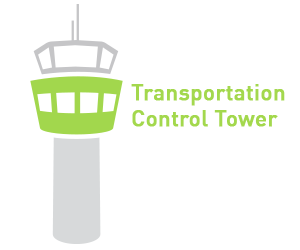 The concept of a transportation control tower carries many positive connotations. A control tower has everything under control by maintaining an overview of all that's going on—or, stated more precisely, a control tower makes it possible to intervene in transports at any time in order to adapt processes and steer them in the right direction.
It's a bit like at a big airport with an air traffic control tower and air traffic controllers. And that's because this is exactly what it is! The transportation control tower helps companies to organize and control their highly complex transport needs.
It's a concept that's brilliant in its simplicity, and yet there are some challenges that complicate the successful introduction of a transportation control tower:
The increasing number of external partners, suppliers and logistics service providers
The associated increasing volume of data
The multitude of different (usually mismatched) ERP systems
The high expectations of customers
It's like being back in math class, where you need to achieve a solid foundation of arithmetic before you can progress to more complicated areas. This means companies have to first create some groundwork before they can introduce a transportation control tower.
Groundwork for a transportation control tower
The first step for a company is to define the parties that will be involved: Only tier 1 suppliers and their logistics service providers?
Only inbound transports or interplant transports and outbound transports, too?
Will tier 2 or tier 3 suppliers also be included?
Following this step, the company needs to develop a shared understanding of the required data and data formats. Standardized interfaces permit the necessary integration of all parties involved. These interfaces, which a company can use with all its partners, provide near real-time demand and transport data to everyone involved. The currency of data is not the only important issue here. Quality is also crucial. Correct, complete data are key to speeding up the supply chain, creating more efficiency, lowering risk and increasing flexibility.
An experienced partner, SupplyOn offers companies tried and tested solutions and standards for implementing effective transportation control towers. Our in-house consulting team works with the customer to introduce these solutions and standards as well as to support and model all operational logistics processes and numerous quality procedures.
Seamless integration of the transportation control tower
SupplyOn's particular strength lies in this area: It helps customers achieve a seamless integration of the transportation control tower with the company's operational logistics processes, creating a foundation for the control tower.
With this basis in place, companies can realize long-term optimization and control of their transports. SupplyOn assists companies to model and automate their cross-function and cross-company transport-control processes. It also helps them determine key process indicators, identify interruptions in the supply chain early on and quickly eliminate them.
The SupplyOn Transport Order Management system forms the core of the control tower, handling operational control and commissioning of transports. This creates transparency and gives companies the tools they need to act as shippers, and, as a result, allows companies to optimize and consolidate transports in a way that suits their needs.
More details about this can be found in the article "Integrated Transport Management with SupplyOn". In our blog, we also described an interesting reference solution for the transport management system at Continental Automotive.  
Co-Author: Julia Held