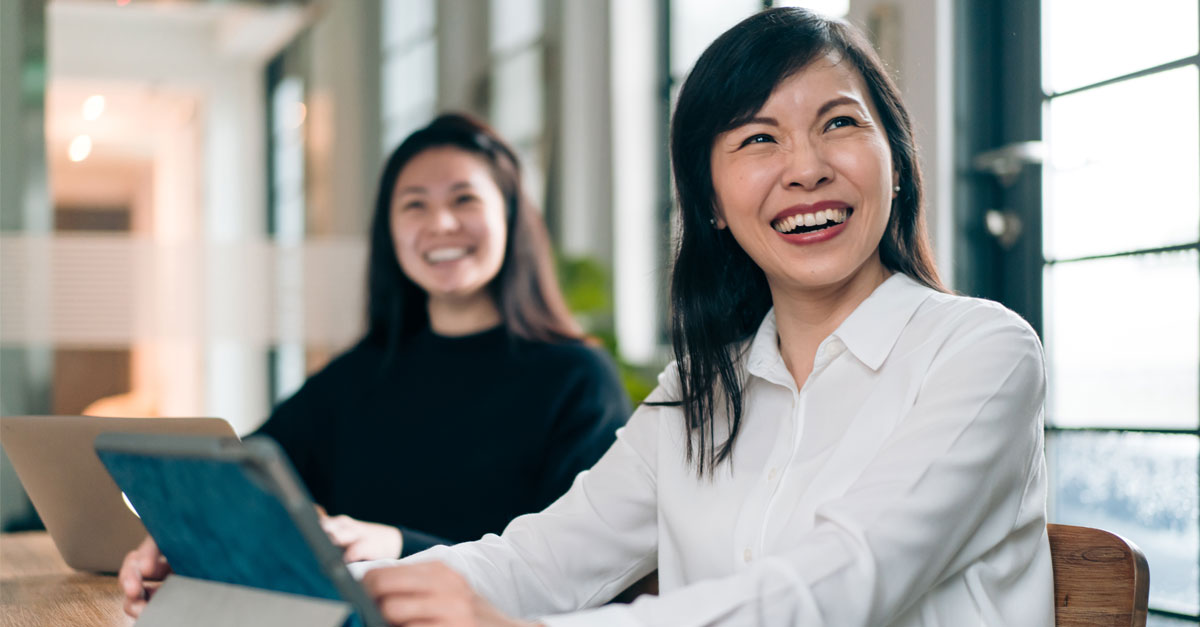 From the user's perspective, it always involves some effort till she or he can actually successfully use a (new) software or app. This learning process that users go through is also called "user onboarding". It ranges from: "I'll just try this out." All the way to: "I know how to achieve my desired result with this product." Ultimately, it is primarily about teaching users how they can best (or most easily) work successfully with a product.
How do we support the adoption of our solutions?
Now, each individual has her or his own unique idea of what is the most appropriate tool for learning a new or modified piece of software. On the one end, there are those who are eager to experiment and try new things without support. On the other end, there are those who prefer to read the thick manual beforehand. And of course any gradation or combination in between. In addition, the respective point in time and, of course, the specific question play a role when choosing the kind of support which suits best.
This is why we at SupplyOn focus on the broadest possible range of options. In addition to classic help such as online FAQs, freely available tutorials or even customer-specific information, there is also a choice of individual personal training sessions. Additionally, there are help functions within the software itself, such as online help or context-sensitive tooltips, which make it easier for users to get started using the software. Last year, we added another component to these now long-established onboarding tools: the Interactive Tour (or "guided tour", "interactive guide", "product tour").
What is an Interactive Tour?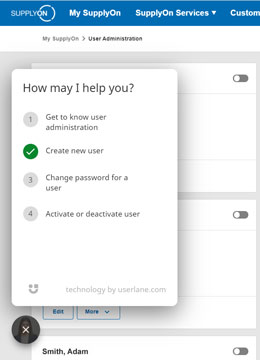 An Interactive Tour literally guides users "interactively" through their personal product view. Specific areas on the website are highlighted and explained accordingly. Users either go through the entire process once, or focus on specific core areas.
These step-by-step instructions take place directly within the software. In their private lives, some people will be familiar with these tours from mobile apps, which often get their new users on board quickly with such an initial introduction.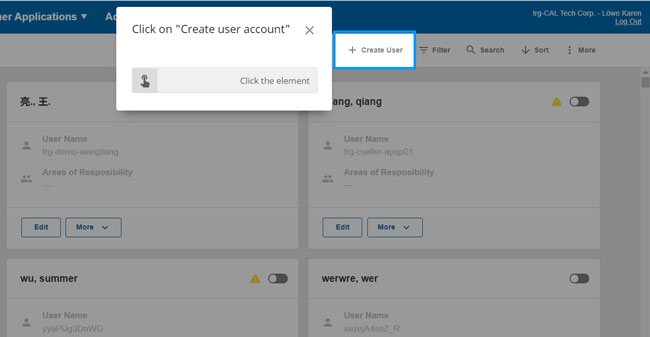 These dedicated tutorials are not only relevant when using a software for the first time. They also play a key role in the context of introducing changes to the software or for special areas that are only used very rarely. Users can take these tours exactly when they are relevant to their particular question. Once the actual question has been answered via the tour, users can end the tour at any time and successfully finish their actual task.
Every user benefits
For our users, this means a significantly faster and even easier software adoption. Be it when using our software for the first time, for example, because it is newly introduced in the company or due to a change of employees. Or be it in the daily business, when new functionalities are added which require some changes in the software. The faster users "learn" to use a software, the more efficiently they can work with it and the more satisfied they are. So it's a win-win situation for everyone.