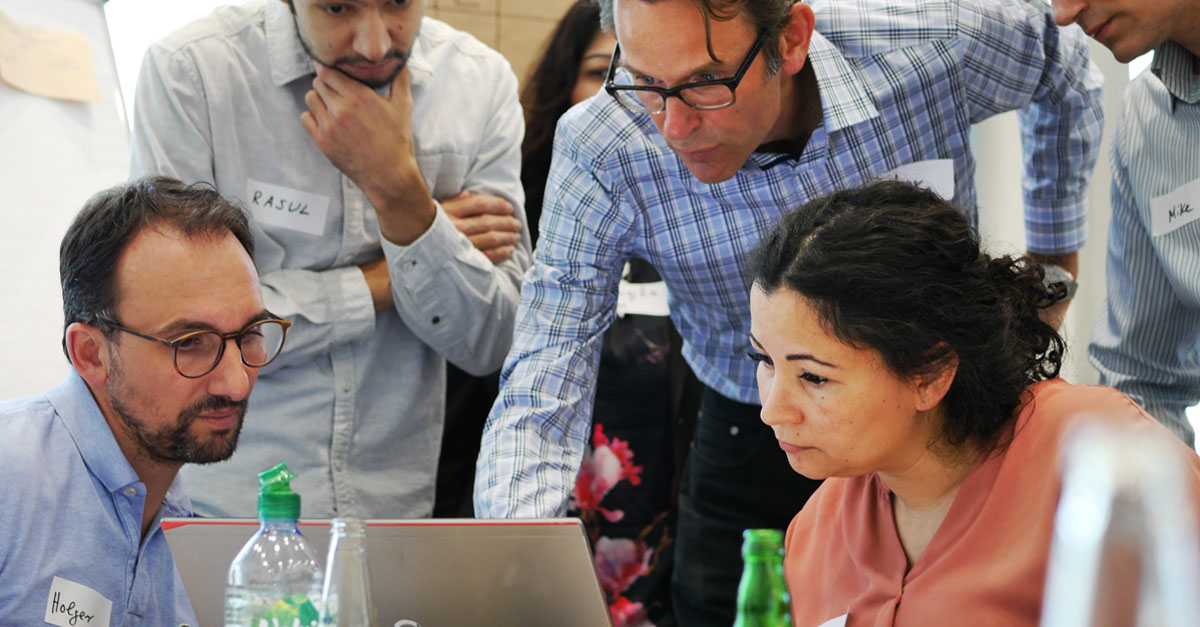 In an increasingly complex world, established organizations reach their functional limits and have to come up with new coping strategies. So does SupplyOn, a trusted and successful company network that connects more than 65,000 businesses worldwide.
The business world is disrupting fast
Our world changes mainly because of the dramatic changes our customers in the automotive and manufacturing industry are currently facing.
Especially the combination of autonomous driving, e-mobility and completely new, partly disruptive business models for public and private transport represent an enormous challenge, even for mobility giants like BMW, Bosch or Airbus. The pressure to put innovative, high quality products faster than ever on the market, while increasing efficiency in the digital factory itself as well as the requirement to deliver through an absolute transparent, track & traceable supply chain management, creates a melting pot atmosphere that also hits back on us as a solution provider.
New requirements emerge for the organization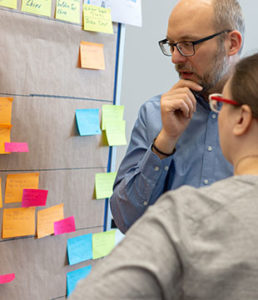 To not turn into a break pad for our customers ourselves, we had to find a smarter way for
how we manage and quickly benefit from evolving, groundbreaking technologies as a team
how we manage the growing complexity, interdependencies and risks across our entire product development teams
how we ensure that we set the right priorities in our exploding backlogs of customer requests & in our own strategy and tech road maps
how we can increase time-to-market – without compromising quality
how we can leverage the full potential of all our employees to contribute to this crazy journey – without getting lost or burned out. But with as much fun, social interaction and commitment as possible
how we can learn to fail, adjust and re-set fast – and stay safe & stable at the same time
how we can provide a multi-partner and highly dispersed development engine with a common framework and language for rapid interaction and secure communication
SAFe is the answer to our needs
We found our answer in SAFe, the Scaled Agile Framework. It adheres to lean-agile principles to help enterprises to reach exactly the above-defined goals.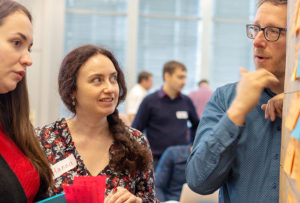 You might say it was of course inevitable to turn to a more "agile" way of working in order to empower people at team level, to foster closer customer relationships and to encourage decentralized decision making. However, "working agile" has never been a value in itself for us. Scrum or Kanban had so far been simply perceived as very efficient teamwork styles. Yet, we did not regard these as the only possible paths to succeed. Until SAFe, it had been the teams' decision to pick the methodologies according to their own preferences.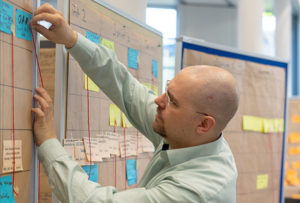 But the SAFe framework provides us with exactly the common rules, methods and iterations cycles to align all aspects and team interactions at program level too. It enables us to integrate our innovation/epics roadmap with a huge change-request backlog as well as our customers' priorities.
 
SupplyOn's SAFe journey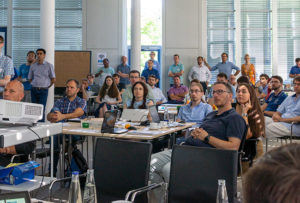 We started the SAFe transformation journey almost a year ago now. Recently, we finished our second Program Increment (PI) Planning with about 120 participants, including development teams from Germany, Ukraine and Belarus. The feedback from all involved parties has been just amazing since the SAFe kick-off and we are very happy with our decision and the results achieved so far. We can already see things speeding up and notice ever better communication.
For sure a SAFe transformation doesn't happen overnight. It is and will remain a big learning experience. For some, it is an intense and tough adoption process. You kind of reinvent SAFe during the implementation process to customize it to your specific needs.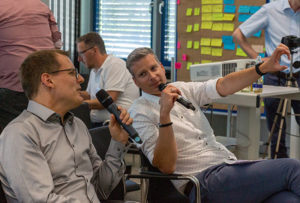 SAFe, in addition, is indeed a huge investment and requires full and long-term management commitment. And it does not only effect software development. As early as in our second PI cycle, we can see it impacting the entire organization, including budget planning processes, people management and leadership discussions.
A critical reflection of SAFe
We noticed that SAFe in the market is known for appealing to hierarchical, highly regulated organizations. It has the reputation of being the most "non-agile" agile framework out there due to its rigid, structured processes.
Although it is probably true, for us this is not necessarily a proof of a lacking agile attitude or "culture" behind it. Instead, we strongly agree with S. Goldman's definition that "agility" primarily defines an organization's ability to successfully adapt to its complex and uncertain environment.1
Being agile does not imply to work "unstructured" or less disciplined and seasoned. Nor does it mean to work according to SAFe merely for the sake of it.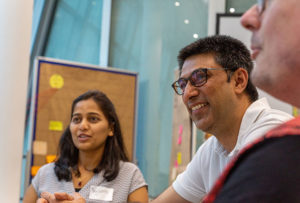 Rather, we believe that its defined structures, iterations of clear agendas, common language and routines will ultimately – by doing – form a strong work culture of empowerment, guided and inspired by its "work in progress" and successful outcome. Agility needs stability. It is precisely for this reason that SAFe will ensure the seamless, responsive and agile multi-stage collaboration that we need to remain a future-proof partner to our customers.
The SAFe journey continues
Stay tuned to follow-us on our journey, meet us at our next PI Planning and learn from our learnings.
Angela, member of the LACE team (Lean-Agile Center of Excellence), SupplyOn's agile transformation center for the SAFe implementation
1 Goldman, s., Nagel, R., Preiss, K. (1994): Agile Competitors and Virtual Organizations: Strategies for Enriching the Customer.