All good things come in threes: ZF Lake Constance Mobility Summit, Automotive Procurement Forum and Automotive Logistics Forum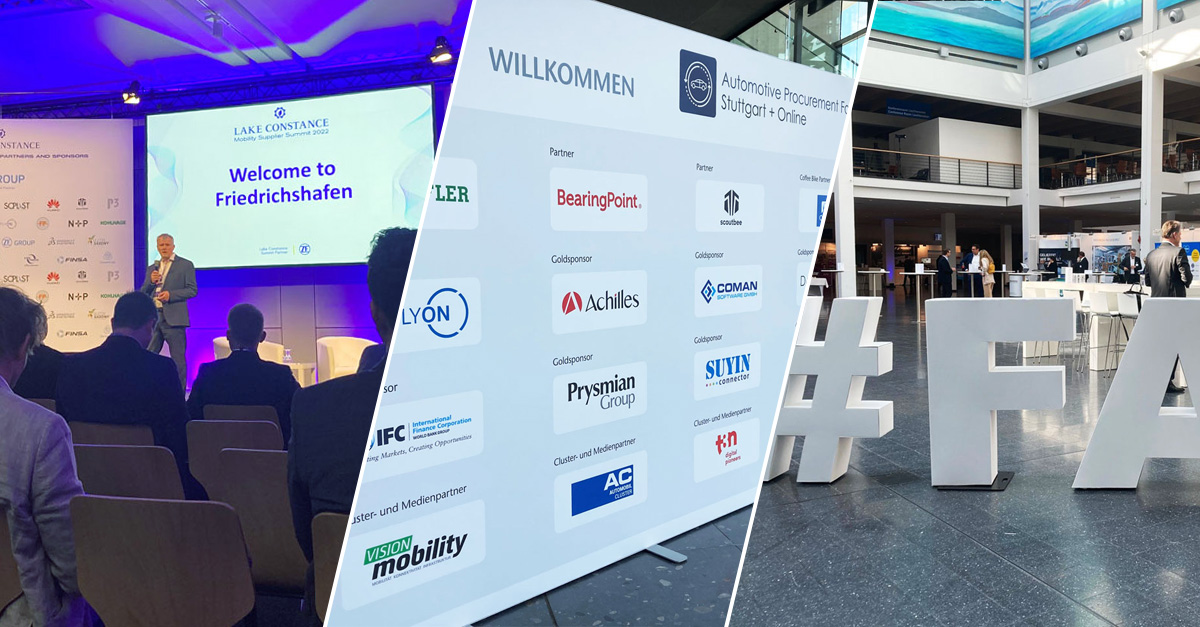 Due to the pandemic, numerous important conferences had to be postponed over the last two years – this meant that SupplyOn was represented as an exhibitor at three important automotive conferences in the first half of May. A common theme running through all three events was the current challenges facing the industry, above all the dramatic supply bottlenecks and the question of how to make supply chains resilient, as well as the climate crisis and the issue of how to achieve sustainable and CO2-neutral production in the future.
Expert panel on resilient and integrated supply chains
SupplyOn's trilogy of conferences kicked off at Lake Constance with the ZF Lake Constance Mobility Summit. Moderated by our board member Dr. Stefan Brandner, four experts from the industry shared their knowledge on how supply chains need to be designed to withstand current odds: Yvonne Keil, Director Global Indirect Procurement, GlobalFoundries, Wolfgang Krinner, Member of the Executive Board, Knorr-Bremse Systeme für Nutzfahrzeuge GmbH, Reinhard Geissbauer, European Head of Digital Operations, PWC GmbH and Rainer Wiedmann, Senior Vice President, ZF Group.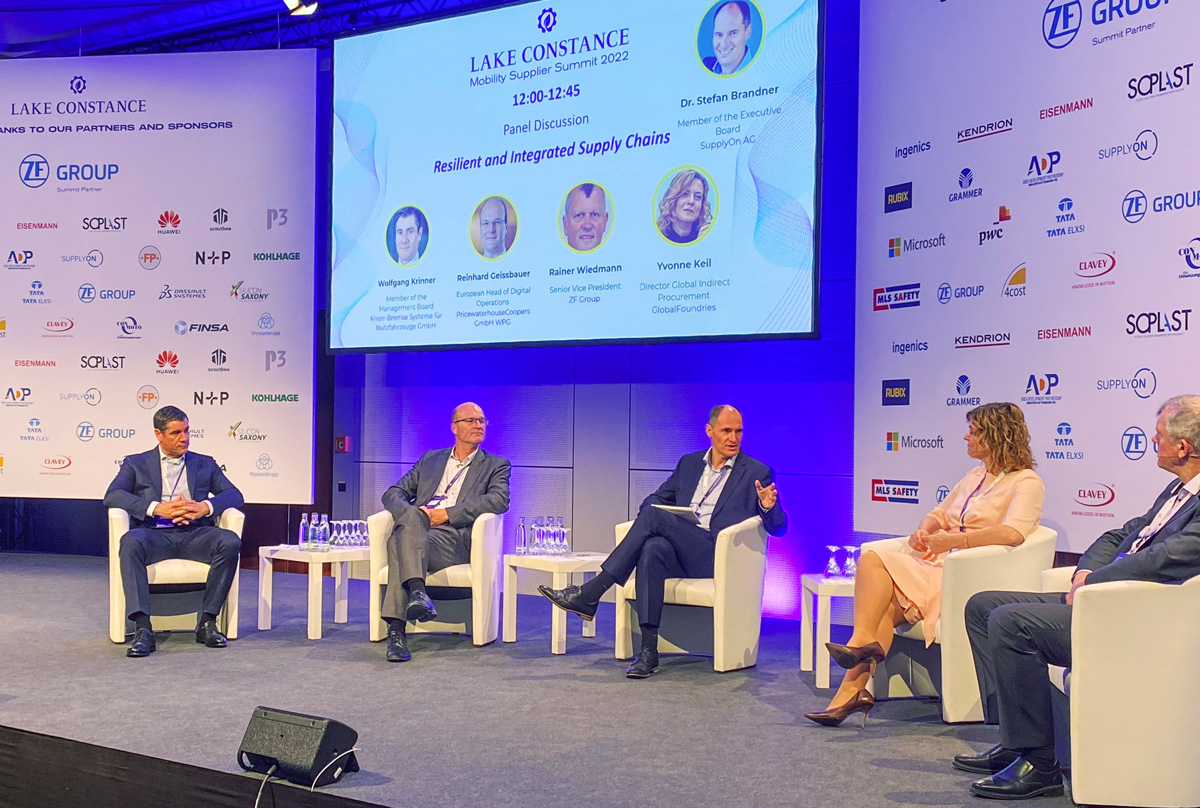 There was a huge consensus on one point in the discussion: in order to switch from the task force mode of the last two years back into planning mode, companies need even more transparency. Where are our containers? What is in the containers – ideally at material number level? For which customer are the components needed and when? After all, crises of any kind are not going to disappear. Rather the opposite, they will become the norm. And they can only be managed if all available data from internal and external systems can be linked in a meaningful way to quickly obtain information relevant for decision-making.
100% compliance in purchasing – a practice example
On the following week, the Automotive Procurement Forum took place in Stuttgart. Thomas Bickert, VP SRM and Portal Solutions, explained in his presentation how 100% compliance in purchasing can be achieved and which approach Continental has chosen.
To achieve this, our customer first laid the groundwork by taking the following four steps:
creation of a central purchasing organization with global responsibility for processes and tools in purchasing.
definition of standardized processes in purchasing
selection of central tools, such as SupplyOn Sourcing for tenders
Global rollout and consistent use.
Based on the above, they then integrated data from cross-functional processes, such as risk management and compliance, into the procurement process to allow for holistic purchasing decisions.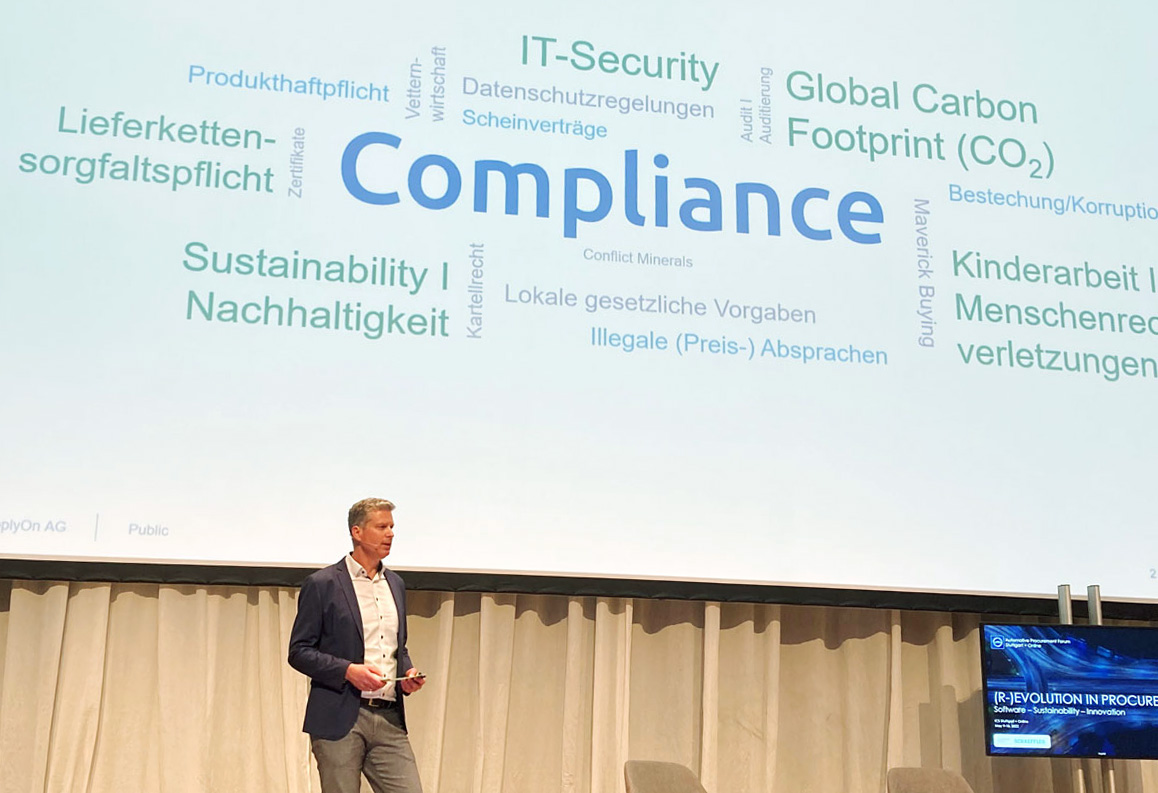 Thomas' advice for companies that want to achieve 100% compliance in purchasing is divided into a mandatory and a voluntary part: For the mandatory part, he recommends on the one hand the creation of a standardized basis with uniform core processes using suitable tools. On the other hand, he sees a high master data quality as compulsory, which should also be enhanced with the help of external data sources. Once the obligation has been fulfilled, a company can turn its attention to the freestyle. This involves integrating compliance management aspects into purchasing via suitable tools and thus reaching holistic purchasing decisions. 
Multi-cloud integration and network-of-networks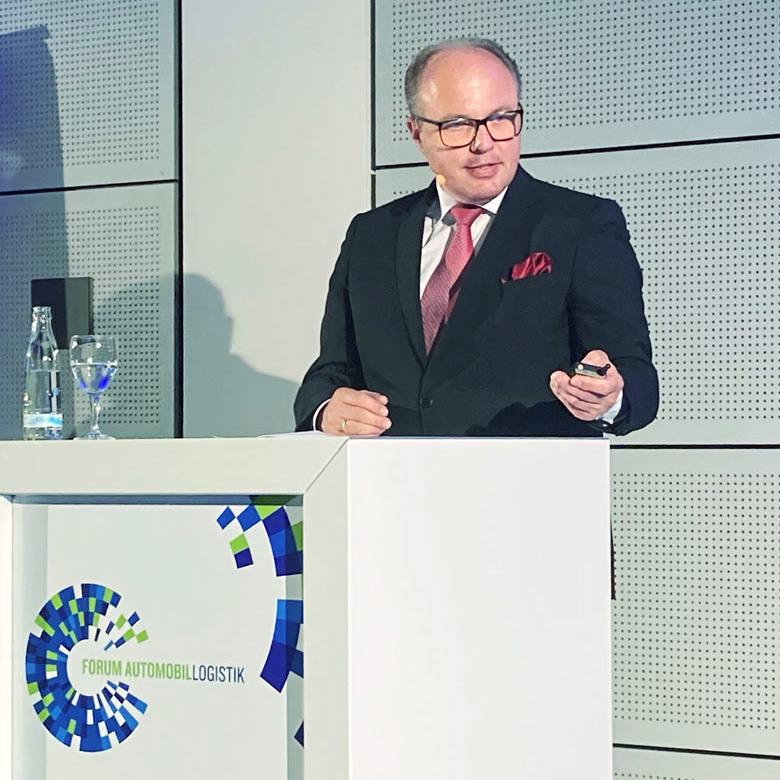 The conference trilogy concluded with the Automotive Logistics Forum organized by VDA and BVL on May 18 and 19 in Friedrichshafen. "Sunny to cloudy – cloud solutions for transparency and resilience" was the motto, which Thomas Hübsch from Sales took up in his presentation.
He explained why multi-cloud integration is the key to overcoming uncertainties and disruptions: it can be used to connect a wide variety of internal and external systems – the prerequisite par excellence for more transparency in a data-driven value chain.
Great customer feedback was given by Wilhelm Rehm, member of the Board of Management of the ZF Group, who spoke in his keynote about SupplyOn as a strong pillar when it comes to the topic of the network of networks and who sees digital collaboration with suppliers via SupplyOn as the " foundation for success".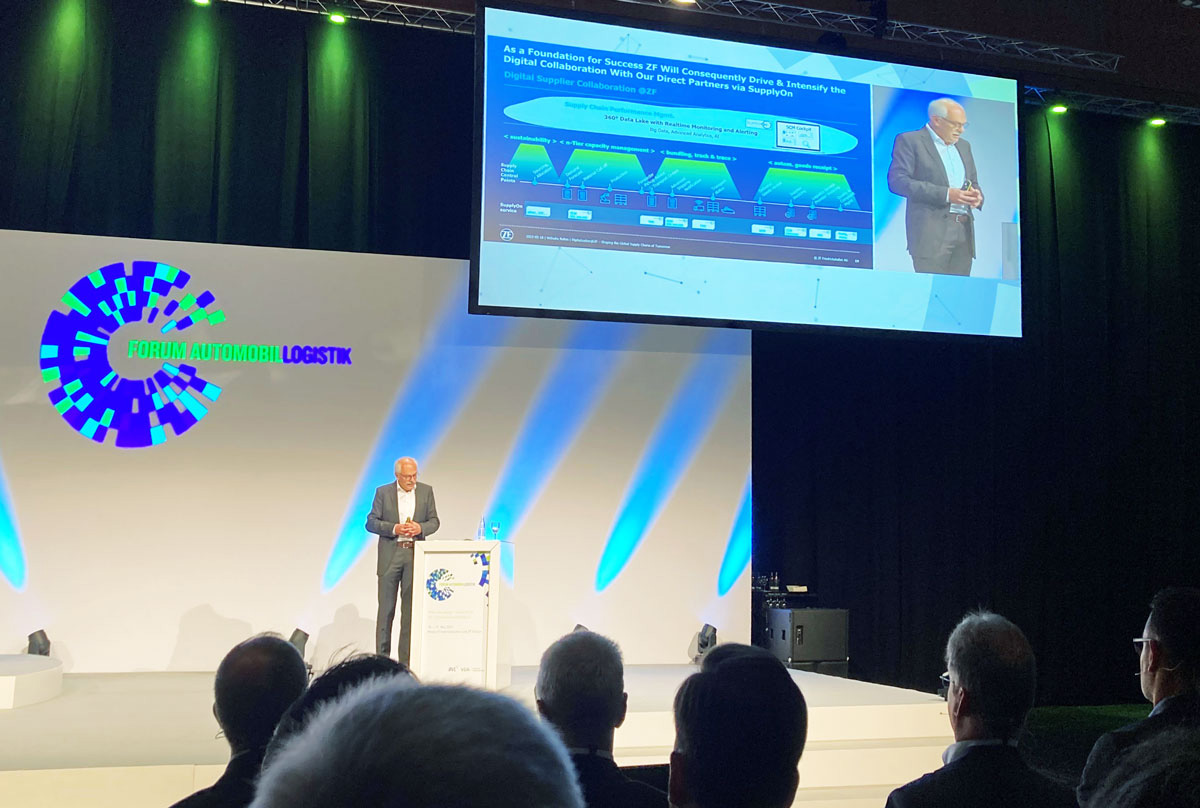 We would like to express our gratitude for this feedback as well as for over two decades of trustful cooperation!