Game-changing transformation of the aviation industry – how the 9th Aviation Forum contributed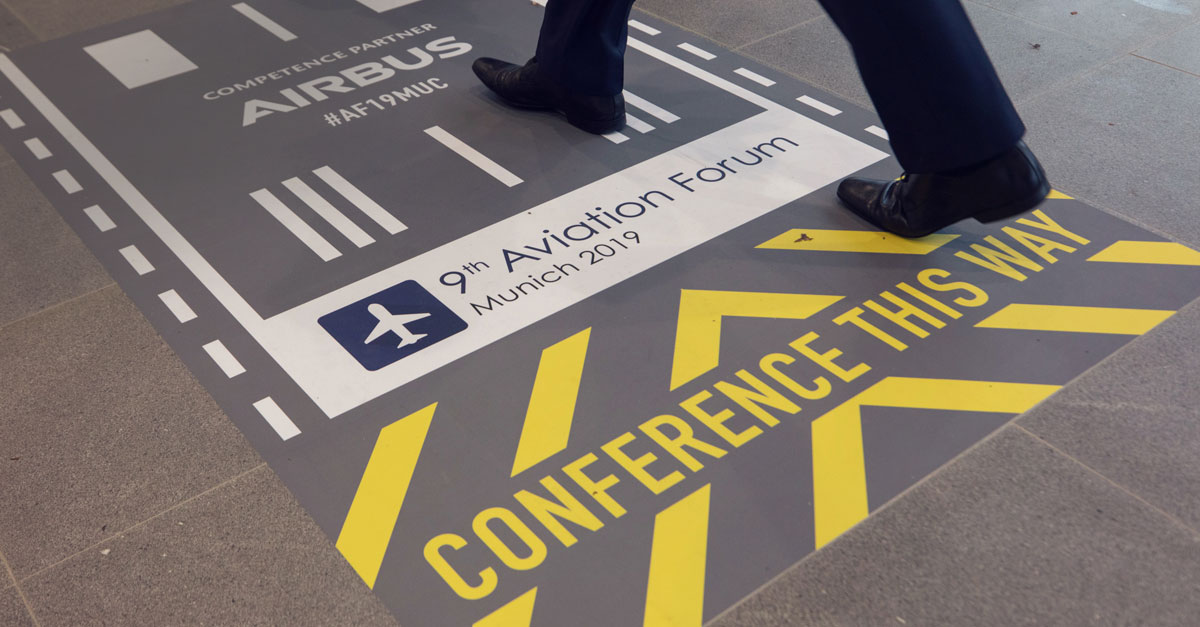 Now Munich. After 8 years in Hamburg, an alternating pattern of the Aviation Forum location was practiced for the first time: With one year in Munich and the next year again in Hamburg. Once again, this year's Aviation Forum set a new record: 800 attendants, 145 exhibitors and 55 speakers raised the bar even higher.
Factory tours provide evidence of the aviation industry's transformation
Alternative factory tours took place even before the official start of the Aviation Forums. The tour options were all highly interesting: the Airbus Defence & Space Innovation Center in Ottobrunn, the sites of GKN sites in Munich, GE Aviation in Garching and MTU Aero Engines in Dachau. The author of this article visited the Airbus Innovation Centre and was not disappointed: Among the highlights was the Altair research balloon in the form of a "Zeppelin" weighing only 30 kg, which was developed in cooperation with Vodafone 5G technology. Also very impressive was the "Deckfinder" landing system, which enables helicopters to land safely on moving platforms. The TUM research centre was very impressive, demonstrating how microalgae can be used in the medium term for the production of biofuels and even for carbon fibre composites.
"We invented the thing"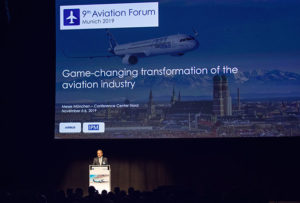 In his opening speech, Professor Dr. Johannes Walther thanked Airbus CPO Dr. Klaus Richter for the joint establishment of this successful format and for his commitment in the last 10 years of close collaboration. Klaus Richter confirmed: "We invented the thing". As host of the Aviation Forum, he emphasized in his opening speech that a company that does not change will eventually die.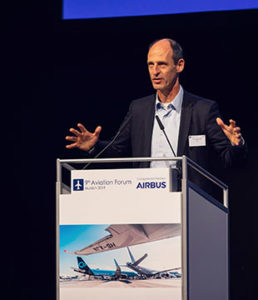 He therefore encouraged the participants to jointly shape the digital future of the aviation industry and stressed three key aspects of the ongoing transformation in the aerospace industry: Globalization, digitization and supplier innovation.
"If you can dream it, you can build it": Leonardo da Vinci as Aerospace visionary
In her keynote address, Airbus CTO Grazia Vittadini highlighted the need for the aerospace industry to act before it needs to react. For her, this incorporates the vision of carbon-neutral flights, or the more short-term goal of a hybrid regional jet for about 100 passengers.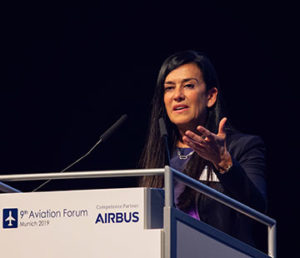 She emphasized that the great inventor Leonardo da Vinci had inspired future generations already 500 years ago, with a prototype helicopter and his approach "If you can dream it, you can build it". Equally important, his statements that "everything connects to everything" and that "only teamwork makes the dream work". A good example is the new electronic test house for a new generation of aircraft transmissions in Ottobrunn.
Expert workshops on digitizing the supply chain
In parallel workshops, working groups discussed the pros and cons of focus areas such as supply chain digitization. Experts like Airbus representative Veronique Canceill, HO of Digital and Business Capabilities – Procurement, and SupplyOn CEO Markus Quicken emphasized that digital transformation as an enabler for a changing business environment is crucial for companies to survive.
Game-changing transformation. Delivered in Aerospace.
It was not possible to attend all interesting lectures, which is why I can only share some of my personal highlights: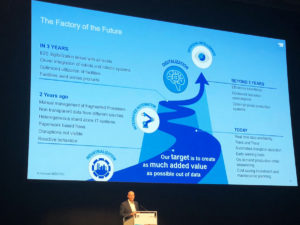 Dr. Thomas Ehm, CEO of PAG, stressed the importance of analytics and AI: "Precise predictions are the currency of the 21st century". He also pointed out that lot sizes will be decisive any more.
In his amazing speech, Jody Franich, Boeing Vice President Category Management & Enterprise Sourcing Office, emphasized the most important aspects of digitization, that needs to be connected, predictive and intelligent. Also, Category Management plays a crucial role in this new Boeing strategy towards a more holistic procurement approach with just one enterprise procurement organization.
Roland Ley, Executive VP Supply Chain at Recaro Aircraft Seating, impressed how Recaro developed from a more or less regional player back in 2006 to a true global player with five production sites on four continents. Key enablers for this are the same processes and IT systems as well as person-related change management, allowing for short lead times, a global presence and OEM proximity.
AirSupply as integral part of the Airbus digital supply chain journey
Last but not least, Dominique Aral from Airbus demonstrated the company's digital supply chain journey of Airbus with an emphasis on SupplyOn AirSupply. He outlined the solutions claim 'one community, one platform, one standard' as well as recent successful projects like Purchase-to-Pay and the launched development and deployment of the AirSupply Quality suite.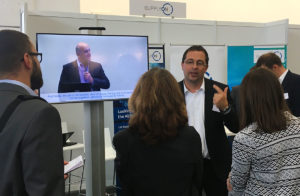 In short, after two amazing days an outstanding industry event came to a close with a lot of valuable business contacts. The community is already looking forward to the next Aviation Forum in November 2020 – then again in Hamburg!