Hamburg calling – how the 8th Aviation Forum gave insights into tomorrow's aerospace supply chain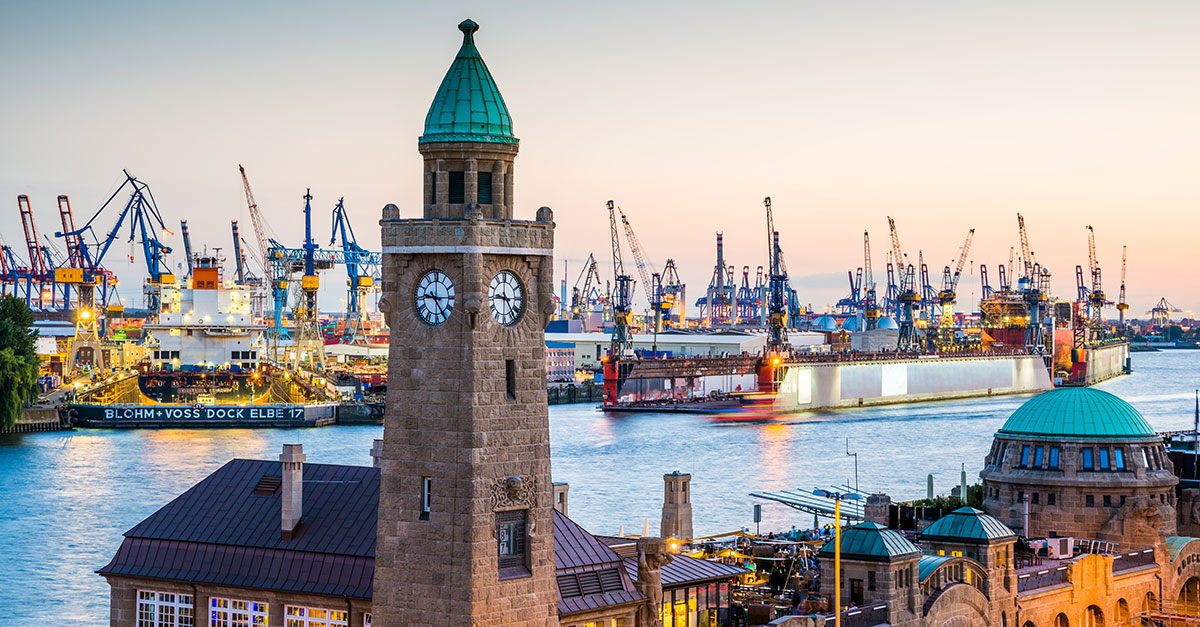 The 8th Aviation Forum opened its doors on November 6-7. And more than 700 participants attended this 8th event of its kind, hosted again by Airbus CPO Dr Klaus Richter and organized by IPM.
The participating companies – among them airliners, OEMs, suppliers, BDLI, clusters, regional aerospace organizations, service providers and consulting companies – discussed hot topics like globalization, digitization and smart production.
Factory tours giving best-practices insights
It has become a good tradition for those participants who already arrive one day earlier to join one of the factory tours. Up for a visit were the Airbus A320 family FAL, the Lufthansa Technik MRO ahop, the Airbus A350XWB Customer Definition Center, the Safran Nacelles Integration Center or the ZAL research Center in Hamburg. The author chose the Airbus A320 Family FAL – and was not to be disappointed. Approximately 7,000 A320 Family orders not yet delivered represent essentially 10 years of sold-out production and the need to further increase production to cadence 60 across the different A320 FAL sites.
Consolidation as a fact and the size of German aerospace industry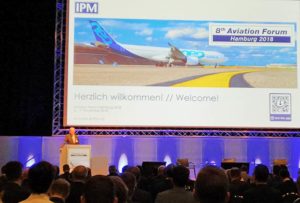 In his opening speech, Prof Dr Walther emphasized the ongoing consolidation in the aerospace industry, with Lufthansa having acquired AirBerlin, UTC having bought RockwellCollins and with Airbus taking over control of the Bombardier C-Series program. He welcomed participants and companies coming not only from Germany, but also from Canada, UK, the US, the Emirates, France and many other countries.
Mr Volker Thum, BDLI, shared that more than 109,000 employees work for German aerospace companies, representing a turnover of for 40 billion euros. Of these, 73% are accounted for by civil aviation, 19% by the military and 8% by space.
Best practices for a competitive supply chain
It is impossible to cover all the different interesting speeches and masterclass sessions, so I just share a few highlights:
Boeing's Simone Berger gave insights into Boeing's ramp-up, driven by both Single Aisle and Twin Aisle. She also highlighted how their supply chain is organized, which critical know-how an OEM needs to preserve, and how the company's supply chain decision-making process helps to achieve a sustainable competitive advantage.
Dietmar Czala of GKN Germany reported on GKN's growth of its three pillars Aerostructures, Engine Systems and Special Technologies, also driven by recent acquisitions, including Fokker. He also spoke about the importance of the new UK-based owner Melrose.
Ismail Ali Abdulah of Strata Manufacturing shared the company's success story as an Arab challenger. As the oil reserves are finite, the United Arab Emirates want to prepare for the time beyond. Strata is a consequence of this strategy. Strata is part of this strategy. The company employs an enormously high proportion of female engineers of more than 90%. Its main customers are Airbus, Boeing and Leonardo.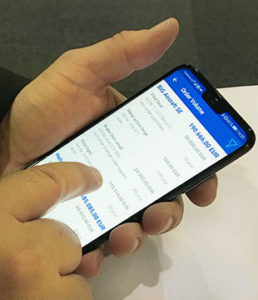 Two parallel Master Classes, moderated by the Berlin School of Economics and Law, discussed the success factors of digital change, including the right work culture and the right staff. Another hot topic was 3D printing, with outstanding certifications still proving to be a major obstacle.
Parallel workshops and networking in the exhibition enabled the participants to pick their key topics
As in the previous year, a panel discussion and various workshops were offered in parallel. The latter discussed hot topics such as global production, digitization and standardization expectations, supply chain evolution, efficiency & propulsion systems, advanced automation, additive manufacturing and the innovation field "cabin". In each workshop, different working groups tackled the related theses with their pros and cons.
This first day of the Aviation Forum also included networking in the exhibition with many fruitful discussions. A hot topic was Airbus' entry into the C-Series Aircraft partnership earlier this year, with the first Airbus A220 delivered to Delta Airlines in September 2018.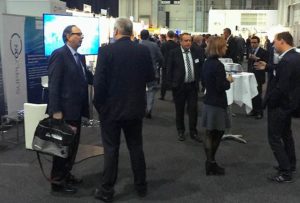 This first day of the event ended with a champagne reception. Before the gala dinner, David Rodgers from Mobile, Alabama, gave insights into the attractiveness of this region, where Airbus has the North American FAL and many aerospace suppliers are based. As always, the gala dinner was an excellent opportunity to network with business partners from various disciplines.
Highlights from day 2
On the second day, Joachim Szodruch of Hamburg Aviation and Suzanne M. Benoit of Aero Montreal emphasized the strengths of the two aerospace hotspots Hamburg and the Quebec region as well as the growing joint activities and cooperations related to it.
Dr Davide Brigante of ATR highlighted ATR's OEM role as a leading manufacturer of regional aircraft / turboprop aircraft with less than 90 seats. Its future growth is driven by new routes and China. They invited partners looking for innovation.
Gil Michielin of Thales said that up to 9 billion passengers per year are expected by 2050. This will have a significant impact on the ramp-up in aircraft production and environment, on the shortage of pilots and also on new entrants in commercial air transportation, the drones.
Eric Goedhart of Kühne&Nagel pointed out that logistics is a key enabler and data quality is crucial to harness of the benefits of digitization.
Panel discussions on tomorrow's aftermarket and new ways to fly were held in two parallel tracks. After lunch, there were two parallel best-practices tracks, one about European suppliers in a global supply chain and one about advanced manufacturing. A highlight were certainly Premium Aerotec's insights into the best practices of Production-to-Supply and how track and trace can be implemented. Having the right digital natives on board was also a topic.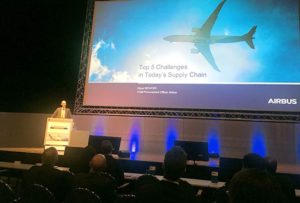 Top 5 challenges in the supply chain
Last but not least, Dr Klaus Richter, patron of the event, shared his view on the top 5 challenges in the supply chain:
Ramp up – managing volume increases and new product introductions
Industrialization & cost reduction – industrial design & processes
Digitization of Supply Chain Management – from IT tools to big data analytics & process automation
Engaging suppliers in innovations – technologies & business models
Globalization – taking emerging markets to the next level
The 8th Aviation Forum has once again impressively demonstrated its unique role as a key platform for aerospace companies to connect with their international suppliers and partners.
The community is already looking forward to the 9th edition of the Aviation Forum 2019 – then in Munich.