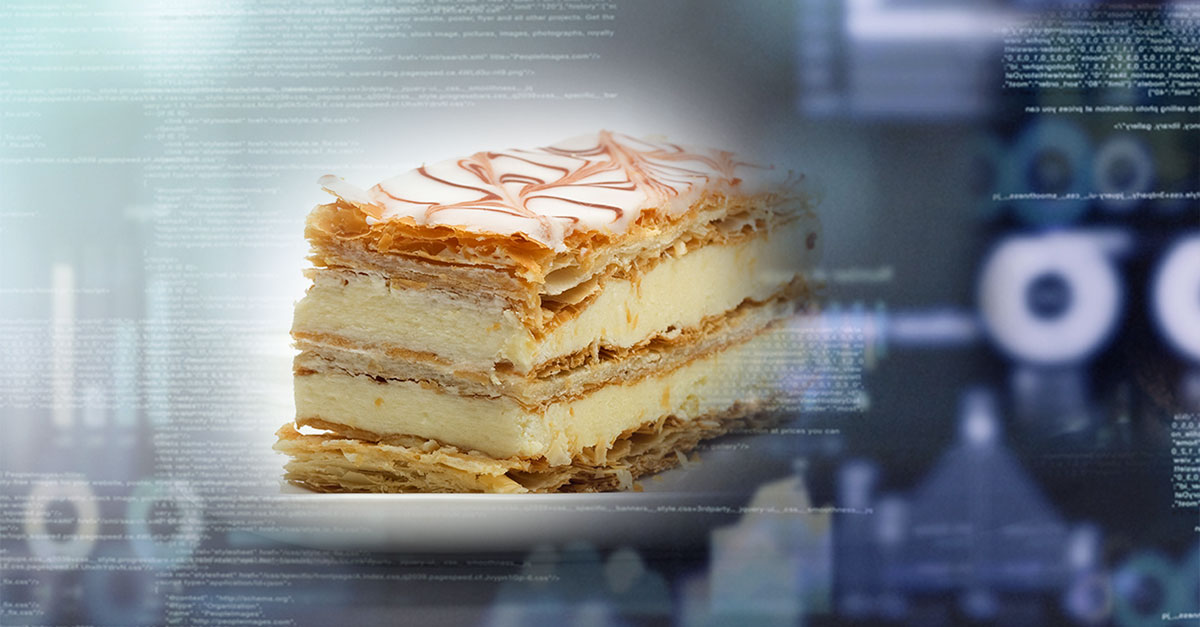 Those who have already tasted Mille-Feuille, a tasty French dessert, know how delicious this pastry can be. For those not yet having had the chance, give me a call, I know some nice addresses in Paris, where you can get the best.
The point is, as delicious as it can be at times, at some point it might be too much. Should you try to count whether or not there really are thousands of tasty layers ("mille-feuille"), I wish you good luck.
Why am I telling you this? Well, for KPIs, the situation could be same!
How did your organization get into it?
Commonly, knowing the figures means to know what's going on. At least, this is what people believe. In my several years of experience, I have seen how much time is spent on creating, refreshing and re-doing KPIs. And, how painful a blackout of all of these powerful Access and Excel databases, enriched by some VBA codes, can be.
At the very beginning, it starts as the work of an intern or just someone who is bored and an amateur at codes. Later on, as manager, you realize that you need to hire an engineer or two. Why? The answer is simple: to get to know how this magic number game works. Since the intern who left or the erudite who helped with the Access engines is not there anymore and nobody else knows how the black box works, you'll need to spend a lot of time and effort to recover the situation.
Of course, steering committees and top management NEED the KPIs. Urgently. Lucky for you, other departments do very similar analyses and try to support you in getting the figures.
Finally, someone finds the code and decodes the logic behind the database. But the results are quite different compared to the previous ones, even if the analyst used the same code. Discussions will take a while…
Welcome to the numbers war!
Now, people start to spend more and more of their time on trying to understand what actually happened, how to explain the differences, and all of a sudden, everyone seems to have a university degree in Math. In the end, people are not focusing on their current tasks anymore. Even worse, KPIs are not the universal(ly agreed) truth anymore. Along the lines of: Don't trust any statistics you haven't faked yourself.
Without saying, the previous description is just the "Kindergarten" level of what happens on a daily basis in many companies. The truth is that credibility of the figures does not exist anymore.
Situations can be by far more complex or even worse: Such as when KPIs do not really measure things the way they should with regard to the strategic goals… But let us stop here for the moment. You know better than anyone else in your organization where you stand regarding the KPI Mille-Feuille.
Put your KPIs on a diet
In the era of digitalization and big data, focus your energy on what really matters and use data to understand your business and take the right decisions.
With more than 17 years of supporting industry leaders, listening to their pain points and the way KPIs topic are handled, SupplyOn has developed an understanding of the problem and of how to help companies to get it right.
Our Visibility & Analytics, the analytics solution in the SupplyOn product portfolio, in combination with our well-rounded and experienced consultants and the insights of our customers, will put advanced integration capabilities and a robust analytics tool at your disposal.
Gather and merge multiple data universes to build KPIs, establish data models and start looking across and beyond the boundaries of your organization. We will be delighted to share our experience and state-of-the-art practices for identifying the operational KPIs you need to align to your strategic goals, and to make sure that you are looking into the right direction and the right figures to make the best decisions.