Digital procurement in real-time: successful Industrial Track & Trace showcase at Hannover Messe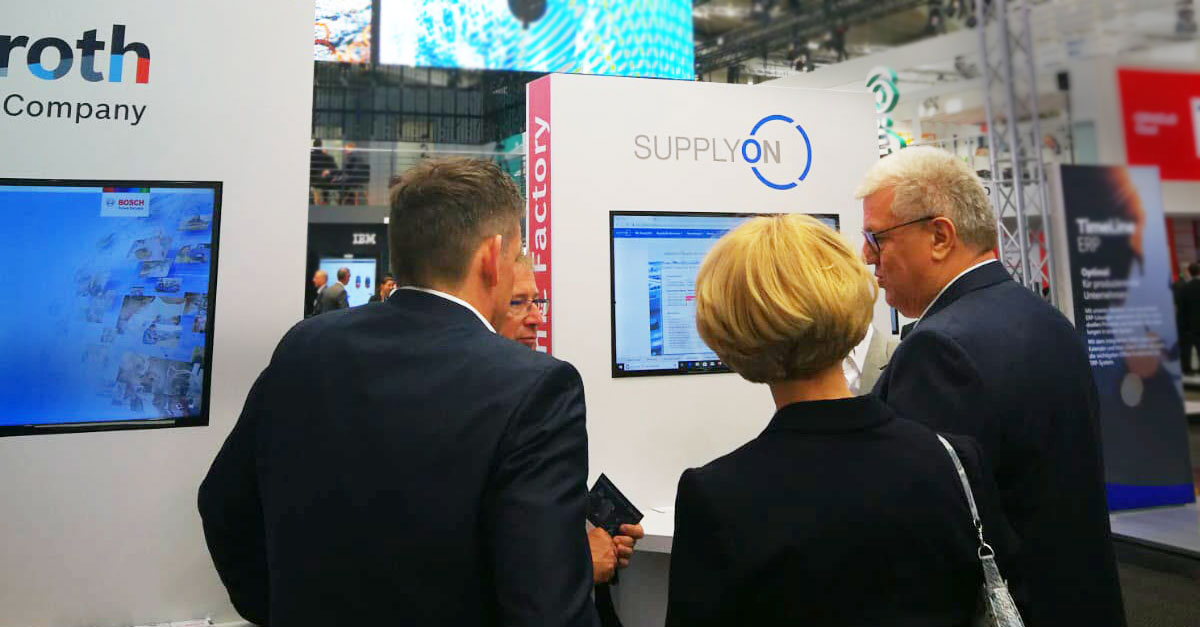 Hannover Messe is the world's leading industrial trade show. An event that is justified in its role as the "Home of Industrial Pioneers". More than 215,000 visitors and around 6,500 exhibitors from all over the world attended the exhibition from April 1 to 5, 2019. This year's motto: "Integrated Industry – Industrial Intelligence". This key theme not only shaped the many facets of the hotly debated trade fair topics, but also represented the core of the innovative use case that SupplyOn presented there.
Drivers of digital transformation, hands-on
High speed machine-to-machine communication via 5G, predictive analytics & maintenance, artificial intelligence, digital twins, human-machine interaction, new materials and manufacturing processes, automation and robotics… In short, the range and showcases on display on Industry 4.0 and the Industrial Internet of Things (IIoT) were truly impressive.
At the same time, supply chain management is increasingly moving into the centre of digital, intelligent and networked production. After all, smart factories cannot function without intelligent supply chains and logistics. Many innovations stem from close digital collaboration between manufacturers and their suppliers. Visibility across the entire production cycle requires data from a broad variety of systems and sources to be intelligently integrated and analyzed in real-time.
Impressive live demo of Industrial Track & Trace
Thus, SupplyOn hit a real nerve with its showcase at the Hannover Messe. Together with Limtronik, Bosch Rexroth and IoTOS, SupplyOn implemented a live scenario dedicated to "Industrial Track & Trace".
Production and quality data from the supplier's Manufacturing Execution System (MES) are transferred to the SupplyOn ecosystem in real-time during the manufacturing process. There, it is aggregated with the data from operative procurement and transport planning and commissioning. This enables a seamless monitoring of the entire supply chain in real-time, from order to goods receipt.
Numerous booth visitors were very impressed: SupplyOn's Visibility & Analytics solution can detect any conceivable disruption in the supply chain. It identifies disruptions both at the supplier (e.g. missing material, machine malfunction) and at the forwarder (e.g. temperature fluctuations, humidity, vibrations) as well as external conditions such as weather conditions, catastrophes, etc. User-friendly dashboards visualize this information. Plus, everybody involved can subscribe to it as exception-based alerts.
Here is a glimpse: 
Next Stop: Berlin
The automotive industry in particular showed great interest in the use case. And there is a new opportunity to witness it live in action at Bosch Connected World on May 15 and 16 in Berlin.