Looking through your suppliers' walls
Global supply chains, tight scheduling, long production times, high degree of customization, short-term changes in demand: All of this classically leads to high, and thus expensive, safety stocks. After all, a company's own production and its supply reliability to the customer should not be endangered in any way by delivery bottlenecks at the supplier or delays in inbound transport.
What companies lack is a look behind the scenes and into the production of their suppliers.
This is precisely where SupplyOn Production-to-Supply comes in by answering the following questions: Are my suppliers producing the parts I need on time? Is their production and supply planning optimally synchronized with my own demand planning? Will the parts be delivered on time? When do I have to place my order with the suppliers, given the replenishment time and the suppliers' current production output?
As a result, companies get a holistic view of the entire process – right the way through from forecast and subsequent changes to demand and call offs, production, safety stocks, delivery and goods receipt at their premises. This provides an exceptionally high level of transparency and enables effective supply chain management.
Get started with SupplyOn and profit immediately!
The concept Industry 4.0 refers to the vision of a comprehensive networking of all processes in manufacturing: one day, factories should be able to communicate with each other, production processes intermesh intelligently, machines order new supplies automatically and both suppliers and customers be integrated into these processes.
An essential aspect in the successful integration of Industry 4.0 concepts is the digitalization of the supply chain – and precisely this has been SupplyOn's core skill since the company was founded. For many years, we have been pushing ahead with the networking of companies with the aim of digitalizing supply chain processes and abolishing media inconsistencies at company boundaries.
In this way, a worldwide network has been created linking more than 60,000 manufacturing companies in the key industries automotive, aerospace, railways and the construction of machinery and equipment with each other through a central platform. This global supply chain network offers perfect conditions for the implementation of Industry 4.0 concepts!
Don't lose any time – join in right now!
SupplyOn makes a pragmatic introduction to the subject possible. That is exactly what experts recommend in this article
The imperative part: getting connected
For SupplyOn, Industry 4.0 begins with a company becoming so networked with its suppliers that processes can be handled electronically throughout – in fact, in both directions. In this phase, the main focus lies on optimizing production planning. The integration of suppliers is based on accurate supplier master data. The seamless order process provides vital information enabling production planning to be optimized and supports all operational demand processes.
In a second step, the logistics service provider is integrated into the system. Of importance here is, firstly, a high degree of transparency in placing transport orders but secondly in obtaining information on the products that are in transit from the supplier to the customer: where are they located, when will they reach their destination and so on. Since this information has a considerable influence on further processing and production, it enables risks and pending bottlenecks to be avoided through timely intervention.
In a third step, the "Things" themselves are integrated into electronic processes. This enables a container, for example, to receive a certain intelligence enabling an unambiguous reference to its contents to be established. With this information, it will be possible for the first time to provide so-called cyber-physical systems in production with up-to-date information on stock replenishment. This brings the vision of a factory that manages itself within easy reach.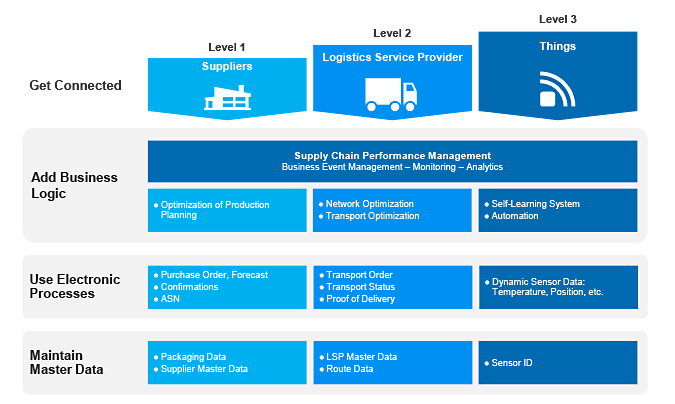 The sophisticated part: interpretation of the data
Networking divisions and departments in a company – that is vertical integration – and the networking of companies with each other – horizontal integration – represent the indispensable basis of Industry 4.0. Starting from this base numerous ground-breaking scenarios can be realized, such as for examples machines that "know", due to their actual condition, when the next service has to be carried out and can also "arrange an appointment" for the service quite independently. In implementing scenarios of this sort, SupplyOn not only provides the data highway but also processes and analyses the data and – what is a lot more important – interprets this data and translates it into a relevant business context.
What we can offer you: a fast pragmatic introduction
SupplyOn has prepared an advice package for you with which we will accompany you along the path to becoming a successful Industry 4.0 company.
We link you up with a network quickly, whilst still maintaining the strictest security standards. You can benefit here from our many years of experience in integrating several thousand companies.
We analyze your actual situation currently and define together with you your individual goals and your "to-be" situation.
We define the business case with you because your involvement has to be worth your time and money.
We demonstrate to you the measures that would allow you to reduce inventories considerably and how you can achieve cost savings of up to 15%.