Efficient. Resilient. Transparent. Sustainable.
Your Supply Chain
SupplyOn empowers you to drive efficient, resilient and sustainable supply chains – through intelligent collaboration and visibility solutions in the best, enabled industry community
How SupplyOn supports you
– our unique offering
Secure. Simplified. Streamlined.

Open Multi-tier Portal: Your interface to your suppliers.

Unify and control all interactions between your corporation and your community through one single access point, with unified identity and access to all applications and networks.
Features
Central entry point and control center
Access to all SupplyOn and 3rd party solutions and connected networks
Central Identity and User Management
Business Partner Profile and Social Messaging
Supplier Info Portal, FAQ and customer specific content
Security framework
Your competitive advantage
Higher acceptance by suppliers compared to customer specific portals
Simple usage through harmonized user experience with user centric roles
Easy deployment of additional applications – including 3rd party and own
Highest performance and process compliance of suppliers
Highest security standards
Efficient. Proven. All-in-one.

Cross functional Supply Chain Solutions: Your Supply Chain Collaboration

Manage your supply chain successfully with the power of our industry leading solutions for intelligent collaboration and visibility
Features
Intelligent solutions for Purchasing, Procurement, Logistics and Supplier Quality Management
End-to-End collaboration along all interaction points
Supply Chain Risk Management
Supply Chain Visibility and Business Intelligence
Your competitive advantage
Reduce delivery risks
Increase efficiency
Stay ahead in case of disruptions
Gain from highest supplier adoption and process compliance
Participate on innovations of your peers
Achieve your sustainability goals
Ensure highest quality standards
Fast. Successful. Robust.

Experienced Consulting & Business Partner Enabling: Your digitization projects

We deliver consulting services to drive your projects to greater success – with active enabling of all business partners from onboarding through rollout to successful use.
Services
Project planning and Proof-of-Value
Implementation and change management
Performance and process compliance program
Industry councils for best-practice exchange
Your competitive advantage
Successful rollout and high project ROI through our tailored implementation and change management
Sustainable, reliable and compliant usage of implemented processes through usage and adoption control
Reduced effort for your organization through our holistic 24/7 first level support for suppliers
Together. Leading. Engaged.

Enabled Business Network: Your community

Access to a top industry community with leading industry corporations and highest coverage of over 140,000 active suppliers
Components and Features
More than 140.000 qualified partners
Strongest industry network for manufacturing companies along all tiers
Global Service Provider network (LSP, Customs, etc.)
Customer groups and industry councils
Actively managed Supplier Community
Your competitive advantage
Fast rollout of your processes through existing, active and qualified suppliers
Highest supplier adoption and process compliance through well-known processes by your partners
High quality partner network through actively managed onboarding and invitation by customer only
Supplier driven improvements through active community management
Innovation, standardization and best-practice exchange with your peers in Industry Councils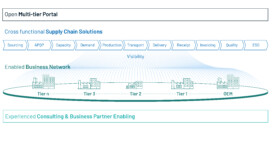 Our intelligent solution suites
Exciting news and insights
Digital transformation at its best:
Take a look at our videos for deeper insights
Interested in learning yet more about SupplyOn?
Or even keen on joining our team?