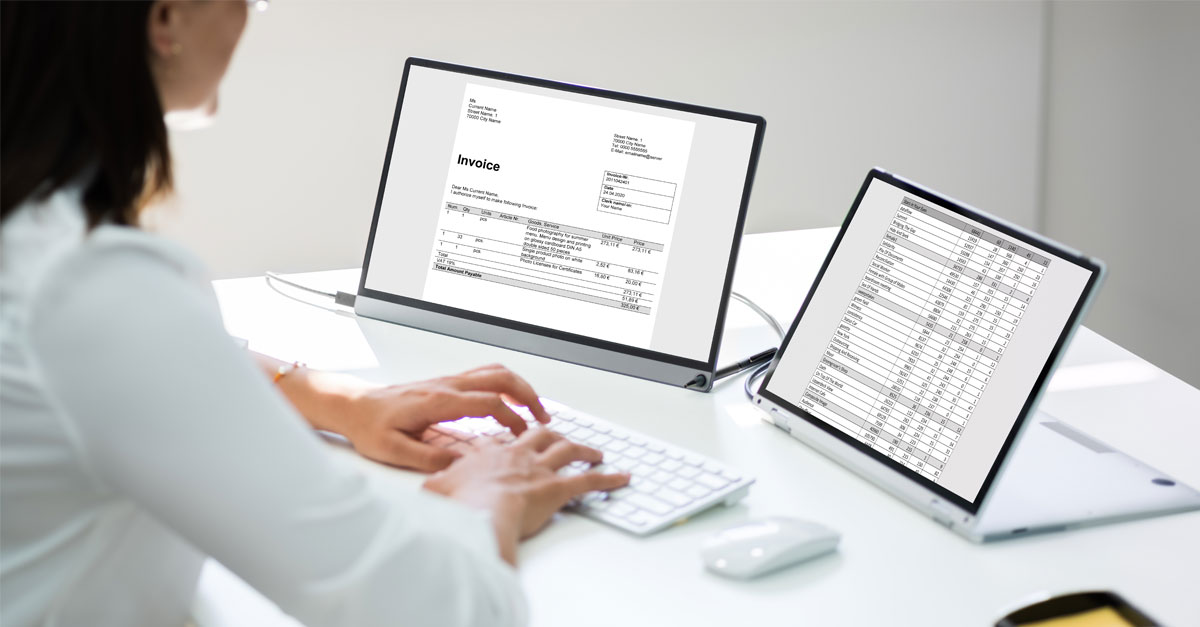 Paper invoices are still common with some suppliers. But paper-based invoice processes are not only inefficient as the information needs to be keyed in again in the customer system. Moreover, they are also prone to errors, due to typos or missing information.
Why you need to move beyond plain digitized invoices
Many companies have therefore started to digitize their suppliers' invoices, via scan shops or optical character recognition (OCR). However, this does not resolve the issue of low automatic booking rates as sometimes, mandatory information on the invoice is missing, illegible or interpreted in a deviating way. On other invoices, information like the purchase order (PO) reference may be incorrect. All of this results in time-consuming and expensive correction loops.
With digital predecessor-based processes, e-invoicing is taken to the next level. Here, the electronic invoice is based on an electronic PO or advance shipping notification (ASN). Thus, the integrated SupplyOn Purchase-to-Pay (P2P) solution suite enables transparent and efficient collaboration, from demand generation to delivery, goods receipt, invoice creation, invoice booking and payment.
Why turn to SupplyOn?
With invoices based on the underlying demand or ASN, format checks, supplier-country specific as well as customer-specific rule sets and data enrichment, you can achieve auto-booking rates of above 98%. For the remaining up to 2%, SupplyOn has established best practices in close collaboration with its customers. These include interdisciplinary teams, lessons learned and the exchange of best practices among our P2P customers, coordinated by SupplyOn.
The challenge of divergent invoice channels (paper, OCR)
Some customers who started with SupplyOn P2P still have other invoice channels, from paper to OCR to legacy solutions. However, until recently, those suppliers could only get an overview of the processing status for invoices sent electronically. As a result, general inquiries about payment dates or the status of an invoice accumulated alongside balance confirmations or reminders.
The solution: The SupplyOn Finance Portal
To address this, SupplyOn developed an integrated Finance Portal solution. It provides suppliers with a comprehensive view of the processing status of their invoices regardless of the invoicing channel used. It also features a request channel for handling inquiries. This channel can be integrated with other customer support tools, thereby further reducing internal administrative effort and increasing the service level.
Key customer benefits
The SupplyOn Finance Portal not only reduces the number of requests. Moreover, it also allows to process these inquiries far more efficiently. Considering that the annual number of inquiries could previously easily amount to a 6-digit number, solving these proactively is just as crucial as processing efficiency.
Supplier benefits
Regardless of which channel suppliers used for sending their invoices, they see at a glance as to whether their invoice has been received and approved and when it will be released for payment. All suppliers benefit from this transparency, even those not using e-invoicing before. What's more: this applies not only to current or open invoices but can also include historic invoices. The SupplyOn Finance Portal derives all this information through data transfer from the customer's ERP system.
In addition, suppliers can send structured queries comfortably to the customer via the Finance Portal. Be it general inquiries, e.g. concerning the invoice status or payment date, reminders or balance confirmations for auditing purposes—the integrated, structured approach boosts the speed of response.
Finance Portal: a success story
Read here the case study on how the SupplyOn Finance Portal helps Bosch provide full process transparency, minimize invoice queries, increase process efficiency and improve service: Bosch provides its suppliers with a comprehensive view of their invoice status, independent of the invoicing channel