What does a Product Owner actually do at SupplyOn? Dominik Halamoda describes his working day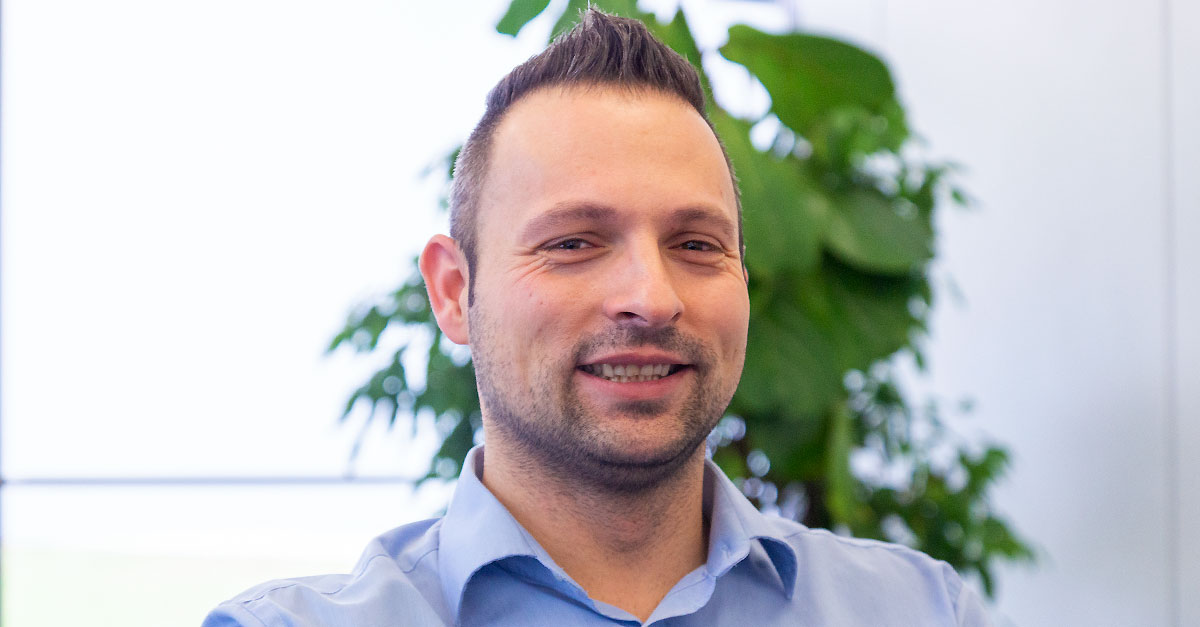 In the new series "How does your working day look like?", employees from a broad range of fields are giving insights into their daily work. The first is Dominik Halamoda, Product Owner at SupplyOn, who answers the most important questions about his tasks and the company in an interview.
My daily work
What does a Product Owner actually do?
In the Scrum team, the product owner is the interface between customer and development. He represents the customer requirements and creates, explains and prioritizes the product characteristics on this basis. He records these in the product backlog, which he regularly organizes and updates.


What does the typical working day of a Product Owner at SupplyOn look like?
My average daily routine does not differ so much from that of other office jobs. I start checking my mails in the morning: What's going on? Who do I have to reply to? Then I update the product backlog. In the mornings I often have meetings with the Scrum team and/or the customer. After the lunch break I release user stories or write them myself.
Depending on the status of the project, the amount of routine work varies. When the application is finished and only the fine-tuning takes place, my work consists of about 80 percent routine and 20 percent new tasks. If we are working on a new project, it's the other way round. As the project progresses, the weighting slowly changes again.


What are the challenges and highlights of your work?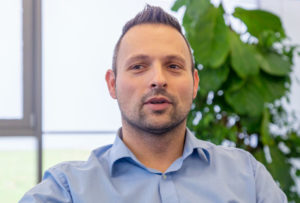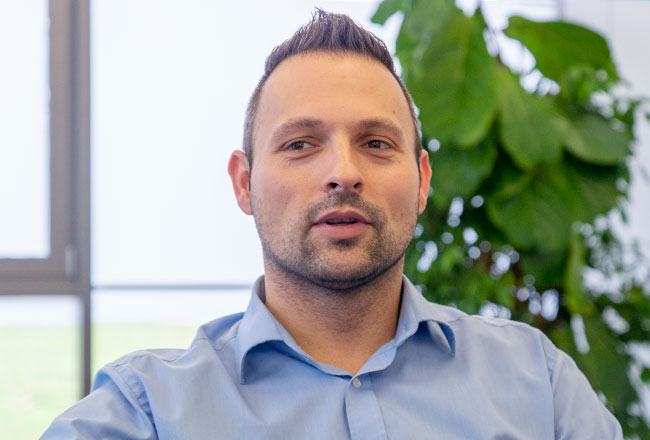 I'll start with the highlights. In any case, this is always the go-live of the project or when we reach individual milestones – first the rollout of the software for suppliers and then the rollout of the software for buyers. Another sense of achievement for me was seeing how well and focused my team works together on a solution if something didn't work during a presentation.
The challenge is always to meet customer requirements and delivery dates. Customers often underestimate the complexity of a project. That's why we are currently testing a new form of collaboration. With the current project, we involve the customer more closely in the process by presenting an interim status every two weeks after the end of our development cycle (= sprint). This is very time-consuming, but the benefits are much higher. Not only does the customer get a better feel for how complex the project is, but we can also make changes or implement ideas much faster and more agilely with the input we receive before getting stuck.
Agile working is a priority
You work with Scrum, a very team-oriented approach based on the Agile Manifesto. How would you describe the interaction and the team spirit?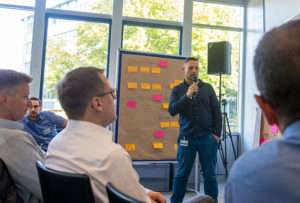 The entire company attaches great importance to cooperation. For example, with the introduction of SAFe there is a quarterly planning event (= Program Increment (PI) Planning), where all development partners sent delegates from their software development teams to Hallbergmoos. This serves the joint planning of the next three months and is always rounded off by a joint team event. In addition to all the work, the fun and the community get their share.
Furthermore, we are all working at eye level here – apart from a few exceptions, I don't call anybody in the company by his last name. Accordingly, communication with the team leader or director also takes place directly.
Speaking of direct communication. Should conflicts arise within the core team – consisting of Scrum Master, Product Manager, Product Owner and Development Team – we first try to solve them in small units. If no compromise or solution can be found, we call in the team leader. Overall, we pull out all the communicative stops in order to find a satisfactory solution for all parties involved.


SupplyOn uses the SAFe method company-wide. How does this affect your daily work?
The method provides a more solid structure for all departments. This has the advantage that we are all on the same denominator. The Program Increment already mentioned is essential for this. At this two-day event, all development partners sit together and plan their work for the next three months. So everyone knows what the others are doing and where it is possible, the plans can complement each other. This reduces the number of meetings during the three months.
SupplyOn fan
What opportunities does the company offer for your career development?
On the one hand, SupplyOn offers centrally organized training courses. Since I started working for the company almost two years ago, I have completed further training to become a certified product owner and SAFe product owner. On the other hand, I can independently look around for further training courses and suggest them.
Why did you choose SupplyOn as your employer?
I first became aware of the company a few years ago and the field of activity very appealing for me. Shortly afterwards, I applied for my first job and was invited for an interview – unfortunately it didn't work out then. However, the open and relaxed atmosphere during the interview and the employees made such a lasting positive impression that I continued to follow SupplyOn and also wanted to apply again – this time successfully!
Between the two interviews, SupplyOn has become more and more agile. The technology and technology used is state-of-the-art. For example, we are currently working on a cloud application that will facilitate the exchange of knowledge within the company. As with all projects, everyone has the opportunity to contribute. Every idea is accepted and discussed. For me, this desire to develop continuously as a company in cooperation with its employees was another reason to choose SupplyOn.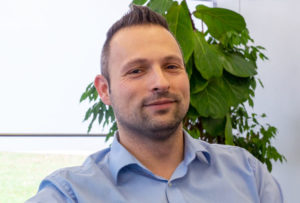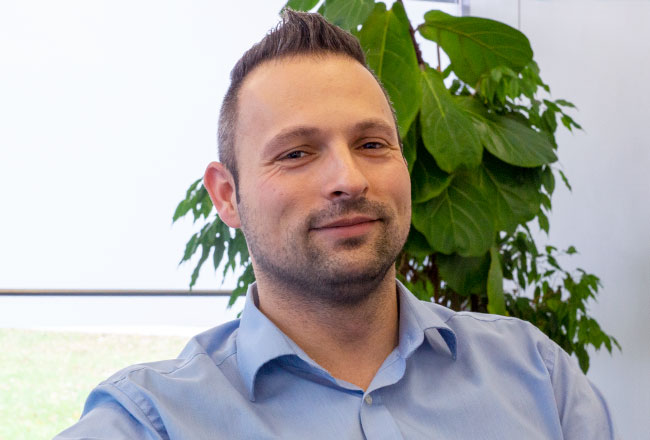 I had a real wow! moment a few weeks after I started here. And I found out that there is a "Weißwurst Club" (Weißwurst = Bavarian veal sausage, more information on the club can be found here in German): with a statute and president and everything that goes with it. The club meets once a month for lunch with veal sausage and non-alcoholic beer and to chat. The topic work is strictly forbidden thereby – by statute. This cooperation with colleagues is really great.
Benefits
Everyone is talking about work-life balance right now. What does SupplyOn offer to enable its employees to achieve this balance?
For me, this starts with how working hours are handled. We don't have core working hours, so everyone can determine their own starting time. Most of them start between 7:30 and 9:30. We also have trust working hours – so it's give and take. Everyone has the compensation for overtime under control. In intensive project times, e.g. during a sprint, individual arrangements can also be made regarding working hours. All in all, this model also makes it easier to arrange professional and private appointments. In addition, there is also the possibility of working in the home office.
The whole thing is rounded off by dealing with holidays. I have 30 days a year, which I can take easily. Even in sprints I have not yet experienced that there was a holiday ban. This is mainly due to the fact that we work with the four-eyes principle. In addition to the holiday, SupplyOn gives us half a day's holiday for Christmas and New Year's Eve.


In addition to flexible working hours – what additional benefits does SupplyOn offer you?
There are several ways to ensure your physical well-being. On the one hand, coffee, tea and water are free and in the really good canteen we get a fixed price that is subsidized by SupplyOn. On the other hand, there is a company health management system. For back health, for example, this checks the correct position of your desk. Also, you can have a massage every month. SupplyOn also offers us an employer-financed pension plan and occupational disability insurance. Sports events such as a company football tournament are also held regularly for physical fitness, but also for team building.
Another nice motivation is the participation in company and personal success through the variable compensation, which – in addition to the fixed salary – constitutes the second part of the total compensation. We also have the option of choosing a monthly net subsidy, e.g. for travel costs, childcare or private training.
Location benefits
What role does the Hallbergmoos location mean to you – apart from the job?
I am very happy that SupplyOn is in Hallbergmoos, so I can cycle to work. I can cover the 15 km in about 25-35 minutes, depending on the wind and weather. In the changing room we have showers and lockers, which makes the whole thing even more ideal.
I also like to use the shopping possibilities in the village. There are two supermarkets in direct proximity, in which both small purchases and weekly purchases can be done. On top of that – unlike in Munich – I can buy products directly from the producer.
Perfect match?
Let's assume that a friend or acquaintance of yours is toying with the idea of applying to SupplyOn as a Product Owner. Who would be a suitable candidate?
There is even one case within my acquaintances where this worked out – even though not as product owner. You fit in well with us if you are open, curious and communicative. You should also like to work closely with colleagues in a team – because we work in Scrums and that only works with strong team players. And then, of course, there are the different professional requirements, depending on the job profile you are looking for. For further information, visit our career page.