Coronavirus threatens your supply chains worldwide
Current situation
The corona virus has been spreading all over the world and has faced us with completely new challenges in the shortest possible time. Each and every one is affected. Next to our concern for the personal health and well-being of family members and friends, we are currently experiencing tough cuts in our private and social lives.
In addition, the corona pandemic is a severe stress test for the global economy: The market collapses as shops are closed and consumers have to stay at home. Companies shut down operations to protect their employees and supply chains are disrupted both from transport and from supply side. 
To master this monumental task and mitigate the catastrophic impact on the economic situation, companies need a unique master plan that guides them out of the crisis step by step.
How will it continue?
Predictions on the development of the corona crisis are hard to make and the effects on global economy are uncertain. While China starts to recover, western countries are still to see the worst and further industrial nations are getting heavily affected.
In overall, we expect 3 main stages: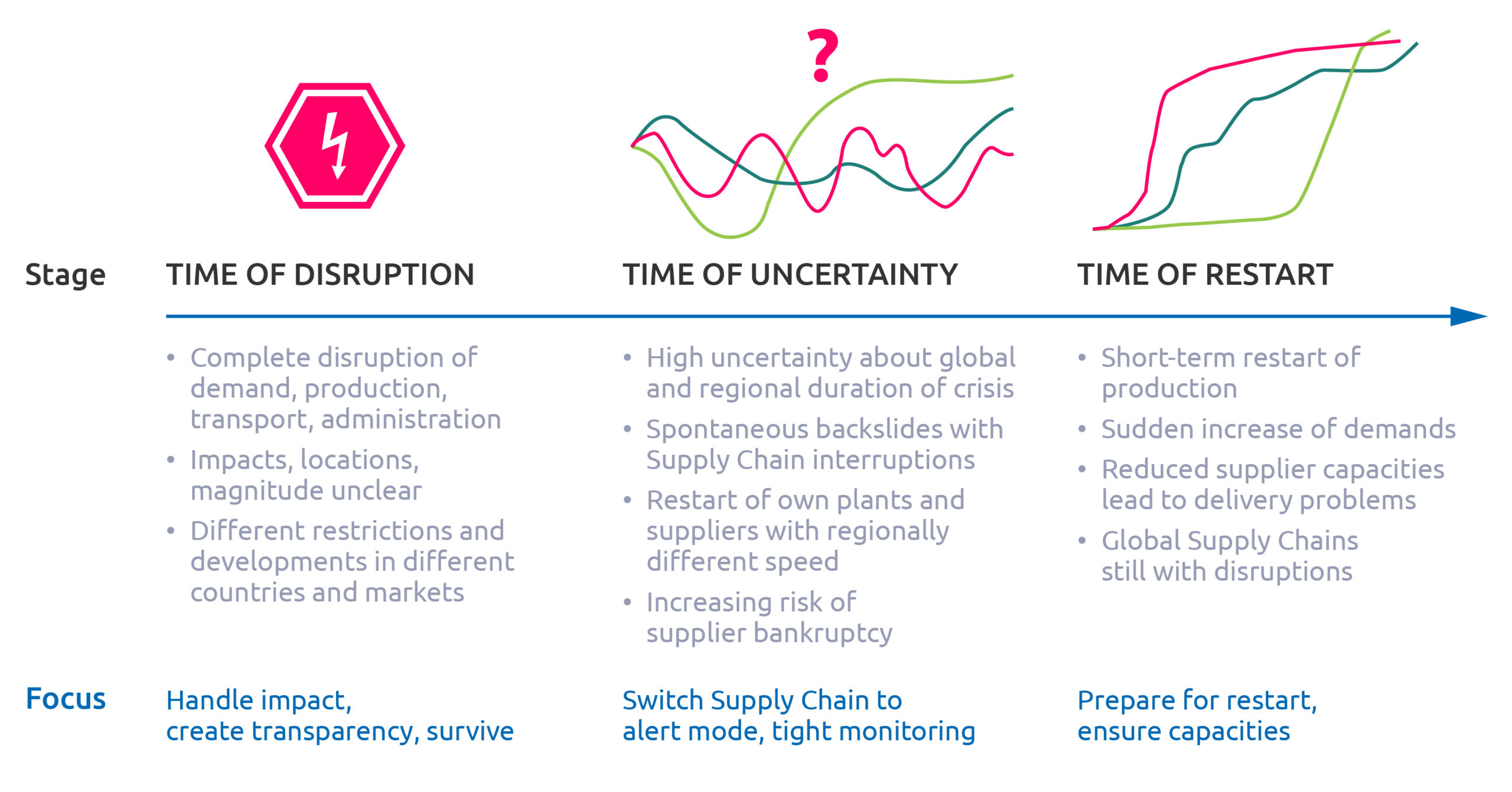 What is certain is that the business will be more digital than before and the stability of the supply chain will play a more important role than before.
How SupplyOn tools can help you?
Managing volatility in supply chains has always been a major challenge. Since the beginning, SupplyOn has made it its aim to provide solutions that enable our customers to manage their volatilities through close collaboration with their suppliers.
We strongly believe that crisis management should not be conducted in a separated solution, but as an integrated part of a supply chain management solution platform.
Here is what we recommend you to do and how SupplyOn can support you on this.
Get a quick overview of what is happening right now.
As any city in the world is potentially affected, it is important to monitor all of your suppliers, even in low risk areas.
Ask your suppliers for a short assessment on their actual and anticipated situation (e.g. with Corona Impact Survey)
Stay in close communication with your critical suppliers to follow up with their key risks. Use a central communication channel to keep track for all involved parties (e.g. via SupplyOn Social)
Request production shut-down plans (e.g. Flexible Surveys)
In times of crisis in general, but especially during the current corona crisis, it is essential to do all in your power to keep your business running. To accomplish this, close collaboration with your suppliers is essential, e.g. to take preventive measures, react on a specific situation or solve problems in a systematic way. Here is how SupplyOn tools can support you:
Make sure your supplier has a solid Business Continuity Management (BCM) in place (e.g. with BCM Compliance Survey)
Ensure you have all your personal contacts available, including proxies (e.g. request Crisis Manger via Impact Survey, or maintain a common list in Collaboration Folders)
Conduct risk mitigation measures with your suppliers (e.g. with Project Management, Action Management)
TIME OF UNCERTAINITY and TIME OF RESTART
While some countries are starting to recover, others are still to see the worst. Step-by-step, industries will return to work, but speed and magnitude of potential drawbacks are completely unclear.
During this time of uncertainty, close Supply Chain Collaboration with special focus on critical demands and risk suppliers is essential to keep your Supply Chain under control. By switching your Supply Chain to alert mode, you increase the probability to identify disruptions before they impact you.
Our recommendation is to start with:
Request confirmation for your purchase orders and delivery schedules (e.g. with Supply Chain Monitor)
Collaborate on stock levels via VMI monitor. Use VMI simulation to forecast stock. 
Impose usage of ASN from your suppliers and set up alerts to keep track on deviations (SupplyOn ASN, SupplyOn ASN Monitor)
Monitor consequent usage of digital processes by your suppliers – workarounds will lead to unexpected problems (Usage Monitor)
Start capacity tracking for most critical suppliers and parts. Include stock that is critical for your supplier operations (Rfx, Survey, P2S)
Monitor supplier financial risk and prepare to make early payments in case of cash flow problems 
Support your suppliers to manage their cash flow by monitoring their open invoices closely (e.g. via Finance Cockpit)
Prepare alternative suppliers and second source (Sourcing, Technical Review)
Transport Integration
Despite massive interruptions due to closed boarders, forwarders and LSP have been able to make a great job and keep deliveries upright – both for public and for industry demands.
Nevertheless, we recommend our customers not to rely on this and increase their focus on transport visibility and intensify collaboration with their LSP to make sure their goods will be delivered as required. Remember that your LSP face the same uncertainty, so involve them in your planning as early as possible. 
The following tools have well proven to support in critical situations and can be set up easily:
Set up track-and-trace for your transports (e.g. SupplyOn Seafreight T&T)
Generate transport forecast for your LSP, based on your demand information, to secure transport capacities (Transport Volume Forecast)
In case you need an alternative LSP for one or another shipment, use

 

Spot Auctions to allocate your demand.
Production data integration
While applying immediate actions to ensure your supplies, companies should start activities which will
reduce effort for their own and their suppliers´ employees for manual bottleneck management
increase the forecast accuracy for their suppliers´ ability to deliver
Out of plenty integration scenarios with our customers, the following solutions have well proven to substantially improve planning stability and supply transparency and can be implemented with moderate effort for key suppliers: 
Collect status information on your suppliers´ production progress and match it with your demands to make sure the parts will arrive in time (P2S Production Progress Monitoring)
Create stock predictions by compiling inventory and demand information from supplier(s), inbound logistics network and your own production (P2S Stock Prediction)
You want to know how SupplyOn can support you through these challenging times? Simply fill out the form and we will get in touch with you as soon as possible.