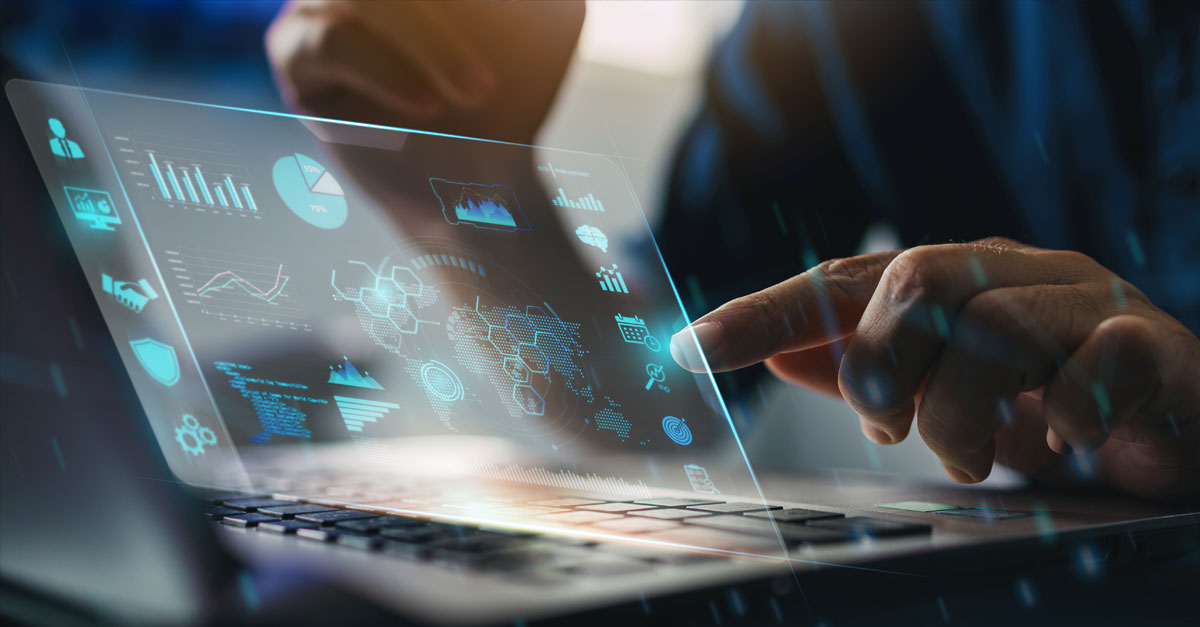 "High demand, low supply": what a nightmare for supply chain managers. And this doesn't just happen in boom times. In economically uncertain phases, too, supply bottlenecks are more than painful for businesses. This can currently be witnessed for the microchip shortage the automotive industry (among others) is battling with.
Thus, it is all the more important to safeguard production by having a sophisticated capacity management system for critical components in place. But what does this mean in practice? What is the difference to conventional demand collaboration with suppliers? And which aspects do manufacturers need to consider?
Why you need capacity management
Many companies focus on managing current demand with their suppliers, e.g. via purchase orders or delivery schedules. In addition to this short-term demand, forecasts are used for longer-term planning. However, the further ahead these forecasts go, the more uncertainties, and consequently fluctuations, they entail.
Generally, most manufacturers assume that their suppliers will adjust flexibly to these fluctuating forecasts. So, it is just when they place the actual order that they become aware of potential delivery delays or issues. What is missing, is a feedback channel from the supplier to the customer. A way through which suppliers can communicate at an early stage whether or not they will be able to serve the quantities requested in the forecast.
It is precisely this feedback channel that capacity management is all about. Capacity Management seeks to match customer demand signals with supplier capacities. The focus is on medium-term production and delivery capacities, usually in the range of the next six to 18 months.
Vagueness on every side
Yet capacities—like forecasted demands—tend to fluctuate considerably due to uncertainties. And imprecision increases as you look ever further into the future. To make matters worse, vagueness multiplies across the different stages of a supply chain. Naturally, this makes reliable planning a challenge, to say the least.
In addition, different industries often compete for the same bottleneck materials, such as microchips, sensors and semiconductors. A booming demand in one industry therefore inevitably leads to a shortage of supply in others. Plus, technological upheavals, such as the trends toward electromobility and autonomous driving in the automotive sector, can also spur demand in the medium and long term.
Detecting this early on and securing your production accordingly is thus becoming a key priority.
Capacity dimensions: across time and material
To achieve this, capacity management needs to cover different dimensions. For one thing, capacities must be monitored in different time frames: While short-term monitoring is primarily intended for pending orders, the mid-term horizon aims to secure the materials required for the forecast sales volumes. And finally, strategic supplies as well as scarce materials must be managed in a long-term view several years in advance.
Besides this, you should also consider material capacities in different degrees of granularity, from the specific material number to part families to capacity groups and process-related bottlenecks. In the short term, it usually makes sense to break down capacities for specific part numbers. In the medium term, on the other hand, it is more advisable to monitor capacities at material-group or process-factor level. Strategic materials, for their part, should be tracked in detail even in the long-term view.
These different dimensions and levels of detail make capacity management quite a challenge. All the more so as you also should adequately address supplier concerns regarding data protection and data sovereignty.
SupplyOn Capacity Management
SupplyOn Capacity Management brings it all together. It aggregates all customer demand and forecast information across all plants and ERP systems. In some cases, this in itself makes medium-term capacity peaks much more transparent.
For instance, manufacturers can see at a glance if they will potentially exceed the supplier's contractually agreed capacity limits at specific dates because one or more plants are simultaneously signaling exceptionally high demand. As a preventive measure, you could now try to smooth these demand spikes and balance it more evenly across the previous or following weeks and months.
At the other end, suppliers signal their medium- and long-term production capacities and capacity clusters to the customer. This can happen via automated sourcing RFQ, email bots all the way to direct API integration. Furthermore, suppliers can comment as to why their production capacities are lower at certain points in time, e.g. due to maintenance work, lack of raw materials or vacation close-downs.
Identifying and resolving capacity bottlenecks
On this basis, SupplyOn Capacity Management forecasts critical capacity bottlenecks for certain materials or entire part families and alerts both sides, customer and supplier.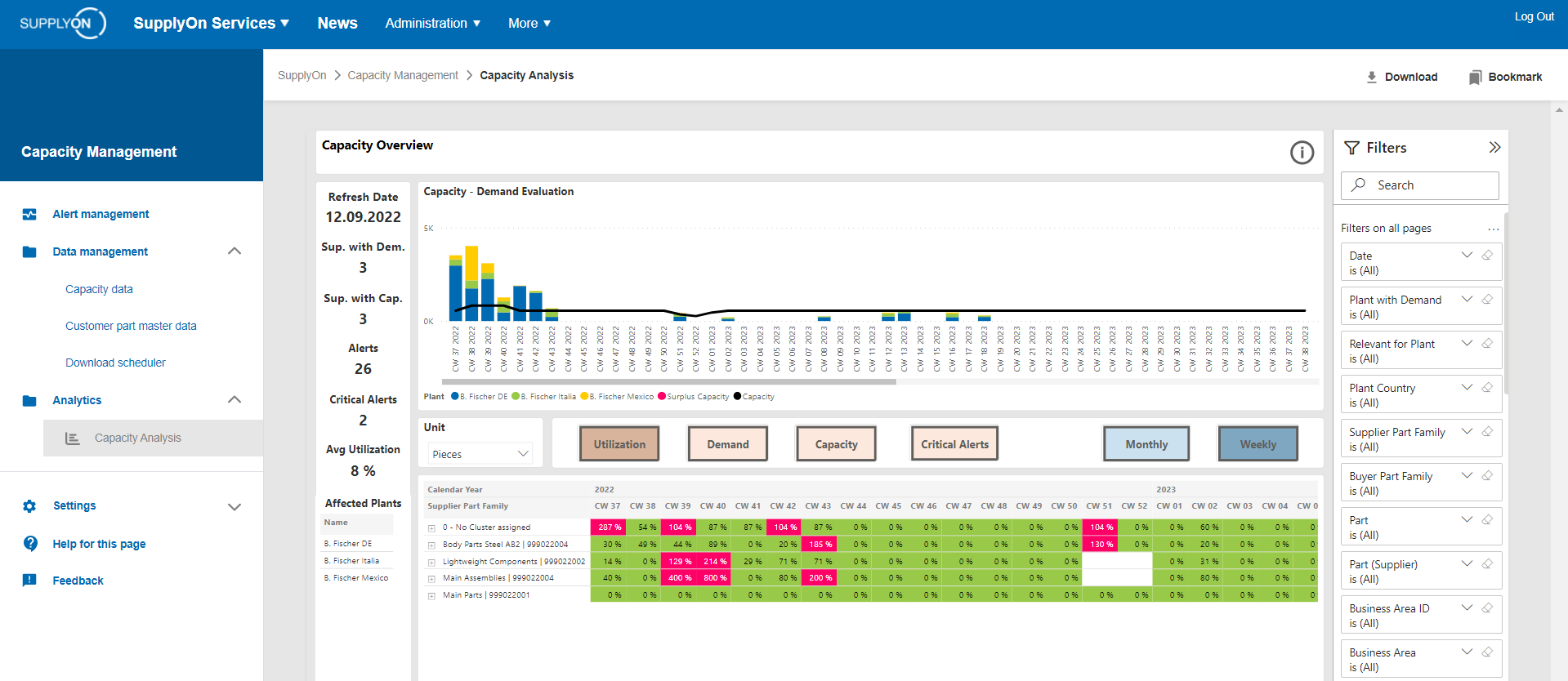 They can now jointly discuss how to mitigate this situation and prevent material bottlenecks. I.e.: May the supplier run more shifts, add more machines, or otherwise reschedule? Can the customer prioritize orders and thus alleviate the bottleneck by shifting material requirements forward or backward? If none of this is not possible, customers can start to look for alternative sources well in advance.
In most cases, however, prioritizing materials is already an effective measure for mitigation. This is why, in SupplyOn Capacity Management, suppliers also report capacity groups. The reason behind: The supplier's production process for different part numbers is very similar or/and has a common bottleneck. This bottleneck could be limited raw material availability or the use of the very same production line. Knowing this, the customer can then redefine the exact dates and quantities for all affected part numbers, thereby resolving this capacity bottleneck.
As part of the Production-to-Supply suite, SupplyOn Capacity Management can also be extended to include supplier inventories. This allows you to determine if a supplier's capacity bottleneck could potentially be compensated for by its (forecasted) stock level.
Obtaining transparency across multiple tiers
Businesses can increase visibility even further by extending capacity management to more tiers of their supply chain. To do this, tier-1 suppliers report not only their production capacities but also demand forecasts to their own suppliers. These tier-1 demands are then matched against the tier-2 supplier's forecasted capacities. Thus, both tier-1 supplier and customer can identify potential supply bottlenecks at a very early stage and take proactive mitigation measures.
All of this adds up to building more resilient supply chains and managing risk proactively. In view of the current economic turmoil and technological upheavals across numerous sectors, safeguarding your production with a sophisticated capacity management system is ever more critical. This not only strengthens the resilience of your supply chain, but also puts you in a better position for the coming upswing as well as for the next crisis stress test. For that is bound to come.