Technology
How Santa Clause tries to align his Christmas organization with agile principles, you could read in Part 1, Part 2 and Part 3 last week. Find out how the story of "Christmas AGILE" ends:
Tuesday, November 11th: Christmas 43 days off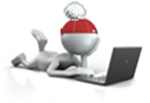 12:50 p.m.
I am sitting in our Christmas Lunch Area and thinking. The morning runs like expected. We had our requirements workshop. I presented the wishes and they were estimated. The task break down was ready before lunch. All run fast and smoothly.
I cannot apply myself completely the new wishes. More wishes are coming in every day. Most of them are more or less standard and we can manage well. Even the other teams are quite good in their plans as First Witch told us this morning during the stand up.
I am convinced that we can manage well.  Read more